New England Products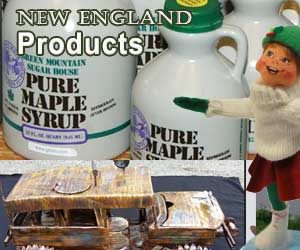 Made in America is alive in New England. Let us introduce you to some of our favorite Made in New England products, goods, stores and gift items. NE LIVING Magazine wants to hear about your favorite made in NE specialty food or other product, contact us.
Nearly everyone thinks of pure Vermont Maple Syrup when they think of Vermont products. But Vermont Products means much more – check out the Vermont Vermont Products section from VT LIVING.com for more Made In Vermont products, gifts and services.


Green Mountain Sugar House, Rte 100N, Box 820, Ludlow, Vermont 05149
Our award winning maple candy is still being made and shipped daily along with our 100 % pure maple syrup. When you see the steam roll from the Green Mountain Sugar House, stop in and have a taste of the sweetest stuff on earth. Our red roofed sugar house, just steps away from the water's edge, is where we make everything from maple syrup to mouth-watering maple fudge. It's also a Vermont country gift shop. Make the Green Mountain Sugar House a planned stop ... you'll be glad you did! Order online on our website.
Visit Green Mountain Sugar House Website
---


The Dutton Berry Farmstands, Route 30, Newfane, VT and Route 11-30 in Manchester, VT and Route 9 in West Brattleboro, VT
Dutton Berry Farmstands are well known for their Vermont grown produce and other unique local products. Whether it is fresh farmer-grown fruits and vegetables, cider, maple syrup or plants, you'll enjoy visiting a true Vermont farm experience.
Visit Dutton Berry Farm Website
---


Robb Family Farm, 827 Ames Hill Road, Brattleboro, VT 05301
Home of fine Vermont crafts. We produce the purest maple syrup you can find as well as a large assortment of fine hand-crafted treasures. Enjoy the scenic Vermont landscape from the bac of a horse-drawn wagon or sleigh. The country Shop is a family run business, consisting of a charming gift shop, farm events, mail order and baked goods by order. The shop is open throughout the year from it's annual Valentine Sweetheart Hayride until Christmas.
Visit Robb Family Farm Website
---

Sugarbush Farm, 591 Sugarbush Farm Road, Woodstock, VT 05091
Sugarbush farm is located on a 550 acre hilltop outside of Woodstock Village. Visitors watch cheese production, year round maple tours, sample Sugarbush Farm cheeses and other Vermont products, including; Maple Products and Honey. You can walk the nature trail, see farm animals, and best of all free admission. The farm is located 3 miles off US Route 4 on Hillside Road, across from the Taftsville Bridge, 3 miles east of Woodstock. The Farm Store is open daily from 9:00am to 5:00pm.
Visit Sugarbush Farm Website
---


Allen Pole Pruner, 6023 US Route 5, Westminster, VT 05158 | 802-722-3331
The Allen Pole Pruner is proven to be faster and more convenient than power equipment for pruning trees. Homeowners and garden professionals agree the Allen Pole Pruner is easer is use and is more durable than any pole pruner on the market - and its made in America. View a video of this amazing Vermont product in action by the developer, Tim Allen.
Visit Allen Pole Pruner Website
---


Allen Brothers Farms, 6023 US Route 5, Westminster, VT 05158 | 802-722-3395
We are a uniquely Vermont combination of practical and beautiful. We have an inhouse bakery featuring cider donuts, pie, cakes and cookies , a deli with signature Mac & Cheese, pizza and other warm options as well as made to order sandwiches, a country store filled with local Vermont products, locally grown seasonal produce with our own apples, corn, strawberries, and squash and pumpkins, a gas station, a nursery and garden center. Come and see what we have for you at exit 5 off I-91, easy off and on
Visit Allen Bros. Farms Website
---
---
"Live Free or Die" is the official state motto for New Hampshire though for some the way of life is "Live Green or Die" – check out the locally made and sustainable goods made in New Hampshire and New England – look for New Hampshire Products in NH Living.


Ledgetop Sugar House, 25 Oak St, Boscawen NH 03303 | 603-753-4973
Owners Dave Boudrias & Dona Drapeau have been producing Maple Syrup since 1994. Stop in and try their specialty, Maple Barbecue Sauce. The maple barbecue sauce is a homemade product created by Dona. Using the B- Grade syrup, for the richest flavor. The added spices, give it a spicy kick. It's a versatile sauce that can be used on everything. For recipes go to our website.
Visit Ledgetop Sugarhouse Website
---


Vito Marcello's Italian Bistro, 45 Seavey Street, North Conway, NH 03860
Welcome to Vito Marcello's Italiano Bistro, where our home made pasta servings fill any hunger! For three generations only the finest and healthiest ingredients have been used to create the Marcello Family's gourmet pasta sauce. Vito continues this tradition and is proud to share his authentic Italian pasta sauces and dressings for you to enjoy at home.
Visit Vito Foods Website
---

Sanborn's Fine Candies, 293 Lafayette Road, Route 1, Hampton, NH 03842 | 603-926-5061

Sanborn''s Fine Candies, since 1957 – The first Chocolate Shop on the internet where you create your custom assortment of chocolates. Hand dipped Chocolates, cooked nuts, mints, caramel corn, peanut brittle and fudge. All made on premise. NH Maple Products too. Visit us on
line or in person.
Visit Sanborn's Candies Website
---


Polly's Pancke Parlor, 672 Route 17, Sugar Hill, NH 03585 | 603-823-5575
Polly's Pancake Parlor has been serving yummy home cooked meals for over 75 years. Enjoy a stack of Oatmeal Buttermilk, Buckwheat or Whole Wheat pancakes. Sit back and savor a waffle of your choice smothered in real New Hampshire maple syrup or come for lunch and have a slice of quiche made with local Harman's cheese. Shop for gifts, pancake mixes and NH Maple Syrup. Reservations taken on weekends.
Visit Polly's Pancake House Website
---


Interiors Green – A Natural Home Store, Rt 302, 2021 Main St. Bethlehem NH 03574 | 603-616-6499
Interiors Green carries a full line of finish-building materials, high quality USA-made organic mattresses, bedding, household items, and gifts. We help our customers make their living environments healthy and lovely. All of our products are sustainable, renewable, organic and natural, fairly traded and sourced with regard for humans, animals, and the Earth that sustains us.
Visit Interiors Green Website
---
---
Bring home some Made in Maine Products during your Maine Adventure. Support local art and bring home a one-of-a-kind piece of artwork. Find more Maine Products in ME Living.

Roger's Copper Creations, 888 West Street, Rockport, ME 04856 | 207-542-0909 
Copper Artwork that reflects the beauty all around us. Roger is constantly inspired by the wonderous beauty that Maine offers. His love of hiking, fishing, motorcyling, and scuba diving, brings Roger in immediate contact with the natural elements that appear in many of his pieces. Visit this beautiful art gallery in person or click into the web site to purchase online. 
Visit Website
---

Maine Diner, 2265 Post Road (US Route 1),Wells, ME 04090 | 207-646-4441
Featured on "The Today Show", Phantom Gourmet, Guy Fieri's "Diners, Drive-Ins and Dives" and others. Maine blueberry pancakes, pies, lunch and dinner specials and more. World Famous Food Like Grandma Used To Make. Try Maine Diner's famous Lobster Pie, Seafood Chowder, Codfish Cakes. Breakfast anytime. Remember the Maine Gift Shoppe, Maine Products. Open Daily at 7AM..
Visit Maine Diner in Wells, Maine
---
---
Made in Massachusetts means goodness – just try a bag of Cape Cod Chips or a some, pure and natural Cranberry juice. Shop for Massachusetts specialty foods and more at MA Living.
---
The days of Erector Sets being built in New Haven may be over but you can still find some products made in the Connecticut. Find UConn Husky memorabilia and made in Connecticut items, gifts and specialty foods in CT Living.
---
Visit the "Ocean State" of Rhode Island and sample some made in RI foods, bring home a souvenir from Rhode Island – plan your visit at Rhode Island Living.
---