New England Apple Orchards
Let's go Apple Picking in New England. The apple-picking season in New England coincides with the New England foliage season, so you can start your day by enjoying the scenic drive to one of New England's many apple orchards or PYO (Pick Your Own) fruit farm. Visit the best Apple Orchards in New England by following the links below. To feature your NE farm, contact us.
Pick your own apple orchards, road side farm stands and apple wholesalers are found all over Vermont. Every Autumn a wonderful Vermont vacation idea is to go apple picking. Most Vermont apple orchards offer pick-your-own apples. Browse the Vermont Apple Orchards Guide and contact the orchards directly for the optimum times and fruit picking policies. Find more Vermont Activities from VT LIVING.com.
---
There are many excellent apple orchards throughout the Granite State. From the Great North Woods to the NH Seacoast, find the perfect apple orchard for your autumn family outing. The New Hampshire Apple Orchard Guide in NH Living will get to all of New Hampshire's most popular attractions.
---
The state of Maine is home to hundreds of wonderful apple orchards for the perfect crisp fall day trip. Explore Maine's apple groves, find a few petting zoos, have a cup of warm apple cider. The Maine Living Activity Guide in ME Living will tell you about unique Maine attractions.
---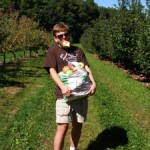 Massachusetts is the birthplace of John Chapman (a.k.a. Johnny Appleseed), who's claim to fame was scattering apple seeds throughout the land. There is something to be said for his work, because today Massachusetts has hundreds of apple orchards located throughout the state. The Massachusetts Activity Guide in MA Living will tell you more favorite New England Activities.
---
Connecticut boasts a wealth of great apple orchards. In fact, you'll find at least one apple orchard in all eight counties of this southern New England state. No matter where you are in Connecticut you will be able to find an apple orchard nearby. Apple Orchards are fun to visit and buy direct in many cases. Each apple orchard listed provides information on whether you can pick your own, what season they are open, if they have fresh apple cider available and more. The Connecticut Apple Orchard Guide in CT Living offer more PYO Fruit Growers for your Connecticut PYO fruit vacation.
---
In New England, apple picking is one of the most desirable activities to do in the Fall, so why not try it in Rhode Island? This is an informative guide to apple orchards, apple growers, apple farms, pick-your-own farms and road-side farm stands in Rhode Island.
---

With apple picking, fresh cider, pumpkins, wagon rides and gift shops, harvesting apples in New England is a fun family event for all ages. Each year, apple harvest season begins in early August and extends into late October. At the apple orchard, you can enjoy a day filled with activities for the whole family. Many apple orchards are family-owned with a strong sense of tradition, which makes them a great place to spend a wholesome day.Most apple orchards now offer pick-your-own apples for certain varieties. The most popular pick-your-own varieties are McIntosh, Cortland, Granny Smiths, Gala, Red Delicious, Yellow Delicious, Empire, and Rome. Other varieties of apples can usually be found at the farm stand along with a variety of apple products, cider, jams, pies, honey, maple syrup, vegetables, pumpkins, flowers, local crafts, and other fruits that are in season. Depending on the time of year you choose to visit an orchard, you may also be able to enjoy pick-your-own peaches, blueberries, or strawberries. In addition to the family fun that you will experience when picking your own apples, many apple orchards now offer additional activities. Some activities offered at various orchards include weekend festivals, hayrides, playgrounds and petting zoos. If you visit an orchard that crafts its own cider, you may have the opportunity to witness an apple-pressing demonstration. During a visit to an apple orchard on a warm day, you may want to enjoy a light picnic lunch. Depending on the orchard, they may offer meals on-site, or you may need to pack your own. Most orchards will have a nice picnic area with majestic views, where you can relax while you eat. After your picnic, a tasty ice cream treats to help keep everyone cool maybe offered at the farm stand. Orchard owners are very proud of their harvests and their orchards. If you are interested in how apple orchards operate, some orchards will offer guided tours; however, these usually need to be scheduled in advance.
After you return home from a fun-filled day at the orchard, be sure you get the most out of your apples. Keep in mind that apples continue to ripen after they have been picked. Store the apples in a cool place to retard the ripening process, and never store your apples at room temperature, as this can ruin their flavor. If you plan to use the apples for baking, visit New England Recipes for great apple recipes and cooking ideas. The best apples for baking are; Baldwin, Cortland, Hampshire, Kearsarge, McIntosh, Rome, Delicious, and Granny Smith. However, experimenting will keep things exciting. Everyone has different tastes, so you may just create a family favorite that will last for generations.
---
Attractions | Inns | Resorts | Hotels
Rental Homes | Real Estate | Restaurants
Camping | Business | Classified