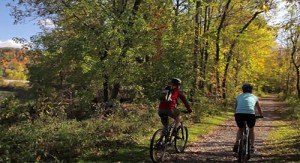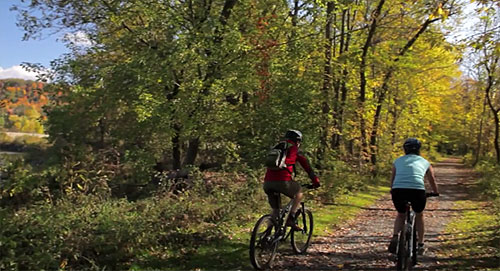 New England Activities
Mountain Biking, Hiking, Skiing, and Rock Climbing and just a few favorite New England Activities. Don't forget about browsing, sight-seeing, antique, outlet and art shopping. Summer activities include; camping, golfing, swimming and attending a great New England Summer Camp. Browse New England Activities below. To feature your NE Activity, contact us.

Take to the sky on a Lake Champlain Hot Air Balloon ride and scale a cliff in the Green Mountains. Vermont is more than cheese and farm – there's plenty of fun activities for every age and ability. Find more Vermont Activities from VT LIVING.com.


Sugarbush Farm, 591 Sugarbush Farm Road, Woodstock, VT 05091
Sugarbush farm is located on a 550 acre hilltop outside of Woodstock Village. Visitors watch cheese production, year round maple tours, sample Sugarbush Farm cheeses and other Vermont products, including; Maple Products and Honey. You can walk the nature trail, see farm animals, and best of all free admission. The farm is located 3 miles off US Route 4 on Hillside Road, across from the Taftsville Bridge, 3 miles east of Woodstock. The Farm Store is open daily from 9:00am to 5:00pm.
Visit Sugarbush Farm Woodstock
---


Green Mountain Rock Climbing Center, 223 Woodstock Ave. Rutland, VT and 68 Route 4, Woodstock, VT 05091
Green Mountain Rock Climbing Centers (GMRCC) invites you and your family to begin enjoying one of the most fun and exciting activities in Vermont. Climbing is a fun and rewarding sport, and believe it or not, it's as easy as climbing a ladder! We specialize in beginners and have a staff that knows how to instruct and support new climbers in a non-intimidating environment. Whether you're looking for something exciting for the kids or perhaps something new for yourself, GMRCC has it all. We are Vermont's highest quality climbing experience.
Visit Green Mountain Rock Climbing Website
---


Vermont Adventure Tours, 223 Woodstock Ave. Rutland, VT 05701
A full service one-stop adventure center. We have the experience, knowledge and equipment to take you to that place you've dreamed about in the New England wilderness. Whether you are interested in hiking, snowshoeing, rock climbing, ice climbing, mountain biking, survival, mountaineering, or a combination of adventures, we do it all. We have programs for beginners and experienced adventurers alike.
Visit Vermont Adventure Tours Website
---


Best Western, Waterbury-Stowe, Exit 10 off I-89, Rt. 100, Blush Hill Rd., Waterbury, VT 05676
Conveniently located at Exit 10, the gateway to Stowe Village, VT, adjacent to the famous Ben & Jerry's Ice Cream Factory and offering 84 rooms and luxury suites with fireplaces, living room, wet bar, cable TV, pay-per-view movies, Lounge, Coffee Bean Cafe, room service, open-air indoor pool and exercise facility.
Visit Best Western Waterbury Stowe Website
---


Landmark Trust USA, Historical Vacation Rentals, 707 Kipling Rd., Dummerston, VT 05301 | 802-254-6868
The Landmark Trust USA restores historically significant properties then offers them, fully-equipped and fully furnished, as vacation rental homes where you can immerse yourself in a former life style. We have 5 properties; Rudyard Kipling's home - Naulakha, a former Sugar House, 2 farm houses, and Kipling's Carriage House. We allow pets at the Sugar House and the Amos Brown House.
Visit Landmark Trust USA Website
---


Vermont Antique Mall, 5573 Woodstock Road, Quechee, VT 05059 | 802 281-4147
Located in the heart of Quechee Gorge Village, you'll find our 17,000 square foot barn filled with antiques, vintage and collectable treasures. Come see the area's largest selection, with hundreds of dealer booths and new stock daily. Nearby eateries and seasonal events make this a "must see" for all ages. Shop where the dealers shop! Open daily 10am – 5pm.
Visit Vermont Antique Mall Website
---
---
Vacation in New Hampshire for a wide variety of family activities and world famous White Mountain Attractions. The New Hampshire Activity Guide in NH Living will get to all of New Hampshire's most popular attractions.


Out of the Box Touring - Custom Tours by Tammy Downing
Out of the Box Tours specializes in creating customized tours unique to each and every client. Out of the Box Tours - Travel with a Twist! Let "Touring Tammy" create a truly amazing tour for you. Fall Foliage Tours, Brew Tours, Made in NH Tours, Murder Mysteries, Ghost Walking Tours, Foodie Tours, Day Trips, Events and more. There's a tour for everyone! For groups of 15 or more guests, the Group Organizer receives free admission and more.
Visit Out of the Box Tours
---

Alpine Adventures Zipline, 41 Main Street, Route 112, Lincoln, NH 03251 
Don't miss it! Spectacular Adventure Tours, Zip Tours, Canopy Tours winter and summer. Try the longest, highest and fastest Zipline Canopy Tour in New England. Aerial Fun Park and continual updates will keep Alpine Adventure Tours at the forefront of outdoor adventure in New England.
Visit Alpine Adventures Lincolon
---
---
Take a Maine Vacation for a wide variety of family activities and world famous ocean forts and lighthouse tours. The Maine Living Activity Guide in ME Living will tell you about unique Maine attractions.


Ogunquit Playhouse, 10 Main Street, US Route 1, Ogunquit, ME 03907 | 207-646-2402
America's Foremost Summer Theater began in a renovated garage in Ogunquit's town square in 1933. Ogunquit Playhouse is dedicated to producing the finest shows ever to appear on Broadway stages. Visit the web site to see this years show schedule and purchase tickets.
Visit Ogunquit Playhouse Website
---

York's Wild Kingdom, P.O. Box 1139, York Beach, ME 03910 | 207-363-4911
 New England's Only Zoo AND Amusement Park. A family oriented zoo and amusement park conveniently located in York Beach, Maine. Stroll and view a large number of beautifully landscaped animal exhibits; numerous rides for all ages plus food and ice cream stands, gift shops and so more. A day of family fun and walking distance to a clean sandy beach! View dozens of live animals from near and far. Sorry, Pets are not allowed in the Zoo but are allowed (on leash) in the Amusement Park. Open Seasonally May-Sept. View website for details and hours.
Visit York's Wild Kingdom York
---


Maine Diner, 2265 Post Road (US Route 1),Wells, ME 04090 | 207-646-4441
Featured on "The Today Show", Phantom Gourmet, Guy Fieri's "Diners, Drive-Ins and Dives" and others. Maine blueberry pancakes, pies, lunch and dinner specials and more. World Famous Food Like Grandma Used To Make. Try Maine Diner's famous Lobster Pie, Seafood Chowder, Codfish Cakes. Breakfast anytime. Remember the Maine Gift Shoppe, Maine Products. Open Daily at 7AM..
Visit Maine Diner in Wells, Maine
---

Coastal Maine Botanical Gardens, 132 Botanical Gardens Drive, Off Barters Island Road, Boothbay, ME 04537 | 207-633-8000
Coastal Maine Botanical Gardens is a natural wonder of shorefront on the mid-coast Maine. Stroll 270 acres through spectacular ornamental gardens and miles of waterfront and woodland trails. Beautiful foliage, plantings, impressive stonework, waterfalls and fountains, and scenic views. One of Maine's top attractions. The Gardens are open 9-5 April 15 - October 31 (open until 6 pm in July and August). There is a cafe and gift shop on site.
Visit Coastal Maine Botanical Gardens
---
---
Your Massachusetts Vacation can include a visit to some of America's most famous attractions and family activities that will keep you busy at any time of the year. The Massachusetts Activity Guide in MA Living will tell you more favorite New England Activities.
---
Visit Connecticut and enjoy indoor and outdoor activities the entire family will enjoy – even the Connecticut casinos now have entertainment for children. The Connecticut Activity Guide in CT Living will offersome activity ideas for Connecticut vacationers.
---
A visit to the "Ocean State" of Rhode Island offers a variety of activities and attractions.
| NE BEACHES | NE BOATING |
---
Attractions | Inns | Resorts | Hotels
Rental Homes | Real Estate | Restaurants
Camping | Business | Classified