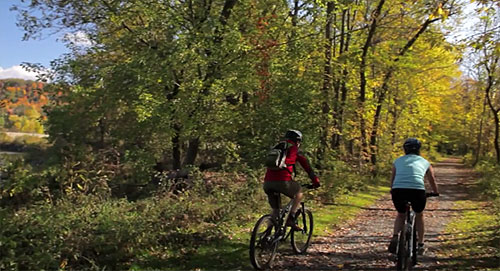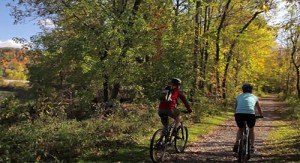 New England Activities
Mountain Biking, Hiking, Skiing, and Rock Climbing and just a few favorite New England Activities. Don't forget about browsing, sightseeing, antique, outlet, and art shopping. Summer activities include; camping, golfing, swimming, and attending a great New England Summer Camp. Browse New England Activities below. To feature your New England business in New England Living Magazine, contact us.

Take to the sky on a Lake Champlain Hot Air Balloon ride and scale a cliff in the Green Mountains. Vermont is more than cheese and farms – there are plenty of fun activities for every age and ability. Find more Vermont Activities from VT LIVING.com.


Sugarbush Farm, 591 Sugarbush Farm Road, Woodstock, VT 05091
Sugarbush farm is located on a 550 acre hilltop outside of Woodstock Village. Visitors watch cheese production, year round maple tours, sample Sugarbush Farm cheeses and other Vermont products, including; Maple Products and Honey. You can walk the nature trail, see farm animals, and best of all free admission. The farm is located 3 miles off US Route 4 on Hillside Road, across from the Taftsville Bridge, 3 miles east of Woodstock. The Farm Store is open daily from 9:00am to 5:00pm.
Visit Sugarbush Farm Woodstock
---


Mountain View Farm Animal Sanctuary, 3383 Darling Hill Rd., E. Burke, VT 05832 | 802-626-9924
Visit Mountain View Farm Animal Sanctuary in Vermont to see our rescued animals and please consider making a donation to help us care for them. If you share our love for animals and would like to get more involved with MVFAS we would love to welcome you as a volunteer. Volunteers join us on the farm or from their homes offering their time and services to the sanctuary.
Visit Mountain View Farm Animal Sanctuary
---


Odyssey Events VT, 276 Laber Road, Bridgewater Corners, VT 05035 | 802-342-1513
Hands-on cooking classes offered by Chef Ted at his mountain top idyll. Discuss the many possibilities or choose from pre-scheduled classes. From pastas and pizzas to meats, seafoods, vegetables, and desserts. Learn then eat what you cook. BYOB.
Visit Cooking classes with Chef Ted
---


Robb Family Farm, 827 Ames Hill Road, Brattleboro, VT 05301 | 802-257-0163
Home of fine Vermont crafts. We produce the purest maple syrup you can find as well as a large assortment of fine hand-crafted treasures. Enjoy the scenic Vermont landscape and views from our shop. The Robb Family Country Shop is a family run business, consisting of a charming gift shop, farm events, mail order and baked goods by order. The shop is open throughout the year selling our own Vermont Maple Syrup, Vermont Maple Candy, Maple Syrup Party Favors, Gift Boxes, and Family Raised Beef. Sugarhouse Tours are offered year round.
Visit Robb Family Farm Website
---


Strong House Inn, 94 West Main Street, Vergennes, VT 05491 | 802-877-3337
The Strong House Inn is located in the heart of the Champlain Valley. This historical Inn has 14 individually decorated guestrooms, on five acres of gardens and trees with classic New England architecture and the comfort and luxury of a modern day Inn. The Inn is a perfect location for weddings, receptions, and rehearsal dinners and meetings for up to 50 people. Join us for Quilting in Vermont, the ultimate setting for quilters to reignite their creative passion and be spoiled in the process. Whether you are looking for a romantic getaway, a foodie experience, or a once in a lifetime event - an adventure is waiting for you!
Visit Strong House Inn - Vergennes, VT
---


Petra Cliffs Climbing Center and Mountaineering School, 105 Briggs Street, Burlington, VT 05401 | 802-657-3872
Located in Burlington, Petra Cliffs is Vermont's premier indoor rock climbing facility and climbing school. Our gym features 8,500 square feet of climbing walls and bouldering for all abilities. Our programming, guiding, and instructional courses focus on individuals and groups of all ages.
Visit Petra Cliffs - Burlington, VT
---


The Dutton Berry Farmstands and Greenhouse, Route 30, Newfane, VT, Routes 11 & 30 in Manchester, VT, and Route 9 in West Brattleboro, VT | 802-365-4168
Dutton Berry Farmstands are well known for their Vermont grown produce and other unique local products. Fresh picked apples straight from our orchard are available throughout apple season. Stop in and pick up a jug of Dutton Berry Farm's fresh made apple cider, made from our home grown apples. Whether it is fresh farmer-grown fruits and vegetables, cider, Vermont maple syrup or plants, you'll enjoy visiting a true Vermont farm experience.
Visit Dutton Berry Farmstands- VT
---


Above Reality Inc. Hot Air Balloon Rides, 70 Essex Way, Essex, VT 05452 | 802-899-4007
Enjoy spectacular views of the Green Mountains, Lake Champlain, and the Adirondack mountains during a memorable balloon flight with our friendly and skilled staff. We'll whisk you above the ordinary and take you on a magical voyage above the treetops. All flights conclude with a champagne toast and VT cheese and fudge.
Visit Balloon Vermont Website
---
---
Vacation in New Hampshire for a wide variety of family activities and world-famous White Mountain Attractions. The New Hampshire Activity Guide in NH Living will get to all of New Hampshire's most popular attractions.

Alpine Adventures Zipline, 41 Main Street, Route 112, Lincoln, NH 03251 
Don't miss it! Spectacular Adventure Tours, Zip Tours, Canopy Tours winter and summer. Try the longest, highest and fastest Zipline Canopy Tour in New England. Aerial Fun Park and continual updates will keep Alpine Adventure Tours at the forefront of outdoor adventure in New England.
Visit Alpine Adventures Lincoln
---


Wildcat Inn & Tavern, Rte 16A, Jackson Village NH 03846 | 603-383-4245
Through the Jackson covered bridge is a place that just might be perfect... a place where candle light dances and the love and laughter of a hundred years of happy travelers is as rich as the wide pine floors. We invite you to take a step back in time. Come prepared to laugh, love, and smile so hard you might just cry. After all, as brilliant stars twinkle in the clear night sky... you just might find that the Wildcat is almost perfect. Lunch, Dinner, Entertainment in the Tavern.
Visit Wildcat Inn & Tavern - Jackson Village, NH
---
---
Take a Maine Vacation for a wide variety of family activities and world-famous ocean forts and lighthouse tours. The Maine Living Activity Guide in ME Living will tell you about unique Maine attractions.


Sewall House Yoga Retreat, 1027 Crystal Road (PO†Box 254), Island Falls, Maine 04747 | 1-646-316-5151
The Sewall House Yoga Retreat remains in the family and to this day continues the hospitality begun by Levi Sewall (who settled Island Falls and is William's father). Donna Davidge, the fifth generation in the house, runs the lovely old place as a yoga retreat, splitting her time between Island Falls, Maine and New York City.
Visit Sewall House Yoga Retreat - Island Falls, ME
---


When Pigs Fly Pizzeria, 460 U.S. Route 1 Kittery, Maine 03904 | Restaurant: 207-438-7036 Bread Store: 207-439-3114
Enjoy our large selection of wood-fired pizzas, appetizer plates, craft beers and draft wines. The pizzas are Neapolitan style, handcrafted from all natural ingredients. Our wood-fired ovens give the crust a chewy, smoky flavor. All ingredients are the freshest including mozzarella, which is made fresh daily. This location is also home to the When Pigs Fly Company Store, which offers all of the classic and artisan breads, and other products available from When Pigs Fly.
Visit When Pigs Fly Pizzeria - Kittery, ME
---
---
Your Massachusetts Vacation can include a visit to some of America's most famous attractions and family activities that will keep you busy at any time of the year. The Massachusetts Activity Guide in MA Living will tell you more about your favorite New England Activities.
---
Visit Connecticut and enjoy indoor and outdoor activities the entire family will enjoy – even the Connecticut casinos now have entertainment for children. The Connecticut Activity Guide in CT Living offers some activity ideas for Connecticut vacationers.
---
A visit to the "Ocean State" of Rhode Island offers a variety of activities and attractions. Visit Newport, Cranston, and Providence Rhode Island attractions. The Zoo in Providence is one of the best zoos in all of the northeast. The mansion tours and ocean views in Newport, RI are incomparable.
New England Beaches | New England Boating | New England Family Resorts
Attractions | Inns | Resorts | Hotels
Rental Homes | Real Estate | Restaurants
Camping | Business | Classified