New England Art & Galleries
Visit New England for Art, fantastic Artist's Studios, and Galleries. From Fine Art in Stowe Vermont to Art Studios in Maine, New England offers one-of-a-kind shopping for art. Browse New England Art Gallery information and share your favorites. To feature your NE Art Studio Artists Gallery, contact us.
Exploring the Vibrant Art Scene: New England Art Galleries by State
New England is renowned for its rich cultural heritage and diverse art scene. From picturesque landscapes to thought-provoking contemporary works, the art galleries in New England showcase a wide array of artistic expressions. Let's take a closer look at the art galleries by state, highlight some of the free public art galleries, and explore the invaluable support offered by the New England Art Councils to local artists.
New England Art Galleries by State:
Connecticut:
Wadsworth Atheneum Museum of Art: Located in Hartford, the Wadsworth Atheneum is the oldest continuously operating public art museum in the United States. It houses a remarkable collection spanning over 5,000 years of art history.
Yale Art Gallery: Situated in New Haven, the Yale Art Gallery is home to an incredible collection of art from around the world. Its diverse exhibits include works by renowned artists such as Van Gogh, Monet, Picasso, and Pollock.
Maine:
Portland Museum of Art: Situated in Portland, this renowned museum features an extensive collection of American, European, and contemporary art. It also hosts rotating exhibitions, educational programs, and special events.
Ogunquit Museum of American Art: Located in Ogunquit, the Ogunquit Museum of American Art focuses exclusively on American art. It showcases works by prominent artists, including those from the Ogunquit Art Colony, a historic artist community.
Massachusetts:
Museum of Fine Arts, Boston: As one of the most comprehensive art museums in the world, the Museum of Fine Arts in Boston boasts an impressive collection of artworks from diverse cultures and time periods. It offers a captivating experience for art enthusiasts.
New Hampshire:
Currier Museum of Art: Located in Manchester, the Currier Museum of Art showcases a diverse collection of European and American art, including works by renowned artists like Monet, Picasso, and O'Keeffe. It also features contemporary exhibitions and educational programs.
Sandy Martin Gallery: Situated in Wolfeboro, the Sandy Martin Gallery is a charming art space that exhibits contemporary works by local and regional artists. It provides a platform for emerging talents and offers a unique art experience.
Rhode Island:
Rhode Island School of Design (RISD) Museum: Situated in Providence, the RISD Museum is renowned for its comprehensive collection of art and design. It houses works ranging from ancient artifacts to contemporary masterpieces.
Vermont:
Saint Johnsbury Athenaeum: Located in Saint Johnsbury, the Athenaeum is both a library and an art gallery. It features an impressive collection of paintings, sculptures, and decorative arts, showcasing a range of styles and periods.
Shelburne Museum: Situated in Shelburne, this unique museum exhibits American folk art, impressionist paintings, and decorative arts. It encompasses numerous buildings and beautifully landscaped gardens, creating a charming atmosphere.

Vermont is a great state to shop for art. Vermont has some of the nation's most unique and diverse galleries and art centers. You can find Vermont artists studios, art galleries, art and cultural centers in every region of the Green Mountain state. Find more Vermont Galleries from VT LIVING.com.

Trademark Fine Art Vermont Map Matted Framed Art by Michael Tompsett in Wood Frame, 11 by 14-Inch
---

Design Toscano Lucina, Goddess of Light Stained Glass Lamp
---
---


Visit NH for Art and you'll find that New Hampshire Art Galleries, Studios and Curated Art Shows offer a wonderful opportunity to view and buy art. Find NH art and artist galleries, art studios, and photography studios in every region of the state, but don't bypass the lakeside town of Wolfeboro where local arts and artists and galleries attract art lovers worldwide. New Hampshire is a famous place for artists since Maxfield Parish and Augustus Saint Gaudens created artwork in the state. Art Galleries, Art Studios, and Photography Studios are simply amazing. The New Hampshire Art Gallery Guide in NH Living will get to a listing of New Hampshire art galleries, artist's studios, and art museums by region.


Sandy Martin Gallery, 17 Bay Street, Wolfeboro, NH 03894 | 603-569-9890
The Sandy Martin Gallery offers original fine art oil and watercolor paintings, photography, bronze sculpture, and hand crafted jewelry. Browse this destination fine art gallery in the beautiful Lake Winnipesaukee town of Wolfeboro. Shop for original oil paintings, watercolors, photographs, custom prints, and bronze sculputure depicting the beauty of the New Hampshire Lakes Region by the artists who love it.
Visit Sandy Martin Art - Wolfeboro, NH
---
---

Given Maine's stunning coastline and beautiful landscape, it's no surprise that the state has inspired many talented artists.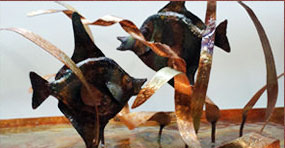 No trip to Maine is complete without a visit to several of Maine's exceptional Art Galleries. Maine galleries include Artist Studios where you can meet the artists – view and purchase their artwork. Maine galleries feature lighthouses, seashore birds, mountain lakes, and more.  The Maine Living Art Gallery Guide in ME Living will tell you more about unique Maine attractions and artists' studios.
---
Massachusetts Art Galleries feature all kinds of art: contemporary art, traditional fine art, glass art, prints, sculpture, fine art photography, and other types of visual art. The Massachusetts Art Gallery Guide in MA Living will tell you more about Massachusetts Art Project, Artists Studios and selected Art Galleries.
---
The Yale Art Gallery is a famous CT Art Attraction but there are many more surprises for viewing Art in Connecticut. The Connecticut Art Galley Guide in CT Living offers more ideas.
Free Public Art Galleries in New England:
Boston Public Library: The Boston Public Library in Massachusetts features rotating exhibitions showcasing the works of local and international artists. Admission is free, providing access to art for all.
Fuller Craft Museum: Located in Brockton, Massachusetts, the Fuller Craft Museum specializes in contemporary craft and design. On certain days, admission is free, allowing visitors to explore the diverse range of artworks.
University of New Hampshire Museum of Art: Situated in Durham, New Hampshire, this public art museum offers free admission to explore its collection of American and international art, including paintings, sculptures, and photographs.
New England Art Councils and Help for Artists:
New England Foundation for the Arts (NEFA): NEFA provides grants, professional development programs, and networking opportunities for artists, organizations, and communities in New England. They support various art forms, including visual arts, performing arts, and literary arts.
Vermont Arts Council: This council aims to foster the growth and appreciation of the arts in Vermont. They offer grants, fellowships, and resources for artists, as well as organize events and exhibitions throughout the state.
Connecticut Office of the Arts: This state agency supports artists and arts organizations through grants, technical assistance, and capacity-building programs. They also collaborate with local communities to promote the arts and cultural heritage.
New England is a treasure trove of art galleries, showcasing a wide range of artistic expressions and styles. From iconic museums like the Wadsworth Atheneum and the Museum of Fine Arts, Boston, to hidden gems like the Yale Art Gallery and Sandy Martin Gallery, visitors can immerse themselves in the rich cultural heritage of the region. The support provided by the New England Art Councils plays a vital role in nurturing local talent and creating a vibrant arts community. Whether you're a visitor or an artist, New England offers endless opportunities to explore and engage with its thriving art scene. New England Living Magazine urges you to support local art by purchasing gifts from local artists and by petitioning local politicians to support art projects in your town and state.
Attractions | Inns | Resorts | Hotels
Rental Homes | Real Estate | Restaurants
Camping | Business | Classified
ART ARTWORK PAINTINGS