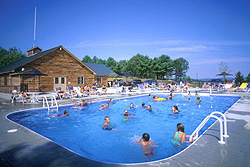 New England Camping & RV Resorts
A New England Camping or RV Vacation offers an exceptional way to visit New England. New England Camping and RV sites may be found in some absolutely beautiful locations. We are happy to share some of the best RV Parks and Campgrounds in New England and beyond.
Today's modern campsites can include amenities like easy RV hook-ups, cable TV, electricity, swimming pools, playgrounds, and recreational activities. We love to Camp New England and when you visit our suggested New England Campgrounds and selected RV Parks and you will understand why.
Ask us about Northeast RV sites and campgrounds or feature your New England Campground or RV Park, contact us.
VERMONT CAMPGROUNDS & RV PARKS
There's nothing more spectacular than camping in the lush summer forests of the Vermont Green Mountains. Explore the Vermont Camping Guide to find that perfect camping adventure destination in the Green Mountain state.


Lone Pine Campsites, 52 Sunset View Road, Colchester, VT | 802-878-5447
Known across New England and beyond as "Vermont's Favorite Family Campground", Lone Pine Campsites offers the quintessential Vermont camping experience in one of the most beautiful regions of the state, the Lake Champlain Valley. Located a mere stone's throw from Mallets Bay and 15 minutes from downtown Burlington, our 265 spacious campsites are surrounded by native trees and wildlife. We provide several RV hook-up options, offer RV rentals, and are happy to welcome tent campers.
Visit Lone Pine Campsites - Colchester
---


Lake Lyster Campground, 360 Chemin de Chalets, Coaticook, PC J1A 2S4 | 819-345-3787
A haven of tranquility! Lake Lyster Campground, in Coaticook, the Eastern Townships of Quebec is just 25 mins from the Vermont border. Enjoy 60 acres of Campsites, just across the road from beautiful Lake Lyster, with 25 ready-to-camp sites including 11 mini-cabins with private toilets + 14 prospector-style tents. Rent Kayaks or paddleboards, hike Mount Pinacle or relax with a good book. Tranquility and peace await you ... book your campsite now, where camping, glamping, and nature combine!
Visit Lake Lyster Campground - Coaticook, Quebec, CA

---
NEW HAMPSHIRE CAMPGROUNDS & RV PARKS
At times, there can be nothing better than being alone with nature. Of course, this all depends on where you have set your tent up. From the more northern areas of the Great North Woods region to the shores of Lake Winnipesaukee, and even further south to the campgrounds in the Seacoast region that utilize the beautiful setting of the Atlantic Ocean; you can never fail with camping in the great state of New Hampshire. Stay at a sensational New Hampshire campground.



Lake Forest RV Resort, P.O. Box 713, Wolfeboro Falls, NH 03896
Located on Great East Lake with 100 wooded acres and plenty of room for well spaced sites. A unique camping opportunity for couples. Scenic grounds and a sunny shorefront are tranquil backdrops for the weekend or the season. An executive golf course, a clubhouse for social events, a field for picnics and rallies. Our winding roads offer a mile of shady walking to the swimming area and docks. Ride your bike or walk another path to find the Clubhouse for golf, a dinner, Bingo or other event. 130 sites have water, electricity, sewer and the option of telephone service, or cable. Internet service is available in the Clubhouse.
Visit Lake Forest RV Resort Wolfeboro Falls
---


Silver Lake Park Campground & Cabins, 389 Jamestown Road, Belmont, NH 03220 | 603-524-6289
Located in the Heart of the Lakes Region, Silver Lake Park Campground offers lakeside camping with spectacular sunset views. Specializing in seasonal camping with gated access, Cabin Rentals, Traditional Camping, Boat Rentals, Planned Activites, and affordable rates. Call direct for bookings and updates.
Visit Silver Lake Park Campground - Belmont, NH
---


Partridge Cabins, 3 Partridge Road, US Route 3, Pittsburg, NH 03592 | Ph: 603-538-6380
Visit Partridge Cabins and Lodge - the four season place to be. We have 600 feet of lake frontage, and offer housekeeping cabins situated amidst the shade of sheltering spruce and fir trees. Completely winterized cabins with gas heaters, private baths, with hot and cold running water, electricity, and full kitchen facilities. All cabins are attractively furnished, and accommodate 4-8 people. Snowmobile, cross-country ski, hike, moose watch, and let's not forget fishing and hunting! Summer, fall, winter, and spring, you will find Partridge Lodge & Cabins most pleasing.
Visit Partridge Cabins - Pittsburg, NH
---


Twin Mountain Campground, 100 US Route 302 East, Twin Mountain, NH 03595 | 603-846-5513
If you like the feeling of clean, quiet, and secure, then you will enjoy our pleasant, wooded setting surrounded by the panoramic beauty of New Hampshire's White Mountains. The Ammonoosuc River borders the campground providing trout fishing and scenic beauty for our campers. Facilities include RV and Trailer Sites (full Hook up), Custom Built Log Cabins, Restrooms, Playground, Tent Sites, Inground Pool, and more. Experience the difference at New Hampshire's most unique campground. Formerly Living Water Campground.
Visit Twin Mountain Campground - Twin Mountain, NH
---
---
Maine is an ideal place for your outdoor adventure. Maine Camping is a favorite of many seeking lakes, mountains, and oceanside campgrounds, and RV Parks. Some Maine Campgrounds are open all year, but as the temperatures warm, Maine campgrounds come to life. Maine offers many fantastic privately owned and operated family campgrounds, campsites, and RV parks. Whether you are ready to pitch a tent by a Maine lake or haul the RV to a Maine oceanfront campsite, Maine is made for camping – which is why so many people visit Maine to go camping. Variety, affordability, and congeniality are all part of Maine camping.
---
---
MASSACHUSETTS CAMPGROUNDS & RV PARKS
Whether you are looking for your first camping experience, or you are a pro, Massachusetts offers a wide variety of camping locations throughout all regions for the entire family. Camping in the Berkshires of Western Massachusetts is an annual event for many campers and RV enthusiasts – one visit and you will understand why. Find more info about Massachusetts in MA Living.
---
CONNECTICUT CAMPGROUNDS & RV PARKS
With miles of ocean frontage and hundreds of acres of wilderness – Connecticut Camping is as varied as the seasons here in the Nutmeg state. Find a beautiful tree grove, a former Native American hunting ground now a Connecticut state park, or camp along the shores of the Atlantic Ocean or a sparkling Connecticut lake. Find the perfect spot for your Connecticut camping adventure this summer. Browse CT Living for more information.
---
Some of Rhode Island's most popular campgrounds include George Washington Campground and Whippoorwill Hill Family in Northern Rhode Island, Worden Pond Family Campground, and Burlingame State Park in Southern Rhode Island, Old Embers Campground, and Colwell's Family Campground in Central Rhode Island. RI offers a wide range of camping and RV sites – many with full services and amenities.
Camping and Glamping in New England: A Comprehensive Guide
New England, with its stunning natural beauty and diverse landscapes, offers an abundance of camping and glamping opportunities for outdoor enthusiasts. Whether you prefer traditional camping, RV living, or the more luxurious experience of glamping, this article will provide you with valuable information to plan an unforgettable camping vacation in New England. From essential tips on camping out to popular camping and RV sites in the region, we've got you covered.
Planning a New England Camping Vacation:
Determine the Duration and Season: Decide how long you want to camp and consider the weather and seasons in New England. Summer and fall are particularly popular due to milder temperatures and breathtaking foliage.
Research Campgrounds and State Parks: Explore the numerous campgrounds and state parks in New England. Each offers unique features such as hiking trails, water activities, or stunning views. Consider the facilities, amenities, and nearby attractions when selecting your destination.
Make Reservations in Advance: Many popular camping spots in New England fill up quickly, so it's advisable to make reservations well in advance to secure your preferred campsite. State parks often have online reservation systems to simplify the process.
Tips on Camping Out:
Essential Camping Gear: Make a checklist of camping essentials, including a tent, sleeping bags, cooking equipment, insect repellent, first aid kit, and appropriate clothing for varying weather conditions.
Campfire Etiquette: Familiarize yourself with the campfire regulations and safety guidelines of the area you plan to visit. Always adhere to fire restrictions and practice proper fire safety to prevent accidents and protect the environment.
Leave No Trace: Embrace the principles of "Leave No Trace" camping, which encourages campers to minimize their impact on nature. Dispose of waste properly, respect wildlife, and leave the campsite as you found it.
RV Living:
Renting or Owning an RV: If you prefer the comforts of home while exploring the great outdoors, consider renting or owning an RV. Many RV parks and campgrounds in New England provide full hookups, allowing you to enjoy electricity, water, and sewage connections.
RV Maintenance and Safety: Ensure your RV is in good condition before embarking on your journey. Perform regular maintenance checks, familiarize yourself with the vehicle's systems, and carry the necessary spare parts and tools. Additionally, prioritize safety by practicing defensive driving and adhering to campground rules.
Glamping:
The Luxurious Camping Experience: Glamping combines the beauty of nature with the comforts of upscale accommodations. From luxury tents to cabins and treehouses, glamping sites in New England offer unique and lavish experiences. Expect amenities such as comfortable beds, private bathrooms, and gourmet dining options.
Popular Glamping Destinations: New England boasts several renowned glamping destinations. Consider destinations such as Acadia National Park in Maine, the Berkshires in Massachusetts, or the White Mountains in New Hampshire for a remarkable glamping experience.
Popular New England Camping and RV Sites:
Acadia National Park, Maine: Known for its stunning coastline, rugged mountains, and diverse wildlife, Acadia offers various campgrounds suitable for both tents and RVs. Blackwoods Campground and Seawall Campground are two popular choices.
White Mountains, New Hampshire: The White Mountains region is a camping paradise with its picturesque landscapes and numerous outdoor activities. Check out Lafayette Place Campground or Zealand Campground for an unforgettable experience.
Cape Cod, Massachusetts: Cape Cod offers charming campgrounds near its beautiful beaches. Nickerson State Park and Shawme-Crowell State Forest are great options for camping enthusiasts.
Green Mountain National Forest, Vermont: With its lush greenery and serene atmosphere, the Green Mountain National Forest provides several campgrounds, including Grout Pond Recreation Area and Hapgood Pond Recreation Area.
New England offers a plethora of camping and glamping options, catering to a wide range of preferences. By following the planning tips, embracing camping etiquette, and considering popular camping and RV sites, you can create lasting memories while exploring the region's natural wonders. So pack your gear, choose your destination, and embark on an adventure that combines the joy of camping with the charm of New England. To feature your Campground, RV Park, or Vacation Rental Property, contact us.
Coleman Tents
Sleeping Bags

Camping Cooking Gear
Family Tents
Camping Utensils
When thinking about a New England Camping vacation,  what images come to mind? Roaring campfires, gooey s'mores, and pitching a tent are things generally associated with this family-oriented activity. But for many, the definition of "camping" has undergone a radical change. New England now offers several luxury campgrounds and RV resorts –  a new trend in family camping vacations. Today's camping is changing the way people sleep under the stars. Boasting heated swimming pools, golf courses, finely appointed cabins, live entertainment, and in some cases, exclusive beach access – luxury, full-service camping resorts make it possible to have a great time, without even leaving the campground! Amenities at these Northeast camping resorts are focused on making your stay more convenient as well as fun. Large general stores stocked with supplies and souvenirs are common. So is high-speed internet access and cable television hookups. Whether camping in a tent or a 36′ luxury RV – this new breed of camping is perfect for the family vacation, or a relaxing getaway for two.
---
Attractions | Inns | Resorts | Hotels
Rental Homes | Real Estate | Restaurants
Camping | Business | Classified