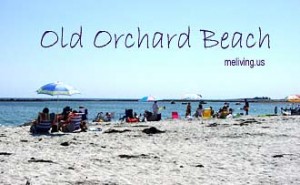 New England Beaches
New England Beaches are popular summer destination. The northeastern state offers some of the most refreshing beaches in the nation. Ocean beaches and spring-fed lakes provide plenty of boating and swimming opportunities to cool off during summer.Whether hitting the Atlantic seacoast or one of New England's many wonderful lake side beaches, New England has to something to offer for everyone. Browse New England Swimming & Beaches below. To feature your NE Business, contact us.
Take to the waters of Lake Champlain – although it's always a bit cooler than some of the nearby small ponds. Vermont may be the only landlocked state in New England, there are still many clean lakes that offer wonderful swimming conditions. The impressive Lake Champlain borders New York state to the west, and offers a selection of beautiful swimming locations. Point au Roche State Park and Cumberland Bay State Park are only two of the wonderful sandy beaches to be found at Lake Champlain. There are public beaches and lake swimming in every region of Vermont. Find more Vermont Beaches from VT LIVING.com.
---
Visit NH and find a fantastic beach. The two most famous beaches in the state are Weirs Beach, Laconia and Hampton Beach on Atlantic Ocean. That's not all. NH has hundreds of lakes and ponds scattered throughout the state. In the NH Lakes Region visit Weirs Beach or Ellacoya State Park on Lake Winnipesaukee or Wellington State Park on Newfound Lake, New Hampshire's lakes region offers a plethora of beaches and public swimming. The seacoast, of course, also offers the cool waters of the North Atlantic and beaches like Rye's Wallis Sands Beach and the famous Hampton Beach.

Paul McInnis Inc., One Juniper Rd., North Hampton, NH 03862 | 603-964-1301
New England's Premier Auction Company Since 1976. Whether you are a client or a customer, you will appreciate the benefits of taking part in a transaction with our firm because of our experience and professionalism. The National Auctioneers Association has presented us with 40 awards for excellence in advertising and promotion, including the prestigious Auction Of The Year Award. Join our mailing and view current auction offerings at our website.
Visit Paul McInnis Inc., Auctions - Real Estate - Results
---
---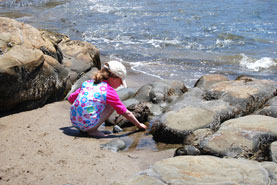 Take a Maine Vacation and visit the beach. Maine beaches are world famous. Maine offers miles of stunning coastal views, rocky coastlines and white sand beaches, making it hard to choose which beach you want to build a sand castle at. From the boardwalk and amusement park of Old Orchard Beach to the scenic sandy beaches and great surf in York, or Ogunquit – there's many options to choose from. However, the coast is not the only place in Maine to offer swimming opportunities. A little farther inland are some beautiful Maine lakes like Sebago and others providing yet more great swimming and sunning locations.


Ogunquit Playhouse, 10 Main Street, US Route 1, Ogunquit, ME 03907 | 207-646-2402
America's Foremost Summer Theater began in a renovated garage in Ogunquit's town square in 1933. Ogunquit Playhouse is dedicated to producing the finest shows ever to appear on Broadway stages. Visit the web site to see this years show schedule and purchase tickets.
Visit Ogunquit Playhouse Website
---

York's Wild Kingdom, P.O. Box 1139, York Beach, ME 03910 | 207-363-4911
 New England's Only Zoo AND Amusement Park. A family oriented zoo and amusement park conveniently located in York Beach, Maine. Stroll and view a large number of beautifully landscaped animal exhibits; numerous rides for all ages plus food and ice cream stands, gift shops and so more. A day of family fun and walking distance to a clean sandy beach! View dozens of live animals from near and far. Sorry, Pets are not allowed in the Zoo but are allowed (on leash) in the Amusement Park. Open Seasonally May-Sept. View website for details and hours.
Visit York's Wild Kingdom York
---


Maine Diner, 2265 Post Road (US Route 1),Wells, ME 04090 | 207-646-4441
Featured on "The Today Show", Phantom Gourmet, Guy Fieri's "Diners, Drive-Ins and Dives" and others. Maine blueberry pancakes, pies, lunch and dinner specials and more. World Famous Food Like Grandma Used To Make. Try Maine Diner's famous Lobster Pie, Seafood Chowder, Codfish Cakes. Breakfast anytime. Remember the Maine Gift Shoppe, Maine Products. Open Daily at 7AM..
Visit Maine Diner in Wells, Maine
---

Coastal Maine Botanical Gardens, 132 Botanical Gardens Drive, Off Barters Island Road, Boothbay, ME 04537 | 207-633-8000
Coastal Maine Botanical Gardens is a natural wonder of shorefront on the mid-coast Maine. Stroll 270 acres through spectacular ornamental gardens and miles of waterfront and woodland trails. Beautiful foliage, plantings, impressive stonework, waterfalls and fountains, and scenic views. One of Maine's top attractions. The Gardens are open 9-5 April 15 - October 31 (open until 6 pm in July and August). There is a cafe and gift shop on site.
Visit Coastal Maine Botanical Gardens
---
---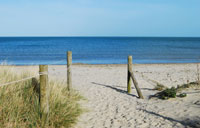 From the quiet beauty of Boston Harbor Islands National Park Area to the expansive beaches of Cape Cod National Seashore, there's no doubt the coastal region of Massachusetts offers a myriad of great beaches to choose from. Be sure to spend some time at Marconi Beach the nest time you visit Cape Cod – the steep sand cliffs shelters this beach in such a way that you see nothing other than pristine beach sand and the beautiful Atlantic Ocean. If you look carefully, you might even catch sight of a few seals or whales. The Massachusetts Activity Guide in MA Living will tell you more favorite Massachusetts Beaches and New England Activities.
---
Visit a Connecticut Beach and chill. From Silver Sands State Park in Milford and Lighthouse Point Park in New Haven to Sherwood Island State Park in Westport and Lake Mohegan in Fairfield, or the popular Hammonasett beach, there's no shortage of Connecticut beaches to swim at. If you find yourself in the New London area, be sure to spend some time at the family-friendly Ocean Beach Park.
---
A visit to the "Ocean State" of Rhode Island must include a visit to a famous Rhode Island Beach. The diversity of beaches offers in Rhode Island provide all kinds of swimming conditions for everyone from novice swimmers to seasoned surfers. Beavertail State Park in Jamestown, Rhode Island offers stunning views of rocky coastlines and great saltwater fishing.
---
Attractions | Inns | Resorts | Hotels
Rental Homes | Real Estate | Restaurants
Camping | Business | Classified