New England Beaches
New England Beach Vacations & Public Swimming
New England Beaches are a popular summer destination. The northeastern state offers some of the most refreshing beaches in the nation. Ocean beaches and spring-fed lakes provide plenty of boating and swimming opportunities to cool off during summer. Whether hitting the Atlantic seacoast or one of New England's many wonderful lakeside beaches, New England has something to offer everyone – State Parks, Ocean Beaches, Lake Beaches, and Swimming Holes. Browse New England Swimming & Beaches below. To feature your New England Business Listing, contact us. We share the Best of New England.
Take to the waters of Lake Champlain – although it's always a bit cooler than some of the nearby small ponds.   Vermont may be the only landlocked state in New England, but there are still many clean lakes that offer wonderful swimming conditions. The impressive Lake Champlain borders  New York state to the west and offers a selection of beautiful swimming locations. Point au Roche State Park and Cumberland Bay State Park are only two of the wonderful sandy beaches to be found at Lake Champlain. There are public beaches and lake swimming in every region of Vermont.  Find more Vermont Beaches from Vermont Living.
Include Me shortcode: file not found
---
Visit NH and find a fantastic beach. The two most famous beaches in the state are Weirs Beach, Laconia, and Hampton Beach on the Atlantic Ocean. That's not all. NH has hundreds of lakes and ponds scattered throughout the state. In the NH Lakes Region visit Weirs Beach or Ellacoya State Park on Lake Winnipesaukee or Wellington State Park on Newfound Lake, New Hampshire's lakes region offers a plethora of beaches and public swimming. The seacoast, of course, also offers the cool waters of the North Atlantic and beaches like Rye's Wallis Sands Beach and the famous Hampton Beach.
---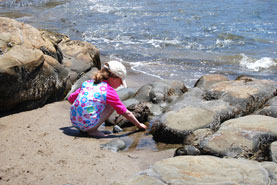 Take a Maine Vacation and visit the beach. Maine beaches are world-famous. Maine offers miles of stunning coastal views, rocky coastlines, and white sand beaches, making it hard to choose which beach you want to build a sandcastle at. From the boardwalk and amusement park of Old Orchard Beach to the scenic sandy beaches and great surf in York, or Ogunquit – there are many options to choose from. However, the coast is not the only place in Maine to offer swimming opportunities. A little farther inland are some beautiful Maine lakes like Sebago and others providing yet more great swimming and stunning locations.
---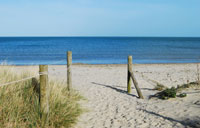 From the quiet beauty of Boston Harbor Islands National Park Area to the expansive beaches of Cape Cod National Seashore, there's no doubt the coastal region of Massachusetts offers a myriad of great beaches to choose from. Be sure to spend some time at Marconi Beach the next time you visit Cape Cod – the steep sand cliffs shelters this beach in such a way that you see nothing other than pristine beach sand and the beautiful Atlantic Ocean. If you look carefully, you might even catch sight of a few seals or whales. The Massachusetts Activity Guide in MA Living suggests the top Massachusetts Beaches and New England Activities.
---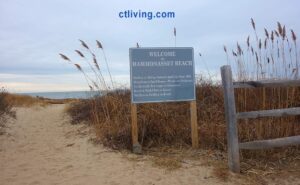 Visit a Connecticut Beach and chill. From Silver Sands State Park in Milford and Lighthouse Point Park in New Haven to Sherwood Island State Park in Westport and Lake Mohegan in Fairfield, or the popular Hammonasett beach,  there's no shortage of Connecticut beaches to swim at. If you find yourself in the New London area, be sure to spend some time at the family-friendly Ocean Beach Park.
A visit to the "Ocean State" of Rhode Island must include a visit to a famous Rhode Island Beach. The diversity of beaches offers in Rhode Island provides all kinds of swimming conditions for everyone from novice swimmers to seasoned surfers. Beavertail State Park in Jamestown, Rhode Island offers stunning views of rocky coastlines and great saltwater fishing.
SHOP SWIMWEAR 24/7 – FREE WORLD MALL
| Photo | Title | Price | Buy |
| --- | --- | --- | --- |
| | Tommy Bahama Womens Pansy Floral Print Wrap One-Piece Swimsuit Blue 4 | $154.00 | Sale Item |
| | Tommy Bahama Pearl Wrap-Front One-Piece Swimsuit White 4 | $140.00 | Sale Item |
| | Tommy Bahama Women's Pearl Pleated Halter One-Piece Black Swimsuit | $148.00 | Sale Item |
| | Tommy Bahama Channel Surfing Twist Front High Neck One Piece Swimsuit Size 4 Navy | $154.00 | Sale Item |
| | Tommy Bahama Exclusive Breton Stripe Hipster Bikini Bottom Mare Navy/White XL (US 16) | | Sale Item |
| | Tommy Bahama Exclusive Breton Stripe High-Neck One-Piece Swimsuit Mare Navy/White 4 | | Sale Item |
| | Tommy Bahama Women's Swimwear One-Piece Gathered V-Neck Black 8 | | Sale Item |
| | La Blanca Women's High Neck Keyhole Mio One Piece Swimsuit, Multi//Tropics of Tropez, 14 | $83.56 | Sale Item |
| | Becca by Rebecca Virtue Womens Cut-Out Lined One-Piece Swimsuit Red S | $74.99 | Sale Item |
| | Becca by Rebecca Virtue Fine Line Rib Skylar Plunge One-Piece Starry Night LG | $99.86 | Sale Item |
| | La Blanca Women's High Neck Midkini Bikini Swimsuit Top, Black//Catalina Coast, 14 | $59.93 | Sale Item |
| | Vitamin A Womens Playa Shirtdress EcoLinen Gauze Black LG (US Women's 10) One Size | $74.00 | Sale Item |
| | TONLEN Mens Swimwear Sports Shorts Swim Trunks with Zipper Pockets (US, Alpha, Medium, Regular, Regular, Black) | $16.99 | Sale Item |
| | La Blanca Womens Blanca Women's Swimsuit, Black, Women s Island Goddess Shirred One Shoulder One Piece Swimsuit Black 12, Black, 12 US | $74.10 | Sale Item |
| | BECCA by Rebecca Virtue Tallulah Claire Plunge One-Piece Marina SM | $80.49 | Sale Item |
| | Trina Turk Women's Standard V-Plunge One Piece Swimsuit, Black//Textured Zebra, 6 | $82.27 | Sale Item |
| | Becca by Rebecca Virtue Reveal Plunge One-Piece Black/Tan MD | | Sale Item |
| | Tommy Hilfiger men's 7" Swim Trunks, Navy Captain, Small US | $34.70 | Sale Item |
| | Becca by Rebecca Virtue Fine Line Adeline Rib Asymmetrical One-Piece Adobe MD | | Sale Item |
---
Attractions | Inns | Resorts | Hotels
Rental Homes | Real Estate | Restaurants
Camping | Business | Classified