New England Apple Orchards
PYO Fruit Farms in New England
Let's go Apple Picking in New England. The New England apple-picking season coincides with the New England fall foliage season, so you can start your day by enjoying the scenic drive to one of New England's many apple orchards, apple farms, or PYO (Pick Your Own) fruit farms. Visit the very best Apple Orchards in New England to find simply delicious New England grown apples.
New England fruit picking includes Peach picking, Bluesberry Picking, and Apple Picking. Fruit picking in New England is a great way to enjoy time outdoors while helping to support our local farmers. Thank you for shopping locally. To feature your New England Farm Products, contact us.
Pick your own apple orchards, roadside farm stands, and apple wholesalers are found all over Vermont. Every Autumn a wonderful Vermont vacation idea is to go apple picking. Most Vermont apple orchards offer pick-your-own apples. Browse the Vermont Apple Orchards Guide and contact the orchards directly for the optimum times and fruit-picking policies. Find more Vermont Apple Growers from Vermont Living Magazine.


Allen Brothers Farms, 6023 US Route 5, Westminster, VT 05158 | 802-722-3395
We are a uniquely Vermont combination of practical and beautiful. We have an inhouse bakery featuring cider donuts, pie, cakes and cookies , a deli with signature Mac & Cheese, pizza and other warm options as well as made to order sandwiches, a country store filled with local Vermont products, locally grown seasonal produce with our own apples, corn, strawberries, and squash and pumpkins, a gas station, a nursery and garden center. Come and see what we have for you at exit 5 off I-91, easy off and on
Visit Allen Bros. Farms Website
---


Yates Family Orchard, 1074 Davis Road, Hinesburg, VT 05461 | 802-373-7437
Come pick 23+ different apple varieties, pears and plums! Visit the orchard stand for delicious, hot, out of the fryer, cider donuts, and baked goods. Try all-natural Vermont made creemee ice cream, raw pressed cider, and other yummy orchard treats. Shop for Vermont local raw honey, maple syrup, orchard made jams, Mt Mansfield Creamery cheeses, Eden Specialty ciders, locally grown mums, pumpkins, and veggies. Discover other Vermont products and artwork for sale. Bring a picnic, stay the afternoon and relax in the scenic beauty of the orchard. Open September through November everyday.
Visit Yates Family Orchard - Hinesburg
---


The Dutton Berry Farmstands, Route 30, Newfane, VT and Route 11-30 in Manchester, VT and Route 9 in West Brattleboro, VT | 802-365-4168
Dutton Berry Farmstands are well known for their Vermont grown produce and other unique local products. Fresh picked apples straight from our orchard are available throughout apple season. Stop in and pick up a jug of Dutton Berry Farm's fresh made apple cider, made from our home grown apples. Whether it is fresh farmer-grown fruits and vegetables, cider, maple syrup or plants, you'll enjoy visiting a true Vermont farm experience.

---
There are many excellent apple orchards throughout the Granite State. From the Great North Woods to the NH Seacoast, find the perfect apple orchard for your autumn family outing. The New Hampshire Apple Orchard Guide in NH Living will get to all of New Hampshire's most popular attractions.
---
The state of Maine is home to hundreds of wonderful apple orchards for the perfect crisp fall day trip. Explore Maine's apple groves, find a few petting zoos, and have a cup of warm apple cider.  The Maine Apple Orchard Guide will lead you to the best Apple Orchards and PYO fruit farms in Maine.
---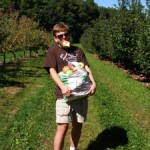 Massachusetts is the birthplace of John Chapman (a.k.a. Johnny Appleseed), whose claim to fame was scattering apple seeds throughout the land. There is something to be said for his work because today Massachusetts has hundreds of apple orchards located throughout the state. The Massachusetts Apple Picking Guide in MA Living will tell you more about Massachusetts Apple Orchards and PYO Fruit Farms.

Include Me shortcode: file not found
---
Connecticut boasts a wealth of great apple orchards and some amazing peach orchards as well. In fact, you'll find at least one apple orchard in all eight counties of this southern New England state. No matter where you are in Connecticut you will be able to find an apple orchard nearby. Apple Orchards are fun to visit and buy directly in many cases. Each apple orchard listed provides information on whether you can pick your own, what season they are open if they have fresh apple cider available, and more. The Connecticut Apple Orchard Guide in CT Living offers more PYO Fruit Growers for your Connecticut PYO fruit vacation.

USS Chowder Pot III | 560 East Main St., Branford, CT 06405 | 203-481-2356
Enjoy award winning seafood, slow roasted prime rib and USDA Choice steak. Chowder Pot III has two large dining rooms, air-cooled patio and a very popular Captain's Lounge featuring an amazing raw bar. Happy Hour Mon-Fri, 3:30p-6p. Chowder Pot III has won numerous awards from Connecticut Magazine and for 17 years in a row been voted Best Seafood by the New Haven Advocate. Pick out your own live lobster - 1-15 lbs.!
Visit Chowder Pot III Restaurant Branford
---


Michael's Trattoria, 344 Center St., Wallingford, CT 06492 | 203-269-5303
Award-winning Italian Specialties - Parmigiana, Zuppa Di Pesce, Pasta, Chicken, Veal, Steak, and Seafood served 7 days a week in a relaxed atmosphere. Begin with fresh baked bread served with Michael's own amazing Virgin Olive Oil Dip and complete your meal with Chef-made Banana Cream Pie or fresh-filled Canoli's. Indoor/outdoor dining. Pizza available in the Bar/Lounge or take out only. Catering and In-House Luncheons for up to 40 people available. Michael's Trattoria has served the Wallingford community for more than 25 years.
Visit Michael's Trattoria, Wallingford, CT
---
---

With apple picking, fresh cider, pumpkins, wagon rides, and gift shops, harvesting apples in New England is a fun family event for all ages. Each year, the apple harvest season begins in early August and extends into late October. At the apple orchard, you can enjoy a day filled with activities for the whole family. Many apple orchards are family-owned with a strong sense of tradition, which makes them a great place to spend a wholesome day. Most apple orchards now offer pick-your-own apples for certain varieties. The most popular pick-your-own varieties are McIntosh, Cortland, Granny Smiths, Gala, Red Delicious, Yellow Delicious, Empire, and Rome.

Other varieties of apples can usually be found at the farm stand along with a variety of apple products, cider, jams, pies, honey, maple syrup, vegetables, pumpkins, flowers, local crafts, and other fruits that are in season. Depending on the time of year you choose to visit an orchard, you may also be able to enjoy pick-your-own peaches, blueberries, or strawberries. In addition to the family fun that you will experience when picking your own apples, many apple orchards now offer additional activities. Some activities offered at various orchards include weekend festivals, hayrides, playgrounds, and petting zoos.

If you visit an orchard that crafts its own cider, you may have the opportunity to witness an apple-pressing demonstration. During a visit to an apple orchard on a warm day, you may want to enjoy a light picnic lunch. Depending on the orchard, they may offer meals on-site, or you may need to pack your own.

Shop Apple Pie Bakeware Sale

| Photo | Title | Price | Buy |
| --- | --- | --- | --- |
| | KidKraft Create & Cook™: Apple Pie | | Sale Item |
| | OXO Good Grips Apple Slicer, Corer and Divider,White | $11.39 | Sale Item |
| | Apple Peeler Corer, Long lasting Chrome Cast Magnesium Alloy Apple Peeler Slicer Corer with Stainless Steel Blades and Powerful Suction Base for Apples and Potato(Red) | $19.99 | Sale Item |
| | Apple Peeler and Corer for Holiday Pie - Durable Heavy Duty Chrome Cast Iron w Powerful Countertop Suction, Hand Crank for Fruits, Potatoes or Veggies, Picking Season- Xmas Dessert Making or Gift | $16.95 | Sale Item |
| | AmazonCommercial Stainless Steel Apple Corer | | Sale Item |
| | Newness Apple Cutter Slicer, [Large Size] 16 Slices HEAVY DUTY and Pear Corer Divider with Base, [Upgraded] Cut Apples All The Way Through, Stainless Steel Fruits & Vegetables Divider, Wedger | $23.98 | Sale Item |
| | Ihohobao Fruzelg Apple Pie Ceramic Recipe Pie Plate 10" Diameter with Recipe | | Sale Item |
| | Emile Henry 9" Pie Dish - Modern Classics Collection | Rouge | $51.52 | Sale Item |
| | LE TAUCI Ceramic Pie Pans for Baking, 9 Inches Pie Plate for Apple Pie, Round Baking Dish, 36 Ounce Fluted Dish Pie Pan, Set of 2, White | $36.99 ($18.50 / Count) | Sale Item |
| | Cedilis Set of 2 Ceramic Pie Pan for Baking, 9 Inches Pie Plate with Handle, 42 Ounce Deep Dish Pie Pan, Round Baking Dish for Apple Pie, Pumpkin Pie, Yellow | $26.99 ($13.50 / Count) | Sale Item |
| | Le Creuset Stoneware Pie Dish, 9", Cerise | | Sale Item |
| | Le Creuset Eiffel Tower Collection Stoneware Pie Dish, 9", Cerise | $55.95 | Sale Item |
| | The Lakeside Collection Pumpkin Pie Dish - Ceramic Fall Cookware with Lid for Thanksgiving Dessert, Orange | | Sale Item |
| | Apple Pie - Apple and Cinnamon Scented Soy Candle with Cinnamon Powder Decor- Large Soy Candle in a Kraft Box | $24.99 ($2.08 / Ounce) | Sale Item |
| | Nordic Ware Apple Slice Cakelet | $21.69 | Sale Item |
| | Nordic Ware Bronze 92548 Apple Basket Cast Loaf Pan, 6 Cup Capacity | $33.93 | Sale Item |
| | Nordic Ware Beehive Cake Pan, One, Gold | $30.25 | Sale Item |
| | Elegance E-Commerce Apple Shape Metallic Cake Tin, Novelty Cake Pans for themed birthdays, parties and gatherings | $24.99 ($1.19 / Count) | Sale Item |
| | Nordic Ware Charlotte Cake Pan, 6-Cup/1.4 Liters, Toffee | $35.97 | Sale Item |
| | Spice Appeal Apple Pie Spice, 16 Ounce | $14.10 ($0.88 / Ounce) | Sale Item |
| | Apple Pie Spice Mix 2 Pounds- Fall Holiday Seasoning For Baking and Cooking Includes Cinnamon, Nutmeg, Allspice, Ginger and Cloves | | Sale Item |
| | SPICES VILLAGE Apple Pie Spice [ 8 oz ] - Cinnamon, Ginger, Nutmeg, and Allspice Mix - Kosher, Gluten Free, Non GMO, Resealable Bulk Bag | $14.45 ($1.81 / Ounce) | Sale Item |
Most orchards will have a nice picnic area with majestic views, where you can relax while you eat. After your picnic, tasty ice cream treats to help keep everyone cool may be offered at the farm stand. Orchard owners are very proud of their harvests and their orchards. If you are interested in how apple orchards operate, some orchards will offer guided tours; however, these usually need to be scheduled in advance.

After you return home from a fun-filled day at the orchard, be sure you get the most out of your apples. Keep in mind that apples continue to ripen after they have been picked. Store the apples in a cool place to retard the ripening process, and never store your apples at room temperature, as this can ruin their flavor. If you plan to use apples for baking, visit New England Recipes for great apple recipes and cooking ideas. The best apples for baking are; Baldwin, Cortland, Hampshire, Kearsarge, McIntosh, Rome, Delicious, and Granny Smith. However, experimenting will keep things exciting.

Everyone has different tastes, so you may just create a family favorite that will last for generations.



---
Attractions | Inns | Resorts | Hotels
Rental Homes | Real Estate | Restaurants
Camping | Business | Classified