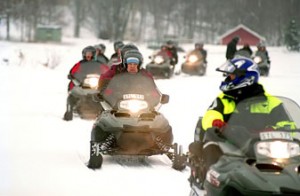 New England Snowmobiling Vacations
Here in New England, snowmobiling is a popular winter sport.   Snowmobiling vacations are much more prevalent in northern New England. Vermont, northern New Hampshire, and Maine offer thousands of miles of groomed snowmobile trails. The Brighton / Island Pond area of Vermont's Northeast Kingdom is called the "Snowmobile Capital of New England"-  though some from northern New Hampshire and Maine may take exception to that claim. Pittsburg, NH attracts many snowmobilers each year to view the rural Connecticut Lakes Region near the Canada border. In northern Maine snowmobiles are more than fun, they are a vital means of transportation.
Let us help plan your New England Snowmobile Adventure. Feature your New England snowmobile business or service, contact us.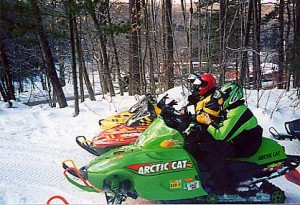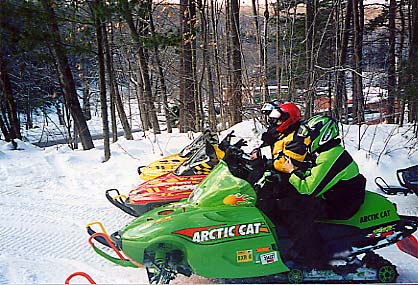 The VAST Snowmobile Trails are famous for winter fun. The snowmobiling enthusiast will love Vermont, for here the snowmobiler can enjoy breath-taking vistas, clean country air, superb accommodations, groomed Vermont VAST snowmobile trails, and some outstanding just off the trail dining. Vermont has more than 4,700 miles of groomed snowmobile trails. Find more Vermont Snowmobiling from VT LIVING.com.


The Wildflower Inn, 2059 Darling Hill Road, Lyndonville, VT 05851 | 802-626-8310
Trailside Lodging in the Northeast Kingdom of Vermont. Your next great adventure awaits at The Wildflower. A four-season destination property for the best in outdoor recreation and Vermont experiences. With our 25-room Inn, full-service restaurant, pub, Village Sport bike shop (with rentals) and KCE guide company right on the property, you will have everything you need to make the most of your Vermont visit.
Visit The Wildflower Inn - Lyndonville, VT
---
---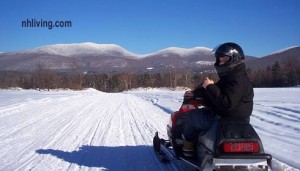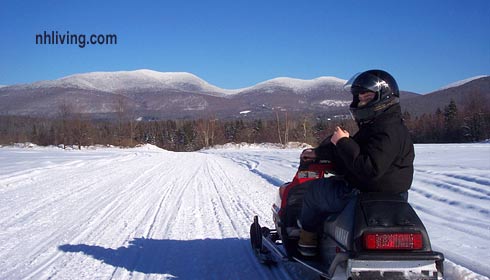 New Hampshire's snowmobile trails are quite famous. With a snowmobile season that begins in mid-December and extends through at least February, there is plenty of time each season to explore the vast snowmobiling trail network in the state. New Hampshire's trail system is maintained by the NH Snowmobile Association, an organization of independently incorporated snowmobile clubs. The New Hampshire Snowmobiling Guide in NH Living has more trail and lodging information.


Partridge Cabins, 3 Partridge Road, US Route 3, Pittsburg, NH 03592 | Ph: 603-538-6380
Visit Partridge Cabins and Lodge - the four season place to be. We have 600 feet of lake frontage on First Connecticut Lake. We offer housekeeping cabins situated amidst the shade of sheltering spruce and fir trees. Completely winterized cabins with gas heaters, private baths, with hot and cold running water, electricity, and full kitchen facilities. All cabins are attractively furnished, and accommodate 4-8 people. Snowmobile, cross-country ski, hike, moose watch, and let's not forget fishing and hunting! Summer, fall, winter, and spring, you will find Partridge Lodge & Cabins most pleasing.
Visit Partridge Cabins, Pittsburg, NH
---

Maine has over 12,500 miles of snowmobile trails; 2,500 miles of which comprise the Interconnected Trail System (ITS) which allows uninterrupted to travel throughout the state. Explore ten thousand miles of local trails leading to secluded, frozen, beautiful places that most people will never reach, on foot or by vehicle, at any other time of the year. Some of the most visited Maine snowmobiling areas include Baxter State Park, the Jackman-Moose River area, Moosehead Lake, Rangeley Lakes, and northern Maine's Aroostook County. The Maine Living Snowmobile Vacation Guide in ME Living has more info.


Hampton Inn Oxford, 151 Main Street, Oxford, Maine 04270
Explore the beauty of Oxford, ME. The Hampton Inn & Suites hotel is within walking distance of Oxford Casino and offers easy access to local mountains, lakes and rivers. Enjoy picturesque views of Mt. Washington and the White Mountains from the clean, comfortable surroundings of your guest room. Whether you're in on business or traveling with friends and family, our hotel provides plenty of amenities to make your trip a success.
---
SNOWMOBILE EQUIPMENT SALE

SNOWMOBILE GEAR & APPAREL –

SNOWMOBILING HELMET –
SNOWMOBILE APPAREL –
100% Other Fibers
Imported
85 grams ThermaTech Insulation offers warmth in a lightweight, low bulk garment (keeps you warm at temperatures from 20 to 35 degrees)
Adjustable comfort suspenders for the perfect fit with elasticized side gussets for maximum motion
600 Denier Ballistic are used to reinforce the ankle, scuff and hem guards to hold up against daily wear and tear
Boot zippers for easy on and off, along with convenient O-ring for keys/gloves/lift tickets
Boot gaiters with grippers form a seamless integration with boots to keep warmth in and moisture out
Adjustable suspenders offer customized fit, plus elasticized side gussets to accommodate extra mobility
Nike Pro Combat Hyperwarm Hydropull Hood. Nike Therma-Fit keeps athletes dry, providing heat retention
Flat seam construction lies smooth against the head
Form fitting comfort on its own or under the helmet
Offers full facial protection that extends below the neck line
ULTIMATE PROTECTION for YOUR FACE and YOUR BODY – Achiou balaclava face mask is made from high quality fabric, comfortable and lightweight. Very effective for providing face protection, primarily against the wind, dust, UV while motorcycling or other sports. When winter weather is in full force, this soft mask is quite the treat
WARM BREATHABLE & KEEP DRY – Achiou ski face masks are tailored to your head and face to ensure that the part to cover the nose not falls down easily. Complete head face neck mask for summer and winter. The balaclava mesh material is breathable, absorbs sweat and will keep you dry. It also fit nicely under your helmet and goggles and keep your face and head warm
VERSATILITY & BEST GIFTS – Can be worn as full face mask or hat, open balaclava, sun shield masks, half ski mask , neck gaiter or saharan style & ninja hoodie. Wear your balaclava on its own or under a helmet. People use Achiou balaclava for skiing, running, riding, fishing, snowboarding, motorcycling, hiking, Climbing. Perfect fit for Women, Men and Children. It is best gift for your friends and family etc
ULTIMATE COMFORT: Achiou ski mask provides all-day comfort by keeping you warm and dry. It has a stretchy, lightweight and breathable fabric that protects your face while wicking away moisture. Thermal Dry fabric provides optimal moisture transfer, dry time
GREAT TO SHARE (GREAT GIFT IDEA TOO!) – while you are enjoy it, send it to your family, friends, or people you loved as a gift for Christmas, New Years, Valentine's Day, Father's day, Mother's Day etc! Also,it's a great gift to runners, athletes, fitness workouts, hiking, cycling, or anyone who need it
SNOWMOBILING BOOTS –
100% Other Fibers
Imported
85 grams ThermaTech Insulation offers warmth in a lightweight, low bulk garment (keeps you warm at temperatures from 20 to 35 degrees)
Adjustable comfort suspenders for the perfect fit with elasticized side gussets for maximum motion
600 Denier Ballistic are used to reinforce the ankle, scuff and hem guards to hold up against daily wear and tear
Boot zippers for easy on and off, along with convenient O-ring for keys/gloves/lift tickets
Boot gaiters with grippers form a seamless integration with boots to keep warmth in and moisture out
Adjustable suspenders offer customized fit, plus elasticized side gussets to accommodate extra mobility
FORCED WARM AIR - dryer works on four garments simultaneously; boots, gloves, helmets, hats and more
WHISPER QUIET - rotary blower with a 3-hour timer; heats to 105°F/40.5°C will not harm any liners or garments
KEEPS SHOES FRESH - wet, soggy footwear is a breeding ground for unwanted odors. Dries most items in 1 to 2 hours
INCLUDES - two removable extension tubes for use with boots up to 16 inches tall; heat or no-heat switch
DIMENSIONS - 12 inches deep x 7.5 inches high x 15 inches wide; 6-foot power cord; 1 year Warranty
MAKE HIKING A COMFORTABLE EXPERIENCE These Merino wool hiking socks are built to provide you with total support and comfort during your hiking trips, no matter the weather. Each pair of these hiking boot socks is ideal for the rugged terrain, allowing these to be great mens or women's hiking socks
ITCH FREE MATERIAL These wool hiking socks come blended with nylon to promote a comfortable, itch free experience. Ultra comfortable, these women and mens hiking socks won't cause you to pause in your step to scratch at your foot or readjust the calf height sock
KEEP YOUR FEET WARM DURING COLD WINTER HIKES With these hiking socks, women and men alike can enjoy the comfortable warmth that these cozy socks provide. Especially good for the colder months, each winter sock in the pair of men and womens wool socks will keep out the cold and moisture that wintertime often affords
SUPERIOR CUSHIONING IN THE FOOTBED These mens and womens hiking socks offer a shaped cushioning in their footbed to promise a more comfortable trek up the mountain. Through the use of these mens wool socks, women and men can enjoy less fatigue and pain in their feet after a long day of hiking in these ladies wool socks
SIMPLE TO CARE FOR When you get home, these wool socks mens accessories can be washed easily. Just put these women and mens hiking socks in the wash on cold and these wool socks will be good to go. Two Size Available Small-Medium (Fits Shoe size: Men 5-9.5/ Women 6-10.5) and Medium-Large (Fits Shoe size: Men 9.5–14/Women 11-15)
---
Attractions | Inns | Resorts | Hotels
Rental Homes | Real Estate | Restaurants
Camping | Business | Classified