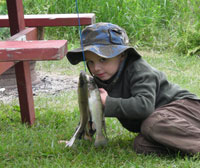 New England Fishing Vacations
Cleaning out your tackle box and shopping for fishing equipment is an annual springtime tradition here in New England. From deep, cold water lakes with Lake Trout, Pike and Salmon, to beautiful speckled brook trout; bass filled ponds, and saltwater fishing for Mackerel, Tuna, and Blues – New England is famous for fishing vacations. A New England Fishing Vacation can include luxury accommodations at Waybury Inn in Vermont or even a private vacation home with all the amenities at Lopstick Cabins in Pittsburg. We can help you pick the ideal fishing lodge or luxury cabin getaway complete with an Orvis professional fishing guide. To inquire about New England fishing destinations or to feature your business, contact us.

Discover the best fishing and fishing vacation lodging in Vermont. We found local fishing spots on Lake Champlain, in the deep lakes of the Northeast Kingdom and on the famous trout-filled Battenkill River or near a famous historic inn. Find more Vermont fishing from VT LIVING.com.


Waybury Inn, Route 125, E. Middlebury, VT 05740 | 802-388-4015 or 800-348-1810
Located at the foot of the Green Mountains with outstanding fly fishing streams and rivers nearby, the Waybury Inn is an ideal location for your Vermont vacation. Ask us about area fishing guides that are available to assist you in finding out where the hot fishing spots are or provide you with personalized fly fishing lessons. The Waybury Inn has offered comfortable lodging, unpretentious fine dining since the 1800's.
Visit Waybury Inn E. Middlebury
---
---

Fishing in New Hampshire is a favorite way to pass the time. With all the lakes and beautiful scenery, it is no wonder. There are great places to fish throughout New Hampshire. No matter where you are, or plan to be, there is great fishing not far away! The "Big Lake" – Lake Winnipesaukee holds giant "Lakers" – Lake Trout, Landlocked Salmon, Perch and other species. The majestic Connecticut Lakes Region in Pittsburg is top rated destination for flyfishing and harbors "Brookies", Rainbow Trout and Salmon. The headwaters of the Connecticut River are among the most productive trout fishing waters in New England. The NH fishing information is organized by region in the New Hampshire Fishing Guide.


Partridge Cabins, 3 Partridge Road, US Route 3, Pittsburg, NH 03592 | Ph: 603-538-6380
Visit Partridge Cabins and Lodge - the four season place to be. We have 600 feet of lake frontage, and offer housekeeping cabins situated amidst the shade of sheltering spruce and fir trees. Completely winterized cabins with gas heaters, private baths, with hot and cold running water, electricity, and full kitchen facilities. All cabins are attractively furnished, and accommodate 4-8 people. Snowmobile, cross-country ski, hike, moose watch, and let's not forget fishing and hunting! Summer, fall, winter, and spring, you will find Partridge Lodge & Cabins most pleasing.
Visit Partridge Cabins - Pittsburg, NH
---


Cabot Inn & Suites, 200 Main Street, Lancaster, NH 03584 | 603-788-3346
A four-season family resort located in the heart of the White Mountains, over-looking the Presidential Range. 60+ acres, breathtaking views of the mountains. Bretton Woods, Cannon, Wildcat, Attitash, Loon, Black Mountain, Cranmore ski areas nearby. Family restaurant and lounge. Indoor heated pool, game room, outdoor playground, video game hook-ups. Santa's Village, Six Gun City, Story Land, Whale's Tale Water park a short drive away.
Visit Cabot Inn & Suites Lancaster
---


Cottage Place on Squam Lake, 1132 US Rt. 3, Scenic View Road, Holderness, NH 03245
The Cottage Place on Squam Lake specializes in cottage living by offering 8 cottages of various shapes and sizes as well as 8 motel suites. Over 140 feet of Squam Lake frontage with a carefully landscaped sandy beach. Open year round, most cottages have fireplaces.
Visit Cottage Place on Squam Lake Holderness
---


Siver Lake Park Campground & Cabins, 389 Jamestown Road, Belmont, NH 03220
Located in the heart of the Lakes Region, Silver Lake Park Campground features lakeside camping and cabin rentals with spectacular sunset views. Our beautiful fully furnished cabins feature all wood interiors, kitchen, living room, bedroom, bathroom and screened porch.
Visit Silver Lake Park Campgrounds & Cabins Belmont
---

Living Water Campground, 100 Route 302, Twin Mountain, NH 03595 | 603-846-5513
If you like the feeling of clean, quiet, and secure, then you will enjoy our pleasant, wooded setting surrounded by the panoramic beauty of New Hampshire's White Mountains. The Ammonoosuc River borders the campground providing trout fishing and scenic beauty for our campers. Facilities include RV and Trailer Sites (full Hook up), Custom Built Log Cabins, Restrooms, Playground, Tent Sites, Inground Pool, and more.
Visit Living Water Campground - Twin Mountain, NH
---
---
Take a Maine Fishing Vacation. There are over 3,000 lakes and ponds equaling 32,000 miles of fish filled water – and that's just inland Maine. Whether you're an amateur or a pro, Maine has the fishing spots that will appeal to you. Discover the best locations to catch "the big one" in Maine by region, with links to other area attractions, restaurants, lodging, and a wide range of Maine indoor and outdoor activity information. The Maine Fishing Guide in ME Living will tell you about unique Maine fishing vacations.

The Kennebunk Inn, 45 Main Street, Kennebunk, ME 04043 | 207-985-3351
If you are searching for an historic inn with affordable class and fabulous food in southern coastal Maine - The Kennebunk Inn is the place. Beautiful beaches, nature preserves, museums, galleries, antique shops, and more. We look forward to sharing our special place in the land of the pointed firs.
Visit The Kennebunk Inn - Kennebunk
---

DiMillo's on the Water, 25 Long Wharf, Portland, ME 04101 | 207-772-2216
DiMillo's is where you'll dine on lobster, clams, shrimp, scallops and fish that are absolutely the freshest on the waterfront and prepared with ingredients that enhance rather than disguise their flavors. The perfect place for dinner, weddings, parties and office functions. Simplicity, freshness and quality are the recipe for DiMillo's amazing menu choices since 1954.
Visit DiMillo's On The Water Restaurant
---


Maine Diner, 2265 Post Road (US Route 1),Wells, ME 04090 | 207-646-4441
Featured on "The Today Show", Phantom Gourmet, Guy Fieri's "Diners, Drive-Ins and Dives" and others. Maine blueberry pancakes, pies, lunch and dinner specials and more. World Famous Food Like Grandma Used To Make. Try Maine Diner's famous Lobster Pie, Seafood Chowder, Codfish Cakes. Breakfast anytime. Remember the Maine Gift Shoppe, Maine Products. Open Daily at 7AM..
Visit Maine Diner in Wells, Maine
---


Beachmere Inn, 62 Beachmere Place, Ogunquit, ME 03907 | 207-646-2021
Ocean front accommodations in the heart of Ogunquit on the Marginal Way with breathtaking ocean views. Luxury suites and unique rooms, fireplaces, kitchenettes, private balconies or patios. Enjoy an on-site spa, exercise room and hot tub. Reception rooms for weddings, meetings and events. Beachmere Inn is a leader in guest services, event coordination and hospitality. A stunning location perfect for weddings, elopements, vow renewals, rehearsal dinners, bridal showers and even bachelor - bachelorette weekend getaways. Open year round. Walk to everything in town or enjoy drinks from our ocean view Blue Bistro.
Visit Beachmere Inn - Ogunquit ME
---


Blazes Burgers, 652 Main Street, Westbrook, ME 04029 | 207-591-0331
A locally owned Restaurant that serves FRESH Burgers, Clam Cakes, Chicken, Sloppy Joes and more with your choice of Hand Cut French Fries, Tater Tots, or many other delicious options. The Beyond Burger works for our Vegetarian/Vegan friends and we have a great children's menu! Try a signature selection today and see what everyone is talking about. View menu and order online.
Visit Blazes Burgers - Westbrook, ME
---
---
Whether it's the thrill of deep sea fishing for shark or bass off the coast of Cape Cod, or the serenity of fly fishing at one of the Berkshires' many stunning rivers, the Massachusetts fishing guide will help you find the perfect fishing hot spot for a day of relaxation or a destination fishing vacation. The Massachusetts Fishing Guide in MA Living will lead you to additional Bay State Fishing fun.
Include Me shortcode: file not found
---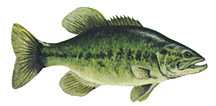 Diversity makes for Great Fishing in Connecticut! Trout, walleye, pike, catfish, striped bass, bluefish, scup, largemouth bass, smallmouth bass, blackfish, fluke, … the list goes on and on. If you're looking for great fishing in the Northeast then Connecticut is the place to be. Avid anglers will love the challenge of matching wits with wily trout in our TMAs, the sophistication of competitive bass fishing, or night fishing for huge striped bass in Long Island Sound, the tranquility of our trout parks, or the simple fun of fishing for scup off a jetty or pier. Whatever your fishing pleasure, you're sure to find it in Connecticut. The Connecticut Fishing Guide in CT Living will offers ideas for Connecticut fisherman and women.
---
Don't let the size of this tiny state fool you. With countless marinas and coastal launches, there are some fabulous fishing spots throughout the Ocean State. Discover the best locations to catch the 'big one' in RI. Whether you are into saltwater fishing, freshwater fishing or fly fishing, Rhode Island has a spot for you to drop your line in the water. Browse the different Rhode Island Fishing to find a fishing spot near you.
In New England fishing is a year-round outdoor activity. Ice fishing gives way to springtime trout and salmon runs. The time of year when the weather fluctuations and temperature changes are signaling the arrival of spring. In the northeast Spring means recreational fishing! Early Spring, before the waters warm, is the best time of the year to fish for Lake Trout and Landlocked Salmon. The silvery salmon are quite active and are feeding near the surface in early spring. First Connecticut Lake, Second Connecticut Lake, Lake Winnipesaukee, Newfound Lake, and Lake Francis are popular NH Fishing Destinations.
---
Attractions | Inns | Resorts | Hotels
Rental Homes | Real Estate | Restaurants
Camping | Business | Classified