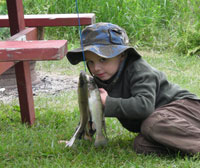 New England Fishing
Cleaning out your tackle box and shopping for fishing equipment is an annual spring time tradition here in New England. From deep, cold water lakes with Lake Trout, Pike and Salmon. To beautiful speckled brook trout; bass filled ponds and saltwater fishing for Mackerel, Tuna, and Blues – New England is famous for fishing vacations. Visit New England Living websites for local Northeast Fishing information. To feature your business, contact us.

Discover the best fishing in Vermont. We found local fishing spots on Lake Champlain, in the deep lakes of the Northeast Kingdom and on the famous trout-filled Battenkill River or near a famous historic inn. Find more Vermont fishing from VT LIVING.com.
---

Fishing in New Hampshire is a favorite way to pass the time. With all the lakes and beautiful scenery, it is no wonder. There are great places to fish throughout New Hampshire. No matter where you are, or plan to be, there is great fishing not far away! The NH fishing information is organized by region in the New Hampshire Fishing Guide.
---
Take a Maine Fishing Vacation. There are over 3,000 lakes and ponds equaling 32,000 miles of fish filled water – and that's just inland Maine. Whether you're an amateur or a pro, Maine has the fishing spots that will appeal to you. Discover the best locations to catch "the big one" in Maine by region, with links to other area attractions, restaurants, lodging, and a wide range of Maine indoor and outdoor activity information.. The Maine Living Activity Guide in ME Living will tell you about unique Maine attractions.
---
Whether it's the thrill of deep sea fishing for shark or bass off the coast of Cape Cod, or the serenity of fly fishing at one of the Berkshires' many stunning rivers, the Massachusetts fishing guide will help you find the perfect fishing hot spot for a day of relaxation or a destination fishing vacation. The Massachusetts Fishing Guide in MA Living will tell you more favorite New England Activities.
---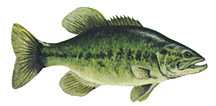 Diversity makes for Great Fishing in Connecticut! Trout, walleye, pike, catfish, striped bass, bluefish, scup, largemouth bass, smallmouth bass, blackfish, fluke, … the list goes on and on. If you're looking for great fishing in the Northeast then Connecticut is the place to be. Avid anglers will love the challenge of matching wits with wily trout in our TMAs, the sophistication of competitive bass fishing, or night fishing for huge striped bass in Long Island Sound, the tranquility of our trout parks, or the simple fun of fishing for scup off a jetty or pier. Whatever your fishing pleasure, you're sure to find it in Connecticut. The Connecticut Fishing Guide in CT Living will offers activity ideas for Connecticut vacationers.
---
Don't let the size of this tiny state fool you. With countless marinas and coastal launches, there are some fabulous fishing spots throughout the Ocean State. Discover the best locations to catch the 'big one' in RI by region. Whether you are into saltwater fishing, freshwater fishing or fly fishing, Rhode Island has a spot for you to drop your line in the water. Browse the different Rhode Island Fishing to find a fishing spot near you.
In New England fishing is a year round outdoor activity. Ice fishing give way to spring time trout and salmon runs. The time of year when the weather fluctuations and temperature changes are signaling the arrival of spring. In the northeast Spring means recreational fishing! Early Spring, before the waters warm is the best time of the year to fish for Lake Trout and Landlocked Salmon. The silvery salmon are quite active and are feeding near the surface in early spring.
---