New England Hiking
New England hiking is an extremely popular outdoor sport. The famous northeastern trails like the Appalachian, Long Trail, and Presidential Range hikes attract hundreds of hikers worldwide. From the lakes to the mountains there are so many beautiful vistas to enjoy how can a person resist? To feature your NE Activity, contact us.
Vermont's Long Trail and Appalachian Trail run through a large portion of the Green Mountain State. Different sections of these trails are of various levels of difficulty so make sure to adjust accordingly. To add to these wonderful trails is the Green Mountain National Forest which totals 400,000 acres. So no matter what your hiking preferences, there are plenty of trails to choose from in Vermont. Find more Vermont Hikes from VT LIVING.com.
---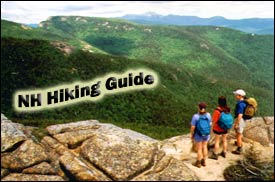 Vacation in New Hampshire for a wide variety of family hikes. New Hampshire's Presidential Range, with it's 4,000 ft. peaks, is a very popular hiking destination. Other New Hampshire hiking trails include Welch and Dickey Mountains, Mount Monadnock, and Franconia Notch, former home of the Old Man of the Mountain. Mt. Washington has the highest peak in the northeast and is part of the Presidential Range, located in the White Mountains of New Hampshire. The New Hampshire Hiking Guide in NH Living will get to all of New Hampshire's most popular attractions.
---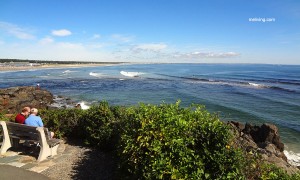 Take a Maine Hiking Vacation in the Allagash Wilderness, Baxter State Forest or by the ocean on Marginal Way in Ogunquit. Maine is the northern end of the Appalachian Trail. There are many great trails in Maine. Mt. Katahdin has the highest peak is Maine and is located in Baxter State Park, the largest park in Maine. Acadia National Park has Cadillac Mountain which is the first point in the United States to see the sunrise. for a wide variety of family activities and world famous ocean forts and lighthouse tours. The Maine Living Hiking Guide in ME Living will tell you about Maine hikes and ocean walks.
---
Your Massachusetts Vacation can include a casual walk in the woods or a serious hike to an amazing view. Each region of Massachusetts has its own unique character. Massachusetts offers hikers of all ability levels a way to enjoy the natural beauty of New England. From the scenic mountain tops in the Berkshires to the barrier islands of the Cape, you are sure to encounter spectacular scenery along Massachusetts trails. Almost everywhere you go in Massachusetts will lead you to a fabulous hiking or backpacking trail. Some of the local favorites include Boston Harbor Islands, Cape Cod National Seashore, and Mount Grace. The Massachusetts Hiking Guide in MA Living will offer hiking trails and more favorite New England Activities.
---
Visit Connecticut and enjoy hiking with the entire family. Connecticut is a great place to spend time outdoors hiking on the vast trails and wooded walks. Some of the former rail road tracks have a new life – as scenic hiking trails and walking paths. There are old canal sites that are now walking trails, Native American sites that are accessible via a hiking trail. Even the Appalachian Trail traverses the northwestern corner of the state. Connecticut State Parks and other rural area offer miles of trails and places walk, picnic or photograph nature. Some of the most popular Connecticut hiking trails include Bear Mountain, the Appalachian Trail, and Devil's Den Preserve. The Connecticut Hiking Guide in CT Living offers more activity ideas for Connecticut vacationers.
---
With breathtaking views of the Atlantic Ocean, many of Rhode Island's hiking trails are a special treat indeed! Rhode Island's largest protected area, Arcadia Management Area, offers a great winding trail through it's acreage. Stepstone Falls is another beautiful trail offered by Rhode Island. From Ocean walks to mountain peaks, New England offers something for everyone. Visit to the "Ocean State" of Rhode Island offers a variety of activities and attractions. Set your bookmark to Rhode Island Activities in RI Living for some suggestions.
Come and enjoy all the natural beauty of New England by hiking our forests, mountains, and woodland. The ever changing seasons in New England offer a wonderful way to see spectacular views all over again. So, why not hike New England? Then hike it again.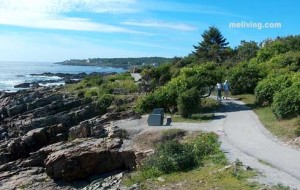 ---