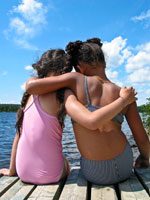 New England Summer Camps
New England Summer Camps offer a lifetime of memories and exceptional experiences. Visit the NE Summer Camp information below to help locate the ideal Summer Camp for your child. To feature your exceptional New England Summer Camp, contact us.
Vermont Summer Camps serve children from all over the world. T

hey offer a wide variety of learning programs, facilities, staffing, and outstanding opportunities to develop new skills, make new friends, build character and experience the quality of life in Vermont. Find Vermont Day Camps, Adventure Camps and Vermont Summer Camps for every interest. Find more Vermont Summer Camps from VT LIVING.com.


Vermont Adventure Tours, 223 Woodstock Ave. Rutland, VT 05701
Outdoor Adventure camps and trips for kids ages 5-17. Offered in day and week-long formats. Activities include rock climbing, mountain biking, paddling, swimming, caving, hiking, overnight camping, and much more. Professional, certified guides on staff.
Visit Vermont Adventure Tours Website
---


Night Eagle Wilderness Adventures, PO Box 374, Cuttingsville, VT 05738
A unique primitive summer camp for boys, ages 10 -14. Boys develop an authentic sense of personal accomplishment and learn to rely on their own ingenuity as they live in tipis, learn wilderness skills, canoe, hike, throw tomahawks and atlatls, cook over an open fire and so much more! Through community living and group decision making, campers learn to work and play together in a spirit of cooperation rather than competition. Accredited by the American Camp Association.
Visit Night Eagle Wilderness Adventures Website
---


American Dance Training Camps ("ADTC"), One World Cup Circle, Stratton, VT 05155
Girls Ages 8 - 17 - You're invited to spend an action-packed week (or two or more!) with us this summer at American Dance Training Camp's ULTIMATE Green Mountains dance camp in Stratton, Vermont. Come make new friends and have a blast learning the latest contemporary, jazz and hip hop dance moves from America's greatest dance choreographers. Dancers of all levels - absolute beginners through experienced performers - are welcome at ADTC. Join us for a fun-filled week you'll never forget. We hope to see you this summer!
Visit The Ultimate Overnight Dance Camp Website
---


Windridge Tennis & Sports Camps, 1215 Roxbury Road, Roxbury, VT 05669 | 802-860-2005
The Windridge Experience is unique among children's summer camps. We incorporate highly specialized tennis, soccer and horseback riding programs within the traditional framework of a rural New England camp setting. Windridge also offers many elective programs such as swimming, golf, mountain biking, archery, ropes course, basketball, volleyball, arts & crafts and more.
Visit Windridge Tennis & Sports Camps
---


Brown Ledge Camp, 25 Wilson Street, Burlington, VT 05401
Brown Ledge is a residential girls camp on Lake Champlain near Burlington, Vermont with four and eight week summer sessions. For 78 years we have offered a unique elective activity program in horsemanship, theatre arts, water and field sports. Here campers may choose their own program throughout each day, without having to "sign-up."
Visit Brown Ledge Camp Website
---


Summer Mountain Adventure Training (Sum.M.A.T.) Camp, 105 Briggs Street, Burlington, VT 05401
SumMAT Camp offers adventure, challenges, and fun for ages 6-16. Offering day camps and overnight expeditions, we make our headquarters at PetraCliffs and explore local caves, cliffs, rivers, lakes, and anyplace where summer adventure, challenge, and fun might be found! For more information
Visit Petra Mountain Adventure Website
---


SOCAPA, School of Creative and Performing Arts, Burlington, VT 05401
The School of Creative and Performing Arts (SOCAPA) offers summer arts intensives in filmmaking, acting, photography, and dance. Programs run from one to three weeks in length for teens ages 13 - 18. Our Vermont campus is hosted at Champlain College, on the shores of Lake Champlain in the hip and artistic city of Burlington. Novice and advanced students are dedicated to working hard and gaining the most they can from their program. Nowhere else will you find this level of creative intensity combined with this much fun!
Visit SOCAPA Website
---


Hosmer Point Camp, 76 Hosmer Point Lane, Craftsbury Common, VT 05827 | 802-586-2090
Building Confidence, Building Community. At Hosmer Point, campers build a sense of community in a beautiful and caring environment where they can play, explore, create life-long friendships and build self-confidence. Activities include: sculling, farming, sailing, mountain biking, wilderness, and creative arts. Coed residential and day camps for ages 5-15.
Visit Hosmer Point Camp Website
---


Thaddeus Stevens School, 39 Luther Circle, Lyndon Center, VT 05850 | 802-626-0370
Rosie's Girls® was created by Vermont Works for Women in Winooski, VT. This unique summer program is for middle school girls in grades 6th through 8th grades. The camp builds strong, confident girls through exploration of STEM and Trades-related activities as vehicles for teaching self-efficacy, confidence and strength.
Visit Rosie's Girls Website
---


Smugglers' Notch Vermont, America's Family Resort
SMUGGLERS' NOTCH RESORT. At America's Family Resort, experience Mountain Resort Village living, award-winning children's programs, family activities, 3 big mountains of skiing and snowboarding, plus entertainment, dining, shopping, year-round Zipline Canopy Tours & more. Family Fun Guaranteed – Winter, Summer & Fall.
Visit Smugglers' Notch Vermont Website
---


SOCAPA Mountain Camp (SMC) - Burke, VT
SMC is a mountain bike and action filmmaking camp geared towards bikers ages 11-13 and 14-17. Camps are based in Burke, VT, ideally located trailside to the world-renowned Kingdom Trails and the Burke Mountain Bike Park. Learn more at our website.
Visit SOCAPA.org/bike-camps/
---


SOCAPA - Burlington, VT
The School of Creative and Performing Arts (SOCAPA) offers 1 to 6-week programs in filmmaking, acting, songwriting, photography, and dance for teens of all levels, bringing together young artists from across the country and around the world. Learn more at our website.
Visit SOCAPA.org
---
---

New Hampshire summer camps serve children from all over the world with a wide variety of programs, facilities, staffing, and outstanding opportunities to develop new skills, make new friends, and experience the quality of life in New Hampshire. The New Hampshire Summer Camps Guide in NH Living has more information.


Camp Birch Hill, 333C Birch Hill Road, New Durham, NH 03855 | 603-859-4525
Your home away from home! Camp Birch Hill is a family owned, traditional summer camp for boys and girls ages 6 to 16. Campers choose from 50 activities throughout their 2, 4, or 6 week stay. Birch Hill is nestled on over 100 private acres in the Lakes Region of NH. Healthy food options, friendly staff, and beautiful facilities. Celebrating more than 20 years of friendships and memories for a lifetime!
Visit Camp Birch Hill - New Durham
---
---
Maine summer camps provide fun learning experiences including swimming, canoeing, fishing, camping, hiking, and other outdoor activities. Summer camps give our children the connection to nature they need to be healthy individuals as well as the knowledge of the environment and wildlife. Maine summer camps attract children from all over the world. Trained camp counselors offer a wide variety of programs. The Summer Camp Guide in ME Living has more info.
---
Attractions | Inns | Resorts | Hotels
Rental Homes | Real Estate | Restaurants
Camping | Business | Classified