New England Products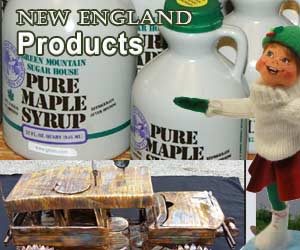 Made in America is alive in New England. Let us introduce you to some of our favorite Made in New England products, goods, stores and gift items. NE LIVING Magazine wants to hear about your favorite made in NE specialty food or other product, contact us.
Nearly everyone thinks of pure Vermont Maple Syrup when they think of Vermont products. But Vermont Products means much more – check out the Vermont Vermont Products section from VT LIVING.com for more Made In Vermont products, gifts and services.
---
"Live Free or Die" is the official state motto for New Hampshire though for some the way of life is "Live Green or Die" – check out the locally made and sustainable goods made in New Hampshire and New England – look for New Hampshire Products in NH Living.
---
Bring home some Made in Maine Products during your Maine Adventure. Support local art and bring home a one-of-a-kind piece of artwork. Find more Maine Products in ME Living.
---
Made in Massachusetts means goodness – just try a bag of Cape Cod Chips or a some, pure and natural Cranberry juice. Shop for Massachusetts specialty foods and more at MA Living.
---
The days of Erector Sets being built in New Haven may be over but you can still find some products made in the Connecticut. Find UConn Husky memorabilia and made in Connecticut items, gifts and specialty foods in CT Living.
---
Visit the "Ocean State" of Rhode Island and sample some made in RI foods, bring home a souvenir from Rhode Island – plan your visit at Rhode Island Living.
---