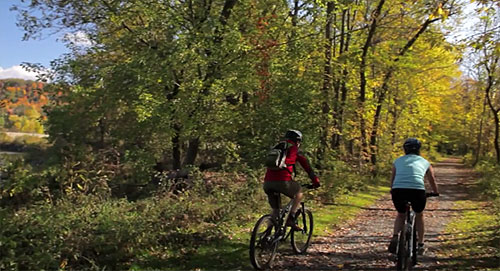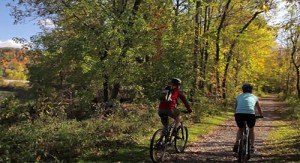 New England Biking Trails
New England Bike Trails & Bicycling Adventure Vacations
New England Bicycling and Mountain Biking trails are famous for fun. Bike New England's scenic back roads or take to the hills and go on a mountain biking adventure. New England has bike trails and mountain bike paths for every skill level. Bicycling from a New England Inn to another New England B&B is a fun way to explore this beautiful part of the country. To feature your New England business contact us.
All of the mountains in Vermont make it ideal for mountain biking enthusiasts. The Vermont country villages and small towns can be perfect for breaking up a mountain biking trek. Biking among Vermont's villages can also be a wonderful adventure all its own. Find more Vermont Biking from Vermont Living.


Morgan's Tavern - Middlebury Inn, 14 Courthouse Square, Middlebury, VT 05753
Upscale American cuisine with a fresh Vermont flair is the best way to describe Morgan's Tavern. One of the area's finest lunch and dinner options - an experience in delicious and skillfully prepared fresh cuisine. Enjoy an extensive wine list, including some picked, fermented and bottled right here in Vermont!
Visit Morgan's Tavern Middlebury
---


The Wildflower Inn, 2059 Darling Hill Road, Lyndonville, VT 05851 | 802-626-8310
Trailside Lodging in the Northeast Kingdom of Vermont. Your next great adventure awaits at The Wildflower. A four-season destination property for the best in outdoor recreation and Vermont experiences. With our 25-room Inn, full-service restaurant, pub, Village Sport bike shop (with rentals) and KCE guide company right on the property, you will have everything you need to make the most of your Vermont visit.
Visit The Wildflower Inn - Lyndonville, VT
---
---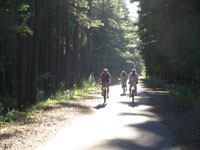 Whether you enjoy biking through the white mountains or along a seacoast trail New Hampshire has the bike trail for every taste and experience level. New Hampshire is ideal for the biker who wants to experience a variety of scenery in a short period of time. The proximity of seacoast, lakes, and mountains to each other makes New Hampshire an ideal choice for variety.  The New Hampshire Biking Guide in NH Living will get to New Hampshire biking trails.
Include Me shortcode: file not found
---

Take a Maine Biking Vacation – you'll find miles of biking trails here. The long Maine seacoast. The picturesque mountains and lakes. All of this and more makes Maine a glorious place for a bike ride. Whether you choose to take it slow and soak in the scenery or peddle hard and push yourself to the limit the ideal trail is waiting for you to discover it.  Vacation for a wide variety of family activities and world-famous ocean forts and lighthouse tours. The Maine Living Activity Guide in ME Living will tell you about Maine Bike Trails and unique Maine attractions.
---
Massachusetts is truly a bike-friendly state. Biking is one of the primary methods of transportation on Nantucket Island and Martha's Village, and countless other Massachusetts villages and townships have designated bike trails throughout their regions. You will find all difficulty levels and challenges in MA, from scenic road tours to challenging mountain biking terrain. Find additional Mass Vacation information at MA Living Magazine. The Massachusetts Activity Guide in MA Living will tell you more about popular New England Activities.
---
Visit Connecticut for a Biking vacation. Biking is big in Connecticut – for locals and tourists alike. A Connecticut bike ride can be a great way to explore the state. The automobile traffic can be very busy, particularly in Connecticut cities – but the bike rider can usually travel without delays. Use caution, but take a bicycle and enjoy Connecticut on a bike! Find Connecticut biking trails by county in CT Living.
Include Me shortcode: file not found
---
BIKES & BICYCLES

Attractions | Inns | Resorts | Hotels
Rental Homes | Real Estate | Restaurants
Camping | Business | Classified