New England Biking Trails
New England Mountain Biking, Bike Trails & Bicycling Vacations
New England Bicycling and Mountain Biking trails are famous for fun. Bike New England's scenic back roads or take to the hills and go on a mountain biking adventure. New England has bike trails and mountain bike paths for every skill level. Bicycling from a New England Inn to another New England B&B is a fun way to explore this beautiful part of the country. To feature your New England business contact us.
Exploring New England: The Ultimate Bicycling Vacation Destination
New England, with its picturesque landscapes and charming towns, is a haven for cyclists seeking thrilling biking adventures. From scenic bike trails and rail trails to well-maintained bike paths, this region offers a wealth of opportunities for both leisurely riders and avid mountain bikers. In this article, we'll delve into why New England is the perfect choice for a biking getaway, explore some famous bike trails, rail trails, and bike paths, and provide valuable tips for planning an unforgettable New England bicycling vacation.
Why Choose New England for a Biking Adventure:
Varied Landscapes: New England is renowned for its diverse landscapes, ranging from rugged mountains and dense forests to stunning coastlines and serene lakes. This diversity offers cyclists a wide range of terrains to explore, catering to different skill levels and preferences.
Scenic Beauty: The natural beauty of New England is truly unparalleled. Pedaling through rolling hills, vibrant fall foliage, quaint villages, and charming coastal towns provides an enriching and visually captivating experience for cyclists.
Rich History and Culture: New England is steeped in history and culture, with numerous historic landmarks and sites dotting the landscape. Biking through this region allows you to immerse yourself in the local heritage and experience the unique charm of New England's towns and cities.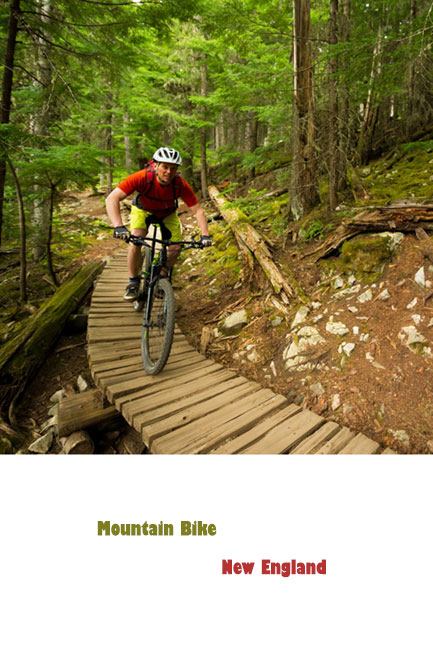 Famous Bike Trails, Rail Trails, and Bike Paths in New England:
The East Coast Greenway: Spanning over 3,000 miles along the Eastern Seaboard, the East Coast Greenway is a fantastic route for avid cyclists. It winds through several New England states, offering a mix of urban and rural landscapes.
Cape Cod Rail Trail, Massachusetts: This 22-mile trail traverses the picturesque Cape Cod peninsula, providing breathtaking views of salt marshes, cranberry bogs, and quaint New England villages. The relatively flat terrain makes it ideal for cyclists of all levels.
Kingdom Trails, Vermont: Nestled in Vermont's Northeast Kingdom, this extensive network of mountain biking trails offers over 100 miles of exhilarating paths. With trails catering to all skill levels, it has gained a reputation as one of the top mountain biking destinations in the United States.
Acadia National Park's Carriage Roads, Maine: These historic carriage roads wind through the stunning landscapes of Acadia National Park, providing cyclists with access to breathtaking views of mountains, lakes, and forests. The crushed stone surface ensures a smooth ride, and the park offers a variety of biking routes to suit different preferences.
The East Coast Greenway: Spanning over 3,000 miles along the Eastern Seaboard, the East Coast Greenway is a fantastic route for avid cyclists. It winds through several New England states, offering a mix of urban and rural landscapes.
Smugglers' Notch Resort Bike Trails, Jeffersonville VT: Located in the Green Mountains of Vermont, Smugglers' Notch Resort offers a network of exhilarating bike trails. With options for both cross-country and downhill biking, riders can explore the rugged terrain, stunning vistas, and lush forests of this beautiful region. The resort provides bike rentals and guided tours for all ages and skill levels, making it an excellent choice for a family biking adventure.
Tips on Planning a New England Biking Getaway:
Research and Map Out Your Bike Routes: Before embarking on your biking adventure, thoroughly research the trails, rail trails, and bike paths in the areas you plan to visit. Map out your routes in advance to ensure a smooth and enjoyable experience.
Check Weather Conditions: New England weather can be unpredictable, so always check the forecast before heading out. Pack appropriate clothing and gear to accommodate changing weather conditions.
Plan Your Accommodations: New England offers a wide range of accommodation options, from cozy bed and breakfasts to luxury resorts. Plan your accommodations in advance, considering the proximity to biking trails and facilities for bike storage and maintenance.
Consider Bike Rentals and Guided Tours: If you don't have your own bike or prefer a guided experience, consider renting a bike from local outfitters or joining a guided biking tour. They can provide valuable insights, and local knowledge, and ensure a hassle-free experience.
New England is a cyclist's paradise, offering a perfect blend of natural beauty, diverse landscapes, and rich history. Whether you're a leisure rider or an avid mountain biker, the New England region offers a rewarding and stimulating biking adventure.
All of the mountains in Vermont make it ideal for mountain biking enthusiasts. The Vermont country villages and small towns can be perfect for breaking up a mountain biking trek. Biking among Vermont's villages can also be a wonderful adventure all its own. Find more Vermont Biking from Vermont Living.


Smugglers' Notch Vermont, America's Family Resort, 4323 VT Rt.108, Jeffersonville, VT | 802-332-6854
SMUGGLERS' NOTCH RESORT. At America's Family Resort, experience Mountain Resort Village living, award-winning children's programs, family activities, 3 big mountains of biking, skiing and snowboarding, plus entertainment, dining, shopping, year-round Zipline Canopy Tours & more. Family Fun Guaranteed. Smuggs offers four season Vermont family vacation experiences unlike any other!
Visit Smugglers' Notch Resort - Jeffersonville, VT
---


Morgan's Tavern - Middlebury Inn, 14 Courthouse Square, Middlebury, VT 05753
Upscale American cuisine with a fresh Vermont flair is the best way to describe Morgan's Tavern. One of the area's finest lunch and dinner options - an experience in delicious and skillfully prepared fresh cuisine. Enjoy an extensive wine list, including some picked, fermented and bottled right here in Vermont!
Visit Morgan's Tavern Middlebury
---


The Wildflower Inn, 2059 Darling Hill Road, Lyndonville, VT 05851 | 802-626-8310
Trailside Lodging in the Northeast Kingdom of Vermont. Your next great adventure awaits at The Wildflower. A four-season destination property for the best in outdoor recreation and Vermont experiences. With our 25-room Inn, full-service restaurant, pub, Village Sport bike shop (with rentals) and KCE guide company right on the property, you will have everything you need to make the most of your Vermont visit.
Visit The Wildflower Inn - Lyndonville, VT
---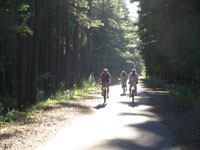 Whether you enjoy biking through the white mountains or along a seacoast trail New Hampshire has the bike trail for every taste and experience level. New Hampshire is ideal for the biker who wants to experience a variety of scenery in a short period of time. The proximity of seacoast, lakes, and mountains to each other makes New Hampshire an ideal choice for variety.  The New Hampshire Biking Guide in NH Living will get to New Hampshire biking trails.


Inn at Ellis River House B&B Inn, 17 Harriman Road, Jackson, NH 03846 | 603-383-9339
Enchanting Country Inn offering "Romance & Rejuvenation" on the river in the heart of the White Mountains. 20 rooms and cottage are beautifully appointed with period and modern amenities. Many have Jacuzzis for two and/or balconies, most have fireplaces. Gourmet country breakfast and afternoon refreshments included. Enjoy the cozy game room/pub, hot tub, sauna, and outdoor heated pool. Relax, re-discover lifes simple pleasures, hike, bike, fish, golf nearby, cross country or downhill ski, outlet shop and more. Let the Inn at Ellis River rejuvenate your spirits!
Visit Inn at Ellis River - Jackson. NH
---


Franconia Inn, 1300 Easton Rd., Franconia, NH 03580 | 603-823-5542
"In the Land of Big Mountains and Small Villages." Nestled in the heart of the beautiful White Mountains of New Hampshire, The Franconia Inn is a full service country inn, where casual elegance and exquisite cuisine are just waiting to welcome you. Fat Bike rentals now avialable at the inn. Please visit our website for more information.
Visit Franconia Inn - Franconia, NH
---

Take a Maine Biking Vacation – you'll find miles of biking trails here. The long Maine seacoast. The picturesque mountains and lakes. All of this and more makes Maine a glorious place for a bike ride. Whether you choose to take it slow and soak in the scenery or peddle hard and push yourself to the limit the ideal trail is waiting for you to discover it.  Vacation for a wide variety of family activities and world-famous ocean forts and lighthouse tours. The Maine Living Activity Guide in ME Living will tell you about Maine Bike Trails and unique Maine attractions.
---
Massachusetts is truly a bike-friendly state. Biking is one of the primary methods of transportation on Nantucket Island and Martha's Village, and countless other Massachusetts villages and townships have designated bike trails throughout their regions. You will find all difficulty levels and challenges in MA, from scenic road tours to challenging mountain biking terrain. Find additional Mass Vacation information at MA Living Magazine. The Massachusetts Activity Guide in MA Living will tell you more about popular New England Activities.
---
Visit Connecticut for a Biking vacation. Biking is big in Connecticut – for locals and tourists alike. A Connecticut bike ride can be a great way to explore the state. The automobile traffic can be very busy, particularly in Connecticut cities – but the bike rider can usually travel without delays. Use caution, but take a bicycle and enjoy Connecticut on a bike! Find Connecticut biking trails by county in CT Living.
Include Me shortcode: file not found
BIKE SALE – More at FREE WORLD MALL

| Photo | Title | Price | Buy |
| --- | --- | --- | --- |
| | Schwinn Phocus 1600 Drop Bar Adult Road Bike, Mens and Womens, 16-Speed Drivetrain, 53cm/Large Aluminum Step-Over Frame, Carbon Fiber Fork, 700c Wheels, Black | $749.99 | Sale Item |
| | Schwinn GTX 2.0 Comfort Adult Hybrid Bike for Men and Women, Dual Sport Bicycle, 700c Wheels, 17-Inch Step-Through Aluminum Frame, 21-Speed Twist Shifters, Mechanical Disc Brake, Light Blue | $499.99 | Sale Item |
| | Schwinn Phocus 1600 Drop Bar Adult Road Bike, Mens and Womens, 16-Speed Drivetrain, 53cm/Large Aluminum Step-Over Frame, Carbon Fiber Fork, 700c Wheels, Black | $749.99 | Sale Item |
| | Schwinn GTX 2.0 Comfort Adult Hybrid Bike for Men and Women, Dual Sport Bicycle, 700c Wheels, 17-Inch Step-Through Aluminum Frame, 21-Speed Twist Shifters, Mechanical Disc Brake, Light Blue | $499.99 | Sale Item |
| | Thule EasyFold XT 2 Hitch Bike Rack - E-Bike Compatible - Fits 2" and 1, 1/4" receivers - Tool-Free Installation - Fully Foldable - Easy Trunk Access - Fully Locking - 130lb Load Capacity | $999.95 | Sale Item |
| | Schwinn Joyrider Child Bike Trailer, Single and Double Baby Carrier, Canopy, 20-inch Wheels | $419.99 | Sale Item |
| | Mongoose Maxim Girls Mountain Bike, 24-Inch Wheels, Aluminum Frame, 21-Speed Drivetrain, Lavender | $284.01 | Sale Item |
| | Benelli Bike, 29'' Carbon Mountain Bike, 18 Speed, Brake Disc, Light-Weight Hardtail Frame (Medium, Yellow Black) (M22 4.0 ADV 29 CARB) | $1,289.00 | Sale Item |
| | SAVADECK Carbon Fiber Road Bike, Complete Carbon Racing Road Bike 22 Speed with Shimano ULTEGRA R8000 Group Set and R8020 Hydraulic Disc Brake and Thru Axle System (Black Red, 56cm) | $2,499.00 | Sale Item |
| | Hearts Bio Carbon Frame Road Bike Model H – Carbon Fiber Racing Bicycle with SORA 18 Speed Derailleur System (48 : Rider Height 5'2"~5'4") | $1,599.99 | Sale Item |
| | Schwinn Fastback Carbon Road Bike, Fastback Carbon 105, 54cm/Large Frame, Matte Black | $1,874.30 | Sale Item |
| | SAMEBIKE Electric Dirt Bike, 1000W Electric Bike 48V 18Ah Battery 20 Inch 4.0 Fat Tire Electric Bike for Adults, 30 MPH Full Suspension Hydraulic Brakes Color Display Electric Bicycles | $1,599.99 | Sale Item |
| | RUNDEER 750W Electric Bike for Adults Electric Bicycle 20in Fat Tire Bikes, Folding Ebike for Adults with Samsung Battery 48V Front and Rear Shocks Absorption(Gray) | $999.00 | Sale Item |
| | JANSNO Electric Bike 20" x 4.0 Electric Bike for Adults with 750W Brushless Motor, 48V 14Ah Removable Battery, 7-Speed Transmission UL Certified | $878.95 | Sale Item |
| | SWIFTY AT656 Electric Bike from 36 Volt Electric Bike for Adults – All Terrain Ebike Perfect for Hitting The Trails – Up to 30 Miles on One Charge – 7 Speed Shimano Gears | $649.99 | Sale Item |
| | Totem Electric Bike for Adults 26", Electric Mountain Bicycle 350W Motor, 20MPH Victor 2.0 with 36V 10.4Ah Removable Battery, E-MTB with Shimano 21 Speed Gears, Upgraded Adjustable stem-White | $499.99 | Sale Item |
| | TotGuard Electric Bike,20" x4.0 Fat Tire Electric Bike for Adults,500W 20MPH Foldable Ebike,48V 10Ah Removable Battery, Snow Beach Mountain Electric Bicycle with Dual Shock Absorber, Shimano 7-Speed | $569.99 | Sale Item |
| | Heybike Brawn Electric Bike for Adults 48V 18Ah Removable Battery Ebike with 750W Motor, 28MPH Max Speed, Hydraulic Front Fork 26" Fat Tire with Rear Rack Fender Green Sbg | $1,638.00 | Sale Item |
| | Vivi Electric Bike 26" x 4.0 Fat Tire Electric Bicycle, 48V 500W 13Ah Electric Mountain Bike, 25MPH Ebikes for Adults with Removable Lithium-Ion Battery, Professional 7 Speed | $648.99 | Sale Item |
| | Schwinn High Timber ALX Youth/Adult Mountain Bike for Men and Women, 24-Inch Wheels, 21-Speed, Aluminum Frame and Mechanical Disc Brakes, Coral | $374.49 | Sale Item |
| | Mongoose Flatrock Men and Women Hardtail Mountain Bike, 26-Inch Wheels, 21 Speed Twist Shifters, 17-Inch Lightweight Aluminum Frame, Silver | $250.26 | Sale Item |
| | Schwinn GTX Elite Comfort Adult Hybrid Bike for Men and Women, Dual Sport Bicycle, 700c Wheels, 18-Inch Step-Over Aluminum Frame, 24-Speed Trigger Shifters, Mechanical Disc Brakes, Black/Yellow | $557.69 | Sale Item |
| | Hiland Mens Womens Mountain Bike,3/6/Multi Spoke 26 inch Wheel,Shimano 21 Speeds, Aluminum Frame,with Disc-Brake Bicycle for Men Women MTB | | Sale Item |
BIKES & BICYCLES

Attractions | Inns | Resorts | Hotels
Rental Homes | Real Estate | Restaurants
Camping | Business | Classified