Brewing Beer in New England is a tradition that goes back a few hundred years. Some of those colonial New England Pubs and Taverns are still in business.  Exploring the Micro Breweries, Brew Pubs and Backroad Brewers of Vermont and New Hampshire is growler full of fun. Some of the fastest growing beer brewers in the country are tucked in the hills and valleys of New Hampshire and Vermont.  Browse the websites and share your beer, ale and brewery reviews.  To feature your business, contact us.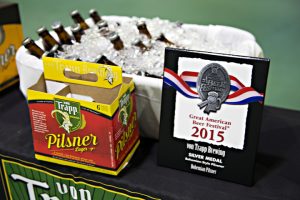 The famous von Trapp family has added a sensational addition – an authentic European-style Brew Pub. You must visit this Stowe area favorite. Of course, the Trapp Family Lodge is a great choice for your stay, you'll love the on-site restaurant and the daily breakfast, lunch and dinner options. Find more about Stowe, Vermont  in VT LIVING.com.
In Norwich Vermont you'll find the Norwich Inn on Main Street. This New England Inn brews amazing ales. Try an Imperial Pint of award winning Jasper Murdock Ale from our their on-site Brewer – tell them VTLiving sent you.

---
NEW HAMPSHIRE PUBS & BREWERIES
New Hampshire's Flying Goose Brewery is full of award (and awesome burgers). The New London, NH based brewery offers Mikey's Vyce Black IPA – Best in the Northeast in the American Black Ale Category and Hedgehog Brown Ale – Awarded Grand Champion in the U.S. in Brown Ale Category, as well as the Northeast Regional Winner in the Golden Ale/Kolsch Category. OK, so let's make a special visit.  Nearby, be sure to stop at the Jasper Murddock's Tavern and Brew Pub at the historic Norwich Inn This brewery will serve you a sample of craft beers that will blow you away. Stay for dinner – farm-to-table delights, local raised meats and first-rate service.
The massive Budweiser Brewery is located in Merrimack, NH and offers tours. Ask us about NH Brew Pubs or share your  beer reviews and comments.  The NH Living site has local NH dining and lodging suggestions.
---