New England Micro Breweries & Brew Pubs
Brewing Beer in New England is a tradition that goes back a few hundred years. Some of those colonial New England Pubs, Breweries, and Taverns are still in business.  Exploring the Micro Breweries, Brew Pubs, and Backroad Brewers of Vermont and New Hampshire is a growler full of fun. Some of the fastest-growing beer brewers in the country are tucked in the hills and valleys of New England.  Browse the New England Craft Beer brewers and share your beer, ale and brewery reviews.  To feature your business, contact us.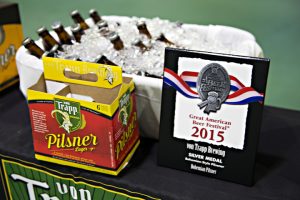 The famous von Trapp family has added a sensational addition – an authentic European-style Brew Pub. You must visit these favorite breweries and brewmasters. Find more about in VT LIVING.com. In Norwich Vermont, you'll find the Norwich Inn on Main Street. This New England Inn brews amazing ales. Try an Imperial Pint of award-winning Jasper Murdock Ale from the on-site Brewer – tell them VTLiving sent you.



The Norwich Inn, 325 Main Street, Norwich, VT 05055
Vermont brewery tradition was revived at the Norwich Inn in 1993 when Jasper Murdock's Alehouse began producing traditional English-style ales in 5-gallon glass jugs. By 1995, an historic livery building was renovated and outfitted with a new four-barrel brew house, enabling 125-gallon batches. The vessels are now larger, but the Jasper Murdock Alehouse remains one of the smallest breweries in America. These hand crafted beers are sold only at the Inn. Call ahead and place your an order to pick up when you come to the Inn. The Norwich Inn offers an extensive, diverse and moderately priced menu incorporating traditional pub favorites with elegant dinner options. We have nightly dinner and wine specials that can be enjoyed in our pub or dining room 7 nights a week. An Inn has been on the site since 1797; the current Victorian Structure since 1890. We offer 38 guestrooms, Pub, Dining Room, and Microbrewery.
Visit Jasper Murdock Alehouse at Norwich Inn
---
---
NEW HAMPSHIRE PUBS & BREWERIES
New Hampshire's Flying Goose Brewery is full of awards (and awesome burgers). The New London, NH based brewery offers Mikey's Vyce Black IPA – Best in the Northeast in the American Black Ale Category and Hedgehog Brown Ale – Awarded Grand Champion in the U.S. in Brown Ale Category, as well as the Northeast Regional Winner in the Golden Ale/Kolsch Category. OK, so let's make a special visit.  Nearby, be sure to stop at the Jasper Murdock's Tavern and Brew Pub at the historic Norwich Inn This brewery will serve you a sample of craft beers that will blow you away. Stay for dinner – farm-to-table delights, local raised meats, and first-rate service.
The massive Budweiser Brewery is located in Merrimack, NH, and offers tours. Ask us about NH Brew Pubs or share your beer reviews and comments.  The NH Living site has local NH dining and lodging suggestions.


The Flying Goose Brew Pub & Grille, 40 Andover Road, New London, NH | 603-526-6899
The Flying Goose Brew Pub is a family run restaurant with 17 of our Handcrafted Brews on tap with panoramic views of Mt. Kearsarge in the quaint town of New London. Whether it be for a quick bite, a cold brew, or a place for family and friends to gather, we extend our "home" to you. Voted Best of NH Regional Favorite Restaurant, we offer a relaxing environment to all who walk through our doors. The Flying Goose Brews are also available to take home in Growlers!
Visit Flying Goose Brew Pub & Grille - New London, NH
---


Woodstock Inn Station & Brewery, Rt. 3, No. Main, No. Woodstock, NH 03262 | 603-745-3951
Located in the quaint village of North Woodstock, the Inn's gracious and relaxed setting centers around 40 uniquely styled and cozy rooms and suites, located across 6 buildings on the property. All of our lodging options offer the comforts of home, including cable, free Wi-Fi access, air-conditioning and more. Many offer Whirlpool tubs and gas fireplaces. Includes free use of off-property indoor pool and health club. Voted a White Mountains favorite by NH Magazine, Hidden Gem award and "Worth a Journey" says Phantom Gourmet. Our famous country breakfast is included with your stay.
Visit Woodstock Inn Station & Brewery - No. Woodstock
---


rek'•lis brewing company, 2085 Main Street, Bethlehem, NH 03574 | 603-869-0167
Tiny brewery, big beers! Enjoy Craft IPA's, Great Food, Entertainment, Special Events. Check the website for specials. Thursday night Trivia. The never ending quest to quench the 'thirst', whether it's on a bike, skis, or in a glass. This it where the passion comes from, it's what rek'•lis is, this is us, and now it's you... .
Visit rek'•lis brewing company- Bethlehem, NH
---
---