New England Antique Shopping
New England is known for its Antique Shops, Auctions, Flea Markets, Antique Malls and unique antique dealer shops. You'll find NE antiques scattered throughout Maine, New Hampshire, Vermont, Connecticut, Massachusetts and Rhode Island. Browse some our favorites below. To feature your Antique Mall or Shoppe, contact us.
Many of the quaint Vermont villages have at least one antique shop, if not more. Scattered throughout the state, Vermont's antique stores add nostalgia and charm to any visit. Wherever you travel in Vermont there will be an antique shop waiting to be discovered. Find more Vermont Activities from VT LIVING.com.


Vermont Antique Mall, 5573 Woodstock Road, Quechee, VT 05059 | 802 281-4147
Located in the heart of Quechee Gorge Village, you'll find our 17,000 square foot barn filled with antiques, vintage and collectable treasures. Come see the area's largest selection, with hundreds of dealer booths and new stock daily. Nearby eateries and seasonal events make this a "must see" for all ages. Shop where the dealers shop! Open daily 10am – 5pm.
Visit Vermont Antique Mall Website
---


Greensboro Barn & Gallery, Greensboro, VT 05851 | 802-533-9281
Artist Jennifer Ranz watercolors, pottery and more in a centuries old New England Barn.
Visit Website
---

Trademark Fine Art Vermont Map Matted Framed Art by Michael Tompsett in Wood Frame, 11 by 14-Inch
---
Flapper Woman Cigarette Case Business Card Case Wallet Art Deco
---
---
There are many excellent antique stores throughout the Granite State. However, New Hampshire's most well known destination for the antique enthusiast is Antique Alley. This road runs along Route 4 between Concord and Portsmouth. The antique stores along this road run the entire range. The Antique Auctions held Sunday mornings at Robert's Auction Service in Lebanon, NH are famous for antique collectors and are a whole lot of fun. The New Hampshire Antique Guide in NH Living will get to all of New Hampshire's most popular attractions, antique dealers and stores.

Paul McInnis Inc., One Juniper Rd., North Hampton, NH 03862 | 603-964-1301
New England's Premier Auction Company Since 1976. Whether you are a client or a customer, you will appreciate the benefits of taking part in a transaction with our firm because of our experience and professionalism. The National Auctioneers Association has presented us with 40 awards for excellence in advertising and promotion, including the prestigious Auction Of The Year Award. Join our mailing and view current auction offerings at our website.
Visit Paul McInnis Inc., Auctions - Real Estate - Results
---
---
The state of Maine is home to hundreds of antique and collectible shops selling everything, from old wooden lobster traps to colorful buoys… from antique furniture to estate jewelry, you'll find just about everything and anything in Maine's Antique Shops. The Maine Living Activity Guide in ME Living will tell you about unique Maine attractions.


Ogunquit Playhouse, 10 Main Street, US Route 1, Ogunquit, ME 03907 | 207-646-2402
America's Foremost Summer Theater began in a renovated garage in Ogunquit's town square in 1933. Ogunquit Playhouse is dedicated to producing the finest shows ever to appear on Broadway stages. Visit the web site to see this years show schedule and purchase tickets.
Visit Ogunquit Playhouse Website
---

York's Wild Kingdom, P.O. Box 1139, York Beach, ME 03910 | 207-363-4911
 New England's Only Zoo AND Amusement Park. A family oriented zoo and amusement park conveniently located in York Beach, Maine. Stroll and view a large number of beautifully landscaped animal exhibits; numerous rides for all ages plus food and ice cream stands, gift shops and so more. A day of family fun and walking distance to a clean sandy beach! View dozens of live animals from near and far. Sorry, Pets are not allowed in the Zoo but are allowed (on leash) in the Amusement Park. Open Seasonally May-Sept. View website for details and hours.
Visit York's Wild Kingdom York
---


Maine Diner, 2265 Post Road (US Route 1),Wells, ME 04090 | 207-646-4441
Featured on "The Today Show", Phantom Gourmet, Guy Fieri's "Diners, Drive-Ins and Dives" and others. Maine blueberry pancakes, pies, lunch and dinner specials and more. World Famous Food Like Grandma Used To Make. Try Maine Diner's famous Lobster Pie, Seafood Chowder, Codfish Cakes. Breakfast anytime. Remember the Maine Gift Shoppe, Maine Products. Open Daily at 7AM..
Visit Maine Diner in Wells, Maine
---

Coastal Maine Botanical Gardens, 132 Botanical Gardens Drive, Off Barters Island Road, Boothbay, ME 04537 | 207-633-8000
Coastal Maine Botanical Gardens is a natural wonder of shorefront on the mid-coast Maine. Stroll 270 acres through spectacular ornamental gardens and miles of waterfront and woodland trails. Beautiful foliage, plantings, impressive stonework, waterfalls and fountains, and scenic views. One of Maine's top attractions. The Gardens are open 9-5 April 15 - October 31 (open until 6 pm in July and August). There is a cafe and gift shop on site.
Visit Coastal Maine Botanical Gardens
---
---
Whether you'll be visiting the Boston metro region, quaint Cape Cod or the stunning Berkshires, there's no doubt the state of Massachusetts is home to countless antique and collectible shops selling everything, from colorful buoys to unique vintage jewelry and more. Brimfield, MA is home to the largest outdoor antique show in New England and presents over 4,000 antiques dealers each year. The Massachusetts Activity Guide in MA Living will tell you more favorite New England Activities.
---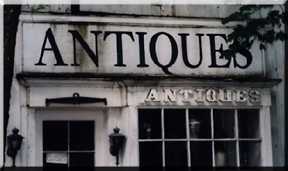 Not only do the antique stores in Connecticut offer everything you can think of discovering, they also often present such treasures in historic settings. With the region around Woodbury often called the "Antiques Capital of Connecticut", you'll be sure to find just about everything and anything in Connecticut's Antique Shops. The Connecticut Antique Guide in CT Living offers more activity ideas for your visit to Connecticut.
---
There are several impressive antique shops in the state of Rhode Island, and Newport is the perfect place to start your quest for the ancient or hard-to-find treasure. With over 60 antique shops in a ten-mile radius, Newport, Rhode Island is a treasure in and of itself for any true antique enthusiast.
Tt a fun way to spend the day – New England Antique hunting. As you drive through the scenic New England villages set among the majestic mountains, clear running streams and along ocean-side beaches, you will find an antique shop or two waiting to be discovered. Walking through an antique store enables us to take a step back in time and get a chance to not only see a piece of history up close but to even own it and thus become part of its history. NE Living thanks you for visiting the antique shops of New England. Contact us for information about featuring your New England antique shop.
---
Attractions | Inns | Resorts | Hotels
Rental Homes | Real Estate | Restaurants
Camping | Business | Classified