Fat Biking
One of the fastest-growing outdoor adventures sports is Fat Biking. Similar to Mountain Biking, Fat Biking involves the use of Fat Bikes – Bicycles with oversized and extra-wide nubby tires with a much lower air pressure than a regular bicycle tire. We know of an experienced bicycle guide company can demonstrate and improve your mountain biking and fat biking skills and get you to the hills and back safely.  Contact us for information about featuring your New England Adventure business in NE Living Magazine.
What is Fat Biking
Fat Biking is similar to Mountain Biking – but with a specially designed Fat Bike. A heavier, flexible framed bike designed to run extra wide (fat) tires which operate at a much lower psi than regular mountain bike tires. This provides better traction in light snow, on soft gravel or at the beach.


The Wildflower Inn, Darling Hill Road, Lyndonville, VT 05851 | 802-626-8310
"Warm hospitality... the gardens are famous". Yankee Magazine. Relax and recharge at this country inn with resort amenities on 570 acres in Vermont's Northeast Kingdom. Offering 24 guest rooms and suites, pool, tennis, trails, petting barn, skiing, snowmobile tours, x-country skiing, hay / sleigh rides, spa, and sauna. Country breakfasts and dinners overlooking perennial gardens and spectacular mountain views. Wedding facilities. Kid friendly. Easy to get to from I-91 & I-93.
Visit Wildflower Inn Website
---


The Bethel Inn Resort & Suites, On The Common, 21 Broad Street, Bethel, ME 04217 | 207-824-2175
Embrace the scenic beauty of Maine's White Mountains at Bethel Inn & Resort. A 1919 year-round family resort with fully updated traditional guest accommodations complemented with fully equipped townhomes and 200 acres of resort amenities. Breakfast is served daily in the Main Dining Room. Craft brews and handcrafted cocktails and more in the comfortable Millbrook Tavern & Grille. Award-winning 18-hole championship golf course, health club with an outdoor heated pool, fitness center, and saunas. Miles of biking trails right here at the resort.
Visit Bethel Inn Resort & Suites - Bethel, ME
---
Advantages of Fat Bikes
According to Fat Bike riders and mountain biking enthusiasts, Fat Bikes are more comfortable on your back and can be much easier to ride on some surfaces – especially loose sand (like at the beach) and in light gravel or snow. The lower air pressure and wider surface of the tires allow for better grip and make it possible for the bike to "float" on the surface better than a Mountain Bike. The advantages come at the cost of more expensive tires, slower ride on hard surfaces, and a general "sluggish" feel compared to a tradition Mountain Bike.
Fat Bike & Mountain Bike Guided Tours
FAT BIKES & BICYCLES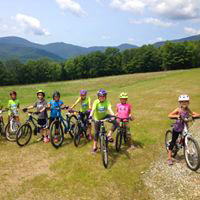 ---
Attractions | Inns | Resorts | Hotels
Rental Homes | Real Estate | Restaurants
Camping | Business | Classified