Fat Biking
One of the fastest growing outdoor adventures sports is Fat Biking. Similar to Mountain Biking, Fat Biking involves the use of Fat Bikes – Bicycles with oversized and extra wide nubby tires with a much lower air pressure than a regular bicycle tire. We know of an experienced bicycle guide company can demonstrate and improve your mountain biking and fat biking skills and get you to the hills and back safely.  Contact us for information about featuring your New England Adventure business in NE Living Magazine.
What is Fat Biking
Fat Biking is similar to Mountain Biking – but with a specially designed Fat Bike. A heavier, flexible framed bike designed to run extra wide (fat) tires which operate at a much lower psi than regular mountain bike tires. This provides better traction in light snow, on soft gravel or at the beach.


4 Points VT, Mountain Bike School & Guides, Brewery Tours, Stowe, VT 05672 | 802-793-9246
Interested in Mountain Biking? Let our trained instructors show you the fundamentals to get you going and help you be a stronger and more confident rider. Already a competent mountain biker, we can bring you to the best trails in the area to suit your taste. Ask us about Fat Biking in winter, and Green Mountain hiking tours.In addition, 4 Points Brewery Tours can take you to some of the best local breweries in Vermont. We do the driving so you can sample. Great after a morning mountain biking or as a stand-alone event. Perfect for a Wedding Bachelor/Bachelorette party, Family Gathering, Corporate Outing or Birthday Celebration. Group Tours and Custom tours available.
Visit 4 Points VT Website
---
Advantages of Fat Bikes
According to Fat Bike riders and mountain biking enthusiasts, Fat Bikes are more comfortable on your back and can be much easier to ride on some surfaces – especially loose sand (like at the beach) and in light gravel or snow. The lower air pressure and wider surface of the tires allow for better grip and make it possible for the bike to "float" on the surface better than a Mountain Bike. The advantages come at the cost of more expensive tires, slower ride on hard surfaces, and a general "sluggish" feel compared to a tradition Mountain Bike.
Fat Bike & Mountain Bike Guided Tours
The Stowe, Vermont based 4 Points Tours offers Mountain Biking and Fat Bike riding lessons and will take you out on the hills of Vermont with trained professional riders. The company also offers Beer Tours to quench your thirst at some of the most famous Craft Brewers in the world. For more information visit 4PointsVT.com.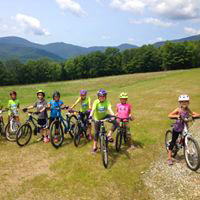 ---
Attractions | Inns | Resorts | Hotels
Rental Homes | Real Estate | Restaurants
Camping | Business | Classified