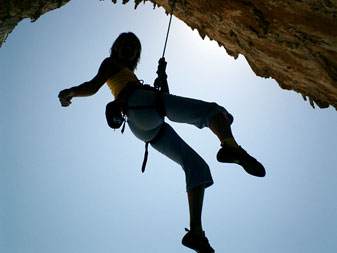 Looking for an outdoor sport that inspires, challenges, and moves you to new heights? Try New England rock climbing. Rock climbing is a sport that requires both agilities of mind and body, where the chief ingredient for success is not the most expensive gear, but the bravery and determination of the participant.
New England Rock Climbing
Vermont Rock Climbing
Vermont provides many excellent rock climbing options for all difficulty levels. Whether you're a novice or seasoned climber, you'll have no problem finding the perfect Green Mountain to climb. From Lake Dunmore State Park's 8-10 different climbs to Deer Leap Mountain's well-developed rock climbing wall near Long Trail, Vermont is a rock climber's paradise.


The Inn at Long Trail, 709 Rt. 4, Sherburne Pass, Killington, VT 05751 | 802-775-7181
Enjoy the charm and hospitality of Killington's most historic inn and ski lodge, serving skiers, hikers, and people who love the Vermont mountains since 1938! Offering country bedrooms and fireplaced suites.
Visit Inn at Long Trail - Killington, VT
---


Best Western, Waterbury-Stowe, Exit 10 off I-89, Rt. 100, Blush Hill Rd., Waterbury, VT 05676
Conveniently located at Exit 10, the gateway to Stowe Village, VT, adjacent to the famous Ben & Jerry's Ice Cream Factory and offering 84 rooms and luxury suites with fireplaces, living room, wet bar, cable TV, pay-per-view movies, Lounge, Coffee Bean Cafe, room service, open-air indoor pool and exercise facility.
Visit Best Western Waterbury Stowe Website
---
---
New Hampshire Rock Climbing
There's a reason New Hampshire is called the Granite State, and it's precisely the diverse selection of granite cliffs that make NH a rock climber's paradise. From Mount Washington to Franconia Notch, there are countless rock climbing hot spots to choose from, no matter what your level of climbing expertise. The next time you plan to rock climb in NH, be sure to check out Whitehorse, near North Conway, NH. With over 800 feet of granite walls, there's a wall for everyone. Other great NH rock climbing spots include Cathedral Ledge, near North Conway and Franconia Notch near Lincoln, NH.

Alpine Adventures Zipline, 41 Main Street, Route 112, Lincoln, NH 03251 
Don't miss it! Spectacular Adventure Tours, Zip Tours, Canopy Tours winter and summer. Try the longest, highest and fastest Zipline Canopy Tour in New England. Aerial Fun Park and continual updates will keep Alpine Adventure Tours at the forefront of outdoor adventure in New England.
Visit Alpine Adventures Lincoln
---


Story Land, 850 Route 16, Glen, NH 03838 | 603-383-4186
Make new memoires and remember a few from your own childhood at Story Land in the heart of the White Mountains. A great NH getaway with loads of fun for all ages. 30 kid-friendly attractions - Tea Cups, Roller Coaster, Pirates Ship and much more. Visit Story Land and watch them smile! Story Land is Where Fantasy Lives!
Visit Storyland NH Website
---
---
Maine Rock Climbing
With such beauties as Mount Katahdin and Acadia National Park, Maine has long been on the radar for New England rock climbers. Mount Katahdin is a wonderful climbing location because not only is it Maine's tallest mountain, but it also provides a wide range of difficulty levels for all rock climbers. Another great Maine rock climbing location is The Rampart, near Camden. Although The Rampart is not the best place for novice rock climbers, it certainly offers a challenge for the more seasoned climbers. Thinking about a New England Rock Climbing adventure? Think Maine. Visit Maine Living.


Beachmere Inn, 62 Beachmere Place, Ogunquit, ME 03907 | 207-646-2021
Ocean front accommodations in the heart of Ogunquit on the Marginal Way with breathtaking ocean views. Luxury suites and unique rooms, fireplaces, kitchenettes, private balconies or patios. Enjoy an on-site spa, exercise room and hot tub. Reception rooms for weddings, meetings and events. Beachmere Inn is a leader in guest services, event coordination and hospitality. A stunning location perfect for weddings, elopements, vow renewals, rehearsal dinners, bridal showers and even bachelor - bachelorette weekend getaways. Open year round. Walk to everything in town or enjoy drinks from our ocean view Blue Bistro.
Visit Beachmere Inn - Ogunquit ME
---
---
Massachusetts Rock Climbing
Whether a novice or seasoned rock climber, Massachusetts is a great place to grab some outdoor adventure and hang from a few cliffs. Not only does Massachusetts provide many quality outdoor climbing areas during the summer months, but this state also offers some great rock climbing centers and climbing schools to choose from as well. A few great natural climbing spots include Chapel Ledges and Rose Ledges in Western MA, Quincy Quarries and Rattlesnake Rocks in the greater Boston area, and Berlin Boulder, College Rock, and Crow Hill in central MA. There are plenty of places to climb in Massachusetts.
---
Connecticut Rock Climbing
Every corner of Connecticut offers rock climbing challenges for all difficulty levels. From Ragged Mountain and Pinnacle Rock in central CT to Broad Hill and St. Johns Ledge in Northwestern CT, you'll find Connecticut offers many popular and well-developed rock climbing spots to choose from.
---
Rhode Island Rock Climbing
Don't let the size of Rhode Island fool you! This little state offers some great rock climbing options for all difficulty levels. Two highly recommended RI climbing spots include Lincoln Woods and Burlingame State Park. When visiting Lincoln Woods, be sure to check out Beehive Boulder, Pedestal Boulder, and Druids Circle Boulder. Rhode Island offers plenty of rock climbing challenges.
For its devotees, rock climbing is about accomplishment. Rock climbers do not climb but conquer the mountain walls they call their playground. Using every muscle, climbers negotiate the rock faces and at the top, they receive the reward. Unparalleled views, an incredible sense of pride, and a feeling of unity with nature.
ROCK CLIMBING GEAR