New England Fairs & Expositions
Late summer the annual New England Fair Season begins. New England is famous for country fairs, 4-H Fairs, Agricultural Fairs, and Expositions. The BIG E – is the monster of all New England Fairs. The BIG E – takes place every year in western Massachusetts and features displays and expositions for all six New England states. Discover a favorite New England Fair and make it an annual tradition. To feature your NE Fair, Event, or Activity, contact us.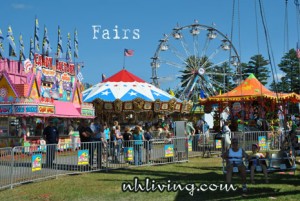 The Champlain Valley Fair is the largest fair in Vermont. Bigger than even the Vermont State Fair in Rutland, CVF is held near the very end of fair season. Don't overlook the World's Fair in Tunbridge, the Caledonia Fair in Lyndon or the Orleans County Fair which is held in Barton.  Find more Vermont Fairs from VT LIVING.com.
---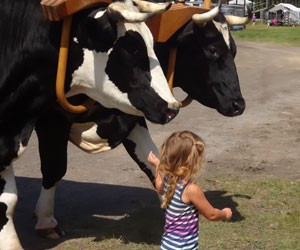 Visit NH and attend a New Hampshire Fair. The New Hampshire Fair season feature local agricultural, 4-H and other fairs beginning in late summer. The Lancaster Fair in the Great North Woods is prime example of a real down home country fair – complete with plenty of cows, chickens, rabbits, 4-H competition, a horse show, and live entertainment. Lancaster Fair is held every Labor Day weekend.  The New Hampshire Fair Guide in NH Living has information about all NH Fairs and Expos.
---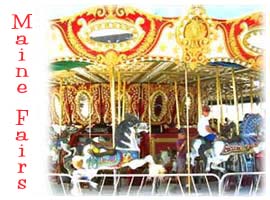 Take a trip to Maine to visit a Maine Fair or Exposition. Maine is Vacationland – especially during fair season. The final Maine Fair of the season is the Fryeburg Fair – a fantastic annual event that features great fair food, local businesses, live entertainment, livestock, horse pulling and even Harness Racing! Fryeburg Fair happens every October.   The Maine Living Fair Guide in ME Living has the details about Fryeburg Fair and other Maine attractions.

The Kennebunk Inn, 45 Main Street, Kennebunk, ME 04043 | 207-985-3351
If you are searching for an historic inn with affordable class and fabulous food in southern coastal Maine - The Kennebunk Inn is the place. Beautiful beaches, nature preserves, museums, galleries, antique shops, and more. We look forward to sharing our special place in the land of the pointed firs.
Visit The Kennebunk Inn - Kennebunk
---

DiMillo's on the Water, 25 Long Wharf, Portland, ME 04101 | 207-772-2216
DiMillo's is where you'll dine on lobster, clams, shrimp, scallops and fish that are absolutely the freshest on the waterfront and prepared with ingredients that enhance rather than disguise their flavors. The perfect place for dinner, weddings, parties and office functions. Simplicity, freshness and quality are the recipe for DiMillo's amazing menu choices since 1954.
Visit DiMillo's On The Water Restaurant
---


Maine Diner, 2265 Post Road (US Route 1),Wells, ME 04090 | 207-646-4441
Featured on "The Today Show", Phantom Gourmet, Guy Fieri's "Diners, Drive-Ins and Dives" and others. Maine blueberry pancakes, pies, lunch and dinner specials and more. World Famous Food Like Grandma Used To Make. Try Maine Diner's famous Lobster Pie, Seafood Chowder, Codfish Cakes. Breakfast anytime. Remember the Maine Gift Shoppe, Maine Products. Open Daily at 7AM..
Visit Maine Diner in Wells, Maine
---


Beachmere Inn, 62 Beachmere Place, Ogunquit, ME 03907 | 207-646-2021
Ocean front accommodations in the heart of Ogunquit on the Marginal Way with breathtaking ocean views. Luxury suites and unique rooms, fireplaces, kitchenettes, private balconies or patios. Enjoy an on-site spa, exercise room and hot tub. Reception rooms for weddings, meetings and events. Beachmere Inn is a leader in guest services, event coordination and hospitality. A stunning location perfect for weddings, elopements, vow renewals, rehearsal dinners, bridal showers and even bachelor - bachelorette weekend getaways. Open year round. Walk to everything in town or enjoy drinks from our ocean view Blue Bistro.
Visit Beachmere Inn - Ogunquit ME
---


Blazes Burgers, 652 Main Street, Westbrook, ME 04029 | 207-591-0331
A locally owned Restaurant that serves FRESH Burgers, Clam Cakes, Chicken, Sloppy Joes and more with your choice of Hand Cut French Fries, Tater Tots, or many other delicious options. The Beyond Burger works for our Vegetarian/Vegan friends and we have a great children's menu! Try a signature selection today and see what everyone is talking about. View menu and order online.
Visit Blazes Burgers - Westbrook, ME
---
---
Y

our Massachusetts Vacation should include a visit to a Massachusetts Country Fair. From the Berkshires to north shore – discover Massachusetts Fairs. The Massachusetts Fair Guide in MA Living has more Massachusetts Fairs and Expos.

Delaney's Grille, 3 Country Club Road (Route 5) Holyoke, MA 01040 | 413-532-1800
The best steakhouse in Western Massachusetts. Delaney's Grill offers excellent fine dining for steak lovers, including filet mignon, Delmonico rib eye and delicious roast prime rib. They offer a great selection of fish, pork, chicken, gluten free and vegetarian options too. Delaney's Grill also offers beautiful private rooms for groups of 6 to 50. Don't forget about the infamous popovers! 
Visit Delaney's Grill
---
---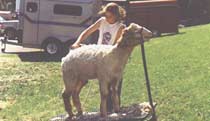 Visit Connecticut Fairs. The annual Durham Fair is a great place to see livestock. The North Haven Fair on US Route 5 just off of I-91 is easy to get to with plenty of live entertainment and games of chance.  The Connecticut Fair Guide in CT Living will offers suggestions.


Avellino's Italian Restaurant, 1813 Post Road, Fairfield, CT 06824 | 203-254-2339
Just a short walk from great shops and downtown Fairfield businesses. Come in and enjoy true Italian cuisine at this cozy trattoria. Enjoy Lunch, Dinner or a wonderful meal to take out after a busy day of work or play.
Visit Avellino's in Fairfield
---

USS Chowder Pot III | 560 East Main St., Branford, CT 06405 | 203-481-2356
Enjoy award winning seafood, slow roasted prime rib and USDA Choice steak. Chowder Pot III has two large dining rooms, air-cooled patio and a very popular Captain's Lounge featuring an amazing raw bar. Happy Hour Mon-Fri, 3:30p-6p. Chowder Pot III has won numerous awards from Connecticut Magazine and for 17 years in a row been voted Best Seafood by the New Haven Advocate. Pick out your own live lobster - 1-15 lbs.!
Visit Chowder Pot III Restaurant Branford
---


Michael's Trattoria, 344 Center St., Wallingford, CT 06492 | 203-269-5303
Award-winning Italian Specialties - Parmigiana, Zuppa Di Pesce, Pasta, Chicken, Veal, Steak, and Seafood served 7 days a week in a relaxed atmosphere. Begin with fresh baked bread served with Michael's own amazing Virgin Olive Oil Dip and complete your meal with Chef-made Banana Cream Pie or fresh-filled Canoli's. Indoor/outdoor dining. Pizza available in the Bar/Lounge or take out only. Catering and In-House Luncheons for up to 40 people available. Michael's Trattoria has served the Wallingford community for more than 24 years.
Visit Michael's Trattoria in Wallingford
---
---
Attractions | Inns | Resorts | Hotels
Rental Homes | Real Estate | Restaurants
Camping | Business | Classified
---