Top Ten Board Games of All Time
Classic Board Games – Home Entertainment For Children Teens & Adults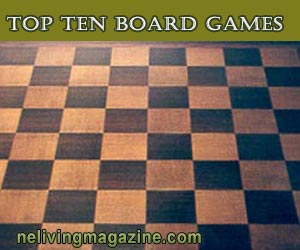 Make the most of your Indoor entertainment by exploring some of the Top Rated Board Games of All-Time. Some of the Board games found in this section are more than a century old – although the newer board games we found can be extraordinarily entertaining and fun.
When the outdoor weather is uncooperative or your health or medical conditions require stay-at-home isolation, or if you're just interested in experiencing the fun of a classic boardgame – then bookmark this page and sample the most popular Board games now available.
Remember, regardless of the board game you play, be sure to clean the game board, table, and everyone's hands before and after playing. Thank you for caring, and sharing. Please stay safe. 
TOP TEN INDOOR BOARD GAMES OF ALL-TIME
Read about the Top Ten Board Games for Children or suggest an amazing, educational, and fun board game for our reader. Thank you for bookmarking New England Living Magazine. 
Attractions | Inns | Resorts | Hotels
Rental Homes | Real Estate | Restaurants
Camping | Business | Classified
---