Champlain Islands VT Vacations
A Visit to The Lake Champlain Islands of Vermont
Vermont has many flavors you might say as a state. We have the Green Mountains with Skiing, Hiking, and Mountain Biking. Maple and Maple Cremees are a flavor favorite throughout the state. We have the NEK (Northeast Kingdom) which is a rural paradise with large bodies of water like Crystal Lake, Willoughby Lake, Seymour Lake, and Lake Memphremagagog.
The west coast of Vermont borders New York State with historic forts, ferry crossings, and Vermont's largest City Burlington. Then you have a very unique special place called the Lake Champlain Islands.
A Lake Champlain Islands vacation is unlike any other in Vermont. Lake Champlain stretches more than 100 miles south from the Canada – US border. The island towns of Lake Champlain consist of North Hero, South Hero, Isle La Motte, Grand Isle, South Hero, and the Alburg peninsula.

Most Champlain Island visitors arrive from US Route 2 and enter the Islands from Sand Bar State Park onto South Hero. The island towns of Grand Isle, North Hero, and Isle La Motte are all north of South Hero. Farthest north, Alburg, Vermont is a peninsula is located on the US-Canada border.
The Champlain Islands are well known for festivals and apple picking come fall. Boating, bass fishing tournaments, and sailboat rides are popular summer activities. The Champlain Islands are a popular destination for staying fit. Bicycle riders, walkers, and birders all enjoy the Champlain Island Line Rail Trail length. This recently opened pathway is about 14 miles one-way. The path is level and easy to walk or bike and the views of Lake Champlain, upstate New York, and the Green Mountains of Vermont are simply stunning.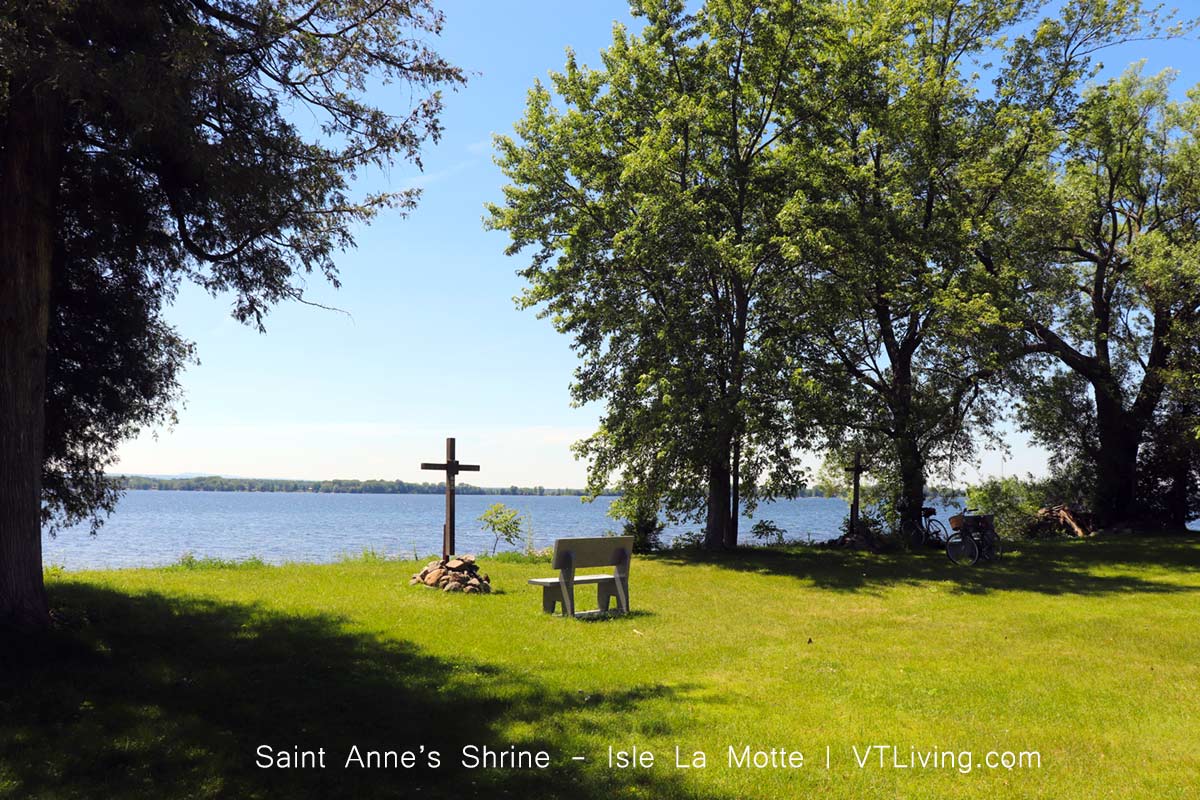 Soak up the historical vibes during your visit to the site of the French Fort Saint Anne – the oldest settlement in Vermont (1666) s also the location of Saint Anne's Shrine – a Center for life, light, and love. The Shrine and Chapel is open for worship from May through October and throughout the year for special retreats. Call 802-928-3362 or visit http://saintannesshrine.org for a complete schedule of Shrine events.
Lake Champlain Ferries will bring you and your vehicle from the Champlain Islands to Plattsburg, NY. The Grand Isle, VT – Plattsburgh, NY ferry crossing runs 24 hours, 7 days a week, year-round.
In all, a Champlain Island vacation will be enjoyed by anyone seeking outdoor recreation activities, or just relaxing at Shore Acres Inn or North Hero House.
CHAMPLAIN ISLANDS OF VERMONT POINTS OF INTEREST
Thank you for visiting.  Champlain Island VT Vacations by VT Living and New England Living Magazine".
Contact us for information about featuring your business in NE Living Magazine.


Coldwell Banker Islands Realty Inc., Office, US Route 2, South Hero, VT 05486 | 802-372-5777
Coldwell Banker Islands Realty Inc. is the Lake Champlain Islands' Number 1 real estate agency. We have been serving Grand Isle County's real estate needs since 1970 and have built a firm reputation for quality, integrity and service. We specialize in Vermont lakefront, island and inland properties in Grand Isle, Chittenden and Franklin Counties including the towns of South Hero, Grand Isle, North Hero, Isle La Motte, Alburg, Swanton, Highgate, Georgia, Milton, and Colchester.
Visit Coldwell Bankers Islands Realty
---


Shore Acres Inn & Restaurant, 237 Shore Acres Dr., North Hero, VT 05474 | 802-372-8722
Shore Acres is located in the heart of the Champlain islands. Each room offers guests an incomparable panoramic view of the Green Mountains and the glistening waters of Lake Champlain. A visit here provides you with the recharge and relaxation we all truly need. 19 lakeside inns overlooking Lake Champlain on 46 private acres. A special place for your special event or Lake Champlain VT wedding. Event consultation, and Pet-Friendly accommodations available.
Visit Shore Acres Inn & Restaurant, North Hero, VT
---
CHAMPLAIN ISLANDS GIFTS – SHOP 24/7 at FREE WORLD MALL

| Photo | Title | Price | Buy |
| --- | --- | --- | --- |
| | Lake Champlain Islands (Images of America) | $20.60 | Sale Item |
| | Paddling the Northern Forest Canoe Trail | $20.13 | Sale Item |
| | Lake Champlain T-Shirt for Women, Men, Girls & Boys T-Shirt | $19.75 | Sale Item |
| | Squiddy Lake Champlain Vermont - Vinyl Sticker Decal for Phone, Laptop, Water Bottle (3" Wide) | $4.99 | Sale Item |
| | LAKE CHAMPLAIN VERMONT Funny Fishing Camping Summer Gift T-Shirt | $21.99 | Sale Item |
| | 25 Bicycle Tours in the Lake Champlain Region: Scenic Tours in Vermont, New York, and Quebec | $21.12 | Sale Item |
| | Vintage Lake Champlain Vermont Sunset Sailboat Scene T-Shirt | $18.98 | Sale Item |
| | Lake Champlain 1896 Map Stoddard Reprint New York Vermont - Specials - Lakes | $41.00 | Sale Item |
| | Lake Champlain - 2013 Vermont - New York Nautical Chart - Custom Print | $41.00 | Sale Item |
| | CYCLING LAKE CHAMPLAIN VERMONT NEW YORK BICYCLE BIKE RIDE BIKING SPORT 16" X 24" MATTE PAPER VINTAGE POSTER REPRO WE HAVE OTHER SIZES | $22.50 | Sale Item |
| | I Believe Champ Sea Monster Lake Champlain Vermont T-Shirt | $15.99 | Sale Item |
| | Lake Champlain T-Shirt for Women, Men, Girls & Boys T-Shirt | $19.75 | Sale Item |
Attractions | Inns | Resorts | Hotels
Rental Homes | Real Estate | Restaurants
Camping | Business | Classified
---