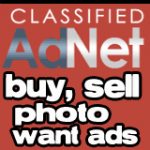 Classified Advertising
From "The Advisor" in Connecticut to the Monadnock Shopper News, the Weekly Flea or the famous Uncle Henry's – New Englander's love a bargain and like to buy, sell, swap and trade. Find just about anything for sale by browsing the local classified ads. Now, New England Classified Ads are online, complete with photos and even a map to the seller. Reach all of New England by placing a classified ad, or browse the ads below. To feature your business in NE LIVING, contact us.


ClassifiedAdNet | Secure Online Photo Classified Ads
Browse local classified ads - some with photos. Buy, sell or promote your business online with a photo classified ad. Find help wanted, antiques, collectibles, used trucks, cars for sale, business opportunities, for sale by owner, vacation rentals, homes for sale, jobs, public notices and more.
Browse Ads or Place a Classified Ad
---
Classified Ad Listings – Click on the ad headline for more information.
Attractions | Inns | Resorts | Hotels
Rental Homes | Real Estate | Restaurants
Camping | Business | Classified
---