Historic New England Inns Grand Resorts & Lodges
Exemplary Innkeeping & Grand Lodging Traditions Live On In New England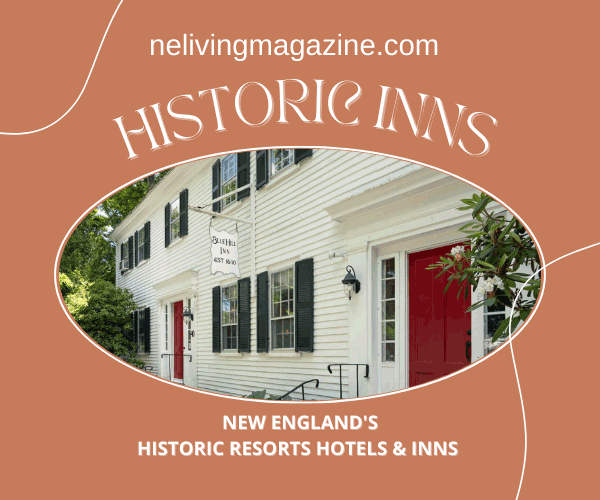 Welcome to New England – the home of dozens of historic inns, grand resort hotels, and painstakingly restored country estates, farms, and homes. Historic elements, modern amenities, and professional hospitality come together in New England which makes this region a "must visit" for anyone interested in Grand Resorts, Historic Inns, and sensational lodging in centuries-old buildings located in spectacular locations.
The number of truly historic grand hotels, inns, and resorts in New England is in the hundreds. We've selected a few of our favorites that are now offering lodging accommodations for travelers.
Many of today's historic New England Grand Resorts, and Inns began as the Mountainview Grand Resort in the New Hampshire White Mountains did – as a family farm and home that began accommodating travelers by providing lodging and meals.
The New Hampshire Seacoast is home to the friendly and comfortable Lamie's Inn in scenic Hampton, NH. This historic NH inn was built in 1740 and retains the charm of that period with its post-and-beam ceilings, 18th-century stone fireplace, and room decor. The on-premises Old Salt Restaurant is a favorite place for locals and travelers from all over the world. Read more about Lamie's Inn's history at https://oldsaltnh.com/lamies-inn.
The Franconia Inn is a fabulous place to visit. This historic White Mountain inn has been welcoming guests since 1863. Ideal for the outdoor enthusiast this inn is situated on 65 picturesque acres and affords breathtaking views of Mount Lafayette, Franconia Notch, and the Kinsman Mountain Range. The convenient Franconia, NH location provides easy accessibility to all area activities and a welcoming retreat from event-filled days. Visit https://www.franconiainn.com/ for more current lodging specials.
The Chesterfield Inn in scenic Chesterfield, NH is a relaxing retreat operated by innkeepers Phil and Judy Hueber who purchased the property in 1987. This romantic New Hampshire inn has a reputation for a relaxed atmosphere, delicious food, and personal service. Chesterfield Inn is a member of Distinctive Inns of New England, Select Registry, and enjoys a #1 ranking on TripAdvisor. Chesterfield Inn is recommended by NH Living as one of the Top Inns in New Hampshire.  Visit the Chesterfield Inn at https://www.chesterfieldinn.com/ to view lodging and dining specials and packages.
The Green Mountain Inn has welcomed guests with legendary hospitality since 1833. This charming Vermont inn is located in the heart of downtown Stowe. History is everywhere at this favorite resting place of discerning travel and U.S. Presidents. Green Mountain Inn is on the National Register of Historic Places. Originally built by Per C. Lovejoy in 1833 the building was at one time traded for a 350-acre farm. Today the Inn offers an exceptional range of accommodations in 8 distinct buildings. Modern amenities include a year-round outdoor pool, game room, fire pits, and indulging massage treatments. The downstairs cozy Whip Bar & Grill offers a taste of Vermont with locally sourced, seasonal products. Browse https://greenmountaininn.com/ to view historic photos and current room rates and specials.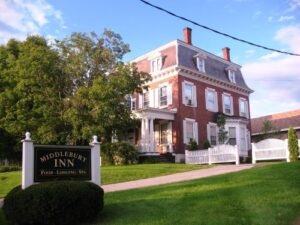 MIDDLEBURY INN
Since 1827 the stately Middlebury Inn has been a Champlain Valley lodging destination. Overlooking the Middlebury Village Green, this historic VT inn features elegantly restored guest rooms and suites graced with formal Victorian accents. The Porter Mansion, an annex to the Inn and was completed in 1825 and offers nine additional guest rooms. You will not be disappointed with your stay at this Champlain Valley Inn. Middlebury Inn was recognized as one of the 5 Oldest Hotels in America by the Zagat Travel Blog. Visit http://www.middleburyinn.com/ to reserve your stay at this historic New England inn.
The historic Strong House Inn in Vergennes, Vermont is a truly lovely bed and breakfast. This classic New England home was built in the Federal style with Greek Revival influences back in 1834. The inn was once the home of John Strong, a local legislator and military leader and one of the first settlers of Addison County. Vermont. Visit https://www.stronghouseinn.com/ browse and contact the innkeepers direct and ask about room reservations at this beautiful and historic Champlain Valley Inn.
The Phineas Swan Inn is yet another example of a historic home converted into lodging that retains respect for its past. Phineas Swan Inn is 135 years old and has operated as a bed and breakfast since 1986.  Ask the innkeepers about  The Friendly Ghost of the Phineas Swann Inn. Ask for the Red Room, as this is reportedly the favorite "haunt" of a playful young ghost named Geraldine.  Phineas Swan Inn is located in Montgomery, Vermont. Read more about Geraldine at the inn's website https://www.phineasswann.com.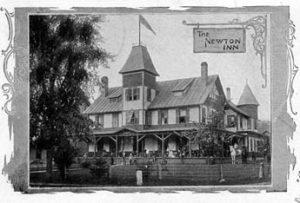 NORWICH INN
Welcome to one of the oldest operating inns in the United States.  Jasper Murdock was Colonel who built this magnificent property in 1797. The Norwich Inn served as a stagecoach tavern and hostelry for generations of New England travelers. Previously known as the Norwich Hotel, Curtis Hotel, The Union House, and the Newton Inn, the tavern gained a reputation among tourists and coaching parties destined for the New Hampshire White Mountains. The Norwich Inn holds the distinction of being the first tavern in Vermont to entertain a Chief Executive of the United States when President James Monroe visited the hotel on July 22, 1817. Norwich Inn is located in Norwich, VT. Room reservations and more historic inn photographs are available at https://www.norwichinn.com.
A member of Historic Hotels of America since 2007, the Castle Hill Resort and Spa is one of New England's top exclusive vacation retreats. This full-service historic hotel and resort is incredibly rich in history. Castle Hill's heritage is directly linked to one of Vermont's most noteworthy citizens, Allen Miller Fletcher. Fletcher served in both the Vermont House of Representatives and the Vermont Senate. Today, Fletcher's beautiful mansion now lives as a magnificent historic retreat known as the "Castle Hill Resort & Spa," which attracts hundreds of visitors each year. Visit Castle Hill Resort & Spa in Cavendish, VT.  Read more about the inn's historic past at https://www.castlehillresortvt.com.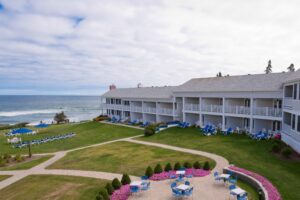 BEACHMERE INN
The historic Beachmere Inn is an amazing ocean-side inn and resort. This beautiful and historic property is in Ogunquit, Maine, and boasts a rich history as a seaside home and oceanfront estate. Beachmere Inn began its existence as an oceanfront family home. There is an interesting and informative page about the history of the Beachmmere Inn on their website – https://beachmereinn.com.
Step back in time and get in tune with yourself at the historic Sewall House. This Maine Inn, Yoga Retreat, has a rich history. The Sewall House was built in 1865 and is the place where yoga instructor Donna Davidge's great-grandfather, William Sewall, taught Theodore Roosevelt the wonders, beauty, and healing attributes of nature. Mr. Sewall is said to have learned gained much of his knowledge from native Americans. This is a special place and worth the effort to stay and experience Maine's great outdoors and learn Yoga is a most unique setting to experience serenity and solitude, away from the trappings of everyday life. Sewall House is located in Island Falls, Maine. Find information about Yoga retreats, room rates, and more online at https://sewallhouse.com.
BLUE HILL INN
Maine is famous for sea captain homes and cottages. In Blue Hill, Maine you'll find an idyllic historic inn called Blue Hill Inn. With scenic views everywhere, great boating, picnic spots, and lobster dinners what's not to like? Blue Hill Inn was built in 1830 and is part of the National Historic District of Blue Hill. The inn features beautiful Heritage Elm trees, a perennial garden, and a small grove of fruit trees that provide shade at the property's outdoor seating areas. Visit Blue Hill Inn's website and book direct by calling the inn. https://bluehillinn.com.
Thank you for visiting New England Living Magazine. We encourage you to contact our suggested inns directly and speak with the receptionist or innkeeper(s), who will answer any of your questions. There are dozens of historic New England Inns, Grand Resorts and Hotels located throughout the six New England states. In future travel articles, we will be introducing and highlighting these amazing buildings and sharing photographs and lodging specials. Thank you for visiting. If you would like to feature your business in New England Living, contact us.
SHOP NEW ENGLAND PRODUCTS

| Photo | Title | Price | Buy |
| --- | --- | --- | --- |
| | DELSEY Paris Chatelet Air Hardside Luggage, Spinner Wheels, Chocolate Brown, Carry-on 21 Inch | $329.95 | Sale Item |
| | Handmade Leather Carry On Bag - Airplane Underseat Travel Duffel Bags By Rustic Town (Mulberry) Medium | $149.45 | Sale Item |
| | Large Leather 32 Inch Luggage Handmade Duffel Bag Carryall Weekender Travel Overnight Gym Sports Carry On For Men And Women (32 inch) | $98.99 | Sale Item |
| | Amerileather Waxy Brown Leather Two Piece Set Traveler | $249.58 | Sale Item |
| | Amerileather Brown Ostrich Print Leather Two Piece Set Traveler | | Sale Item |
| | 24" Large leather Travel Bag Duffel bag Gym sports flight cabin bag Leather Holdall Overnight Weekend Large luggage bag (LIGHT BROWN) | $119.00 | Sale Item |
| | Cenzo Duffle Vecchio Brown Italian Leather Weekender Travel Bag | $249.00 | Sale Item |
| | Large 28 inch duffel bags for men holdall leather travel bag overnight gym sports weekend bag | $148.99 | Sale Item |
| | McKlein EDGEBROOK, Top Grain Cowhide Leather, 15" Leather Vertical Wheeled Ladies' Laptop/Computer & Tablet Business Briefcase Bag/Women's Rolling Overnight Travel Bag, Removable Trolley case | $155.07 | Sale Item |
| | 28" Inch Real Vintage Leather Duffel Large Handmade Bags Brown bag Carry On By KK's leather | $83.99 | Sale Item |
| | Wrangler Smart Luggage Set with Cup Holder and USB Port, Olive Green, 20inch,24inch,28inch | $131.99 | Sale Item |
| | Samsonite Omni PC Hardside Expandable Luggage with Spinner Wheels, 3-Piece Set (20/24/28), Silver | $285.10 | Sale Item |
| | American Tourister Pop Max Softside Luggage with Spinner Wheels, Black, 3-Piece Set (21/25/29) | $145.00 | Sale Item |
| | Amazon Basics 3-Piece Set Hardside Spinner, Black | $200.00 | Sale Item |
| | it luggage Duo-Tone 3 Piece Softside 8 Wheel Spinner Set, Capri Breeze/Dress Blues, 3 Pc | | Sale Item |
| | it luggage Divinity II 3 Pc 8 Wheel Expandable Spinner Set, Black | $320.17 | Sale Item |
| | it luggage Citywide 3 Piece Softside 8 Wheel Spinner Set, Charcoal, 3 Pc | $623.99 | Sale Item |
| | it luggage Encompass 3 Piece Hardside 8 Wheel Expandable Spinner Set, Sandy Skin, 3 Pc | $271.43 | Sale Item |
| | it luggage Intervolve 3 Piece Hardside 8 Wheel Expandable Spinner, Black, 3 Pc Set | $274.28 | Sale Item |
| | it luggage Duo-Tone 3 Piece Softside 4 Wheel Spinner Set, Peach/Sea Teal, 3 Pc | $211.60 | Sale Item |
Attractions | Inns | Resorts | Hotels
Rental Homes | Real Estate | Restaurants
Camping | Business | Classified
---