Home Composting Made Easy
Creating Rich Soil For Your Vegetable or Flower Garden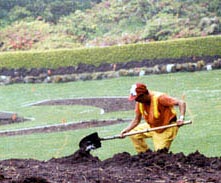 Growing beautiful flowers or fresh vegetables in your backyard is a wonderful way to spend time outside, save money, and help your family eat healthier. All plants need nourishing soil, and moisture to grow and mature. Having a free, local source of fresh compost will help to make all of your plants grow faster and healthier. Home Composting can help you do just that.
Home composting is good for you, good the environment, Mother Earth, and great for your flowers or home-grown vegetables. Composting is an easy way to help you grow better, bigger, and healthier fruits, and vegetables. Composting will save you money by eliminating or reducing the need for expensive potting soil and fertilizers. The information we've gathered will help you successfully create beautiful, black, rich, soil with a minimum of effort, and cost.
Home Composting is soon to be the law of the land in the State of Vermont.
Top 3 Methods For Home Garden Composting
There are a number of ways to create compost. We've organized our suggestions beginning with the easiest way – Trench Composting.
The easiest method of composting is still the preferred method by many homeowners. To begin, dig a trench or small hole in the ground. The hole should be at least 18 inches wide and no more than two feet deep. Place finely chopped home scraps, leaves, and garden waste. Then cover with dirt. This method produces rich, dark, soil in as little as two months. A useful guide to Garden Composting is Composting Basics: All the Skills and Tools You Need to Get Started (How To Basics) – this is an excellent composting resource for any home gardener.

Living in suburbia means cutting the lawn. Well, disposing of grass clippings then becomes the primary ingredient in your lawnmower clipping compost. To create this type of compost begin by making a 3 -4 four foot wide circle out of chicken wire. Fill the circle with your lawn clippings. Water occasionally. Enjoy fresh compost after 12 to 18 months of time. You can speed the process up considerably by adding a composting accelerator. We like GreenPig Solutions 60 Accelarator Compost Accelerator
. Turning the clippings and keeping them moist will also precipitate a faster breakdown. A powerful and durable lawnmower ideal for composting is this CRAFTSMAN M105 140cc 21-Inch 3-in-1 Gas Powered Push Lawn Mower with Bagger
.
Trash Can Composting or Rotating Compost Bin Composting
Using an R2D2 type rotating can or converting an ordinary rubber trash can by drilling holes into the side and making it into a rotating composting bin is an easy way to make beautiful, black, rich, compost at home. This is a great way to recycle and make use of an old trash can. It takes about 90 days to create compost using this method.  A rotating bin composter will do the job. We like the Goplus Compost Tumbler Outdoor Garden Waste Bin Grass Food Trash Fertilizer Barrel Black (45-Gallon with Wheels)
. You'll want to keep your compost pile or your rotating compost bin near a water source. Keeping your compost moist is critical for creating compost.
Home Composting Tips
– Never include animal parts, bones, scraps of meat of any kind
– Mix the compost to help it breakdown faster. A Lotech Products Compost Crank Compost Aerator
compost mixer will help you to this with ease.
– Keep the compost wet but not wet. Look for a 50- 50 mix of brown and green material.
– Never include kitty litter or pet manure of any kind. 

– Never let your compost dry out. Check the compost temperature with a Compost Soil Thermometer by Greenco, Stainless Steel, Celsius and Fahrenheit Temperature Dial, 20 inch Stem
compost thermometer.
– Don't let your compost pile get more than 3 or 4 feet high
– Use a compost pail to gather your kitchen scraps to the compost pile. Rinse the compost pail regularly. We love this Oversized 1.3 Gallon Kitchen Compost Bin with EZ-No Lock Lid, Plastic Liner & Charcoal Filters In White & Black – Sturdy Construction & Odor-Free Seal To Prevent Bugs & Smell w/Dishwasher Safe Bucket
.
– Refrain from adding soured milk, and milk products to your compost pile
– Never add sick or diseased plants to your compost – it may end up poisoning your garden.
New England Living Magazine thanks you for visiting and for bookmarking. Ask us about New England vacations, gardening, or relocation.  Contact us for information about featuring your New England business.
SHOP HOME AND GARDEN SUPPLIES 24/7 AT FREE WORLD MALL
| Photo | Title | Price | Buy |
| --- | --- | --- | --- |
| | FCMP Outdoor IM4000 Dual Chamber Tumbling Composter Canadian-Made, 100% Recycled Resin - Outdoor Rotating Compost Tumbler Bin for Garden, Kitchen, and Yard Waste, Black (37 Gallon) | $80.90 | Sale Item |
| | Large Composting Tumbler 43 Gallon Capacity Composter Dual Chamber BPA Free Compost Bin Outdoor Rotating Garden Yard Waste Bins | $44.98 | Sale Item |
| | Dual Chamber Compost Tumbler – Easy-Turn, Fast-Working System – All-Season, Heavy-Duty, High Volume Composter with 2 Sliding Doors - (2 – 18.5gallon /70 Liter) | $109.90 | Sale Item |
| | Miracle-Gro Small Composter - Compact Single Chamber Outdoor Garden Compost Bin Heavy Duty – UV Protected Turning Barrel Tumbling Composter (27.7 gallons) | $84.90 | Sale Item |
| | Vremi Tumbling Outdoor Compost Bin – Dual Chamber 360° UV Proof and Rust Proof 42 gal with Secure Sliding Doors – All Season Composter with Aeration System | | Sale Item |
| | Compost Bin by GEOBIN - 246 Gallon, Expandable, Easy Assembly, Made in The USA | $35.99 | Sale Item |
| | Miracle-Gro Small Composter - Compact Single Chamber Outdoor Garden Compost Bin Heavy Duty – UV Protected Turning Barrel Tumbling Composter (18.5 gallons) | $74.90 | Sale Item |
| | F2C Compost Bin Outdoor Dual Chamber Tumbling Composter 43 Gallon BPA Free Large Tumbler Composters Tumbling or Rotating w/Sliding Doors & Solid Steel Frame Garden Yard Black | $42.99 | Sale Item |
| | FCMP Outdoor HOTFROG Dual Body Tumbling Composter (37-Gallon) | $143.89 | Sale Item |
| | RSI Riverstone Industries Maze Two Stage Tumbler Composter, Black | $269.98 | Sale Item |
| | Large Garden Compost Bin, 80 Gallon (300L) Outdoor Composter Tumbler from BPA-Free Material for Fast Creation of Fertile Soil, Lightweight, Easy Assembly and Kitchen Waste Composting | $56.98 | Sale Item |
| | VermiHut Plus 5-Tray Worm Compost Bin – Easy Setup and Sustainable Design | $99.95 | Sale Item |
| | Garden Composter Bin Made from Recycled Plastic – 110 Gallons (420Liter) Large Compost Bin - Create Fertile Soil with Easy Assembly, Lightweight, Aerating Outdoor Compost Box – by D.F. Omer | | Sale Item |
| | Miracle-Gro Large Dual Chamber Compost Tumbler – Easy-Turn, Fast-Working System – All-Season, Heavy-Duty, High Volume Composter with 2 Sliding Doors - (2 – 27.7gallon /105 Liter), Black | $139.90 | Sale Item |
Attractions | Inns | Resorts | Hotels
Rental Homes | Real Estate | Restaurants
Camping | Business | Classified
---