Dining in Southern Maine: The Kennebunk Inn

The Kennebunk Inn
45 Main Street
Kennebunk, ME 04043 | 207-985-3351
Nestled in the charming New England town of Kennebunk Maine is the award-winning Kennebunk Inn. This historic Maine Inn and Tavern date back to 1799. One of the oldest operating Inns in Maine you will definitely want to visit. The Academe Maine Brasserie & Tavern is a destination for foodies and lobster lovers especially.
Come in for a cocktail like Quintessential Blueberry Cosmo, Maine Lemonade, or the award-winning – Sage against the machine. There are several wine selections by the glass and a larger wine menu by the bottle.
Food TV has been here and featured the amazing Lobster Maine Pie. Oprah recommends the lobster white truffle pizza. The lobster rolls are just fabulous and you can try these by visiting the Inn or you can have it shipped directly to your door. " Chefs Shanna & Brian O'Hea bring passion and creativity to every dish". Lobster, Haddock, and Crab have all found their place on the Academe menu along with Nacho, chicken, beef, pasta, pizzas, sandwiches, and much more.
Dessert has its own charm at Kennebunk Inn. Signature S'more, campfire classic Decadent chocolate pate, almond graham "cracker" crust with homemade marshmallow Served with the requisite shot of cold milk. Chocolate molten cake surrounding a peanut butter truffle with a scoop of Shanna's peanut butter ice cream.
Reverse Root Beer Float Vanilla soda with homemade root beer ice cream accompanied by two fried Oreo cookies. Homemade Ice Cream and sundaes too. Many desserts are offered in a moderation as well "When a couple of bites are just right"
So if you are looking for a great New England style get-a-way, The Kennebunk Inn and Academe Maine Brasserie & Tavern are the perfect matches for you. Tell them NELivingmagazine and MELiving sent you.
For further information visit https://www.thekennebunkinn.com.

The Kennebunk Inn, 45 Main Street, Kennebunk, ME 04043 | 207-985-3351
 If you are searching for an historic inn with affordable class and fabulous food in southern coastal Maine - The Kennebunk Inn is the place. Beautiful beaches, nature preserves, museums, galleries, antique shops, and more. We look forward to sharing our special place in the land of the pointed firs.
Visit The Kennebunk Inn - Kennebunk
---
Contact us for information about featuring your business in NE Living Magazine.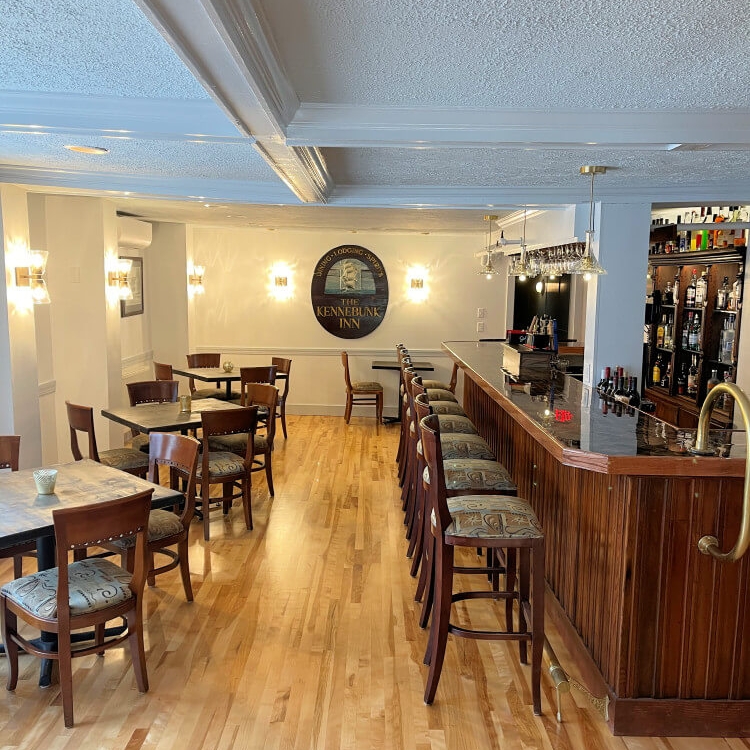 Attractions | Inns | Resorts | Hotels
Rental Homes | Real Estate | Restaurants
Camping | Business | Classified