Kennebunkport Maine Vacations
Maine Lodging & Dining Kennebunkport Resort Collection
Are you looking for a Maine vacation destination that offers a bit more? More about you, more about being catered to, more about the details of superb hospitality and dining. Then introduce yourself to Kennebunkport, Maine, and the Kennebunkport Resort Collection (aka KRC) of local lodging and dining. The Kennebunkport Resort Collection offers nine properties from charming Maine cottages, elegant New England inns, luxurious bungalows or a chic sunlit boutique hotel oasis near the beach. Every KRC property has its own personality, along with all the perks that you will come to expect from vacation properties in the wonderful southern Maine town of Kennebunkport.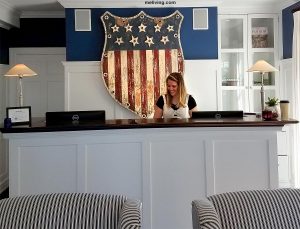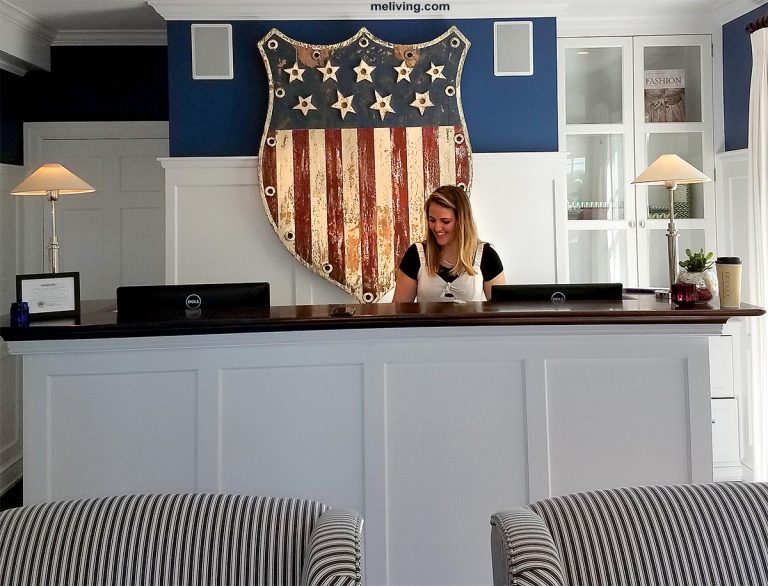 The very first difference that we experienced during our visit was the customer service and attention to detail in all of the staff.  We were welcomed and expected. The little details that make your coastal Maine vacation extra special were covered. The greeting was warm, comfortable and gracious. 
Maine Vacation Choices
Picture yourself in a cute, charming, Maine vacation cottage at The Cottages on Cabot Cove – "cozy and quintessentially coastal". These Maine seasonal cottages have been carefully renovated and offer a relaxed, comfortable, lodging option for your Maine getaway. You'll love the morning "goodies" – each cabin receives a breakfast delivered in a cooler bag for the two of you. Enjoy intimate spaces designed to make your stay as cozy and relaxed as possible. Kayak usage and the scenic tidal view are free.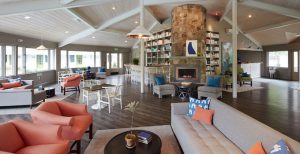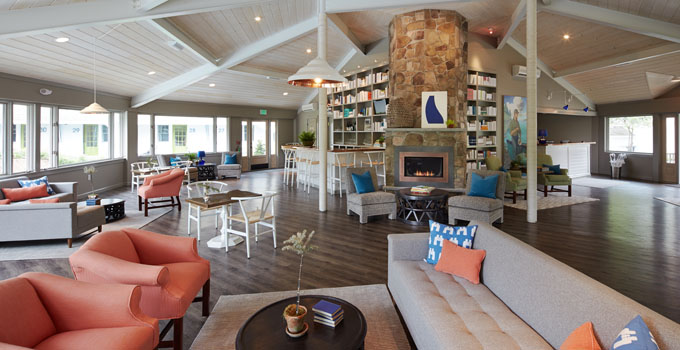 Bringing the kids? Try The Lodge on the Cove, in Kennebunkport. The Lodge on the Cove is known as "the happiest kid-friendly hotel in Kennebunkport". The Lodge is a vibrant mix of vintage, classic and contemporary furnishings just perfect for family fun. You can find The Dory here as well. Dory is the poolside restaurant and a fun place to hang-out. The menu features burgers, homemade milkshakes and fun sides like sweet potato tater tots. Creative cocktails, Happy Hour specials, and live local music, lawn games, and retro ice cream bars keep the kids occupied nearby.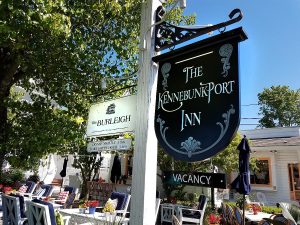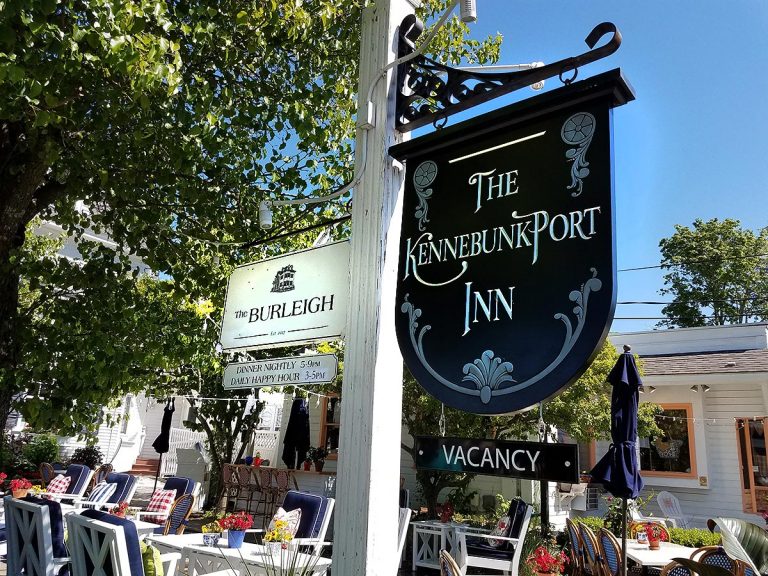 The historic Kennebunkport Inn is perfectly placed, right in the center of Dock Square. Walk to some of the best collections of art gallery's, boutiques and shops in North America. Enjoy the understated luxury of both the main inn and Riverhouse. Don't leave without sampling the Thai mussels at The Burleigh, the on-site restaurant has indoor and in summer outdoor dining. Experience the wonderful food and happy hour specials here. It's easy to understand why The Burleigh is fast becoming a favorite Kennebunkport area restaurant.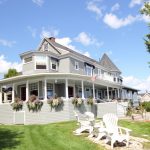 Wake up overlooking Walker Point, Kennebunkport, Maine (George and Barbara Bush summer home) and the waves of the Atlantic Ocean when you stay at Cape Arundel Inn and Resort. This magnificent property has one of the best views of any lodging property in Kennebunkport. The white Adirondack lawn chairs and the large wrap around porch make this a classic New England oceanfront get-a-way. The on premier restaurant Ocean, a fine dining establishment, is located overlooking the water as well. A Maine fine dining experience not to be missed.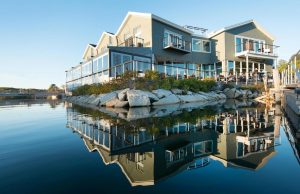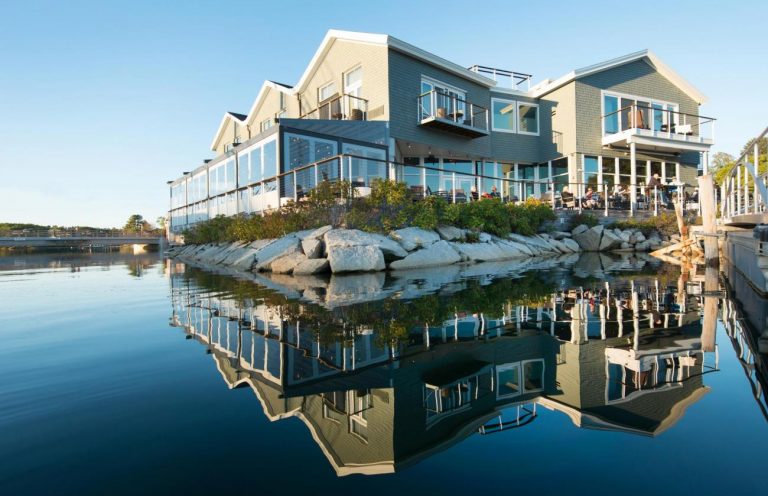 Bring the boat and dock at The Boathouse Waterfront Hotel located in the center of Kennebunkport or The Yachtsman Hotel and Marina Club (newly renovated) with its great floating pool just a few blocks away. Both located on the Kennebunk River, and easy in and out without the car, most everything is walking distance. The Boathouse Restaurant is a fabulous dining experience with great water views. Read about our Boathouse Restaurant dining experience.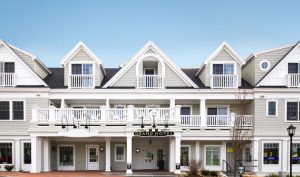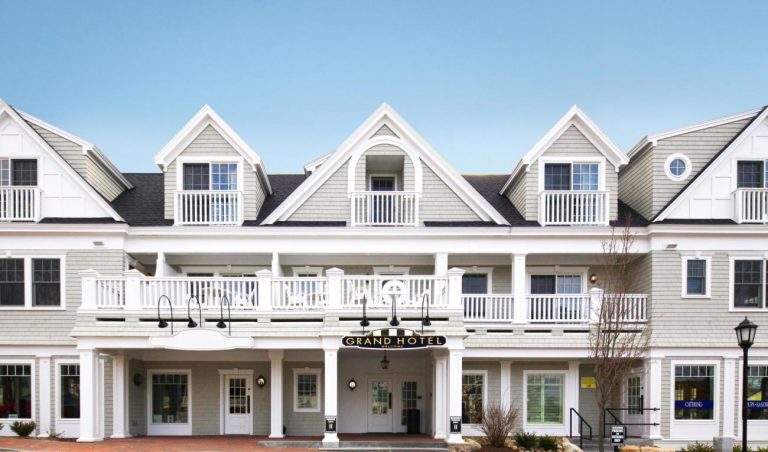 Grand Hotel sits prominently on Chase Hill where you can overlook Dock Square or enjoy browsing the many surrounding restaurants, shops and lovely music near the intersection of Routes 9 and 9A.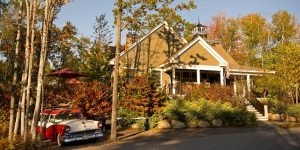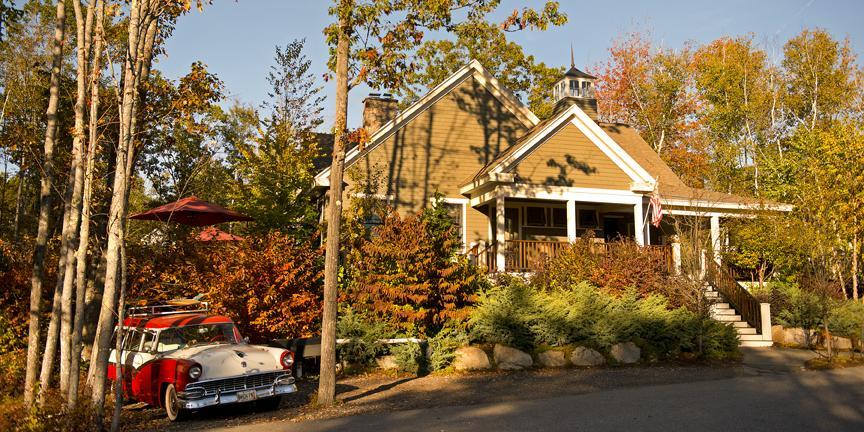 Looking for a more reclusive get-a-way, Hidden Ponds. Choose from the Two-bedroom cottages or single bungalows, located on 60 acres of pristine Maine forest and just a short distance to Goose Rocks Beach. A great Tree Spa for even more relaxation or healthy restoration is located on the property. On the property is Earth at Hidden Ponds, an organic inspired Al Fresco. Much of Earth's produce comes from a breathtaking onsite garden called the Farm. The Farm spans upwards of 3,200 square feet and boasts fresh vegetables such as beets, squash, Swiss chard, lettuces, peppers, and tomatoes, as well as herbs used in day to day preparations. This is a perfect place for a wedding, corporate retreat or a needed break from it all.
The Tides Beach Club, the only waterfront hotel on Goose Rocks Beach. This New England style inn features 21 rooms where you can listen to the sounds of the wave splashing on the sand. Sit on the large porch and watch the ocean tides. The Tides Beach Club features a menu of classic seaside fare, Maine crab cakes, and lobster rolls served either hot with lemon butter or chilled with garlic aioli. Happy Hour from 3-5 daily and Sundays till 6.
Plan your next Kennebunkport Vacation and find the very latest information, special packages and email specials from all Kennebunkport Resort Collection properties by visiting https://www,kennebunkportresortcollection.com.
Visit these southern Maine Inns, Maine Resorts, and other Maine lodging options.
Get more information, view local photos from Kennebunkport, or Kennebunk, ME in Maine Living.

The Grand Hotel, 1 Chase Hill Road, Kennebunk, ME 04043 | 877-455-1501
The Grand Hotel in Kennebunk, Maine, sits prominently on Chase Hill, just steps away from bustling, downtown Kennebunkport. This coastal Maine boutique hotel features classic New England architecture and elegantly appointed decor. The Grand Hotel offers views of lively Dock Square and Lower Village. It's the perfect spot to enjoy your coastal Maine vacation. And with our on-site Maine Art Hill art gallery, you can indulge yourself in artistic delights.
Visit Grand Hotel - Kennebunk
---

The Tides Beach Club, 254 Kings Highway, Kennebunkport, ME 04046 | 855-632-3224
Just steps away from Goose Rocks Beach, Local seafood is the focal point of the menu at the Tides Beach Club with native Maine classics getting top billing. Stop in to try the pan-seared salmon with red quinoa, Maine crab cakes, and lobster rolls served either hot with lemon butter or chilled with garlic aioli. Or slide up to the bar to partake in specialty cocktails infused with fresh juices, fruits and herbs, New England artisanal beers and an extensive wine list.
Visit Tides Beach Club - Kennebunkport
---

The Grand Hotel, 1 Chase Hill Road, Kennebunk, ME 04043 | 877-455-1501
Kennebunkport's newest waterfront escape is a skip away from sandy beaches and a short walk to shops and restaurants. If you've only dreamed of boat ownership, your stay with us is your chance to rent a power boat to explore the gorgeous coast of southern Maine. Kayak and canoe rentals are available on-site, too. Feel like a "member" of the club from the moment you arrive. Your on-the-water Harborfront Bungalow, with its own terrace and lush private garden, overlooks the shimmering Kennebunk River.
Visit Yachtsman Lodge Hotel & Marina Club - Kennebunkport
---

The Lodge on the Cove, 29 South Main Street, Kennebunkport, ME 04046 | 800-879-5778
The hippest kid-friendly hotel in Kennebunkport, Maine — offers a modern, light-hearted approach to the quintessential Maine resort experience. Nestled on a wooded cove in one of the Pine Tree State's most popular coastal towns, this refurbished motor lodge is both relaxed and refined. The Dory — a retro-cool restaurant and bar — is located on the lower level of the main Lodge building. The eatery opens onto a gated outdoor pool patio, offering a safe place for children to play while adults soak up the sun nearby.
Visit the Lodge on the Cove - Kennebunkport
---

The Kennebunkport Inn, One Dock Square, Kennebunkport, ME 04046 | 800-248-2621
Built in the late 1890's, the Inn was once a tea merchant's mansion and the only hotel located in the heart of Kennebunkport. The Kennebunkport Inn is perched at the top of the village center - the inn's vista overlooks the downtown shops, restaurants, and art galleries, making it an optimal choice for guests who prefer to walk to the most popular Kennebunkport destinations.
Visit The Kennebunkport Inn - Kennebunkport
---

The Boathouse Waterfront Hotel, 21 Ocean Ave., Kennebunkport, ME 04046 | 207-967-8223
The Boathouse Waterfront Hotel & Restaurant in Kennebunkport, Maine, boasts a phenomenal location, stunning views, and luxurious rooms. Conveniently located in the heart of the Port, this ultimate waterfront hotel overlooks the harbor side of the Kennebunk River and is comprised of two buildings. With panoramic windows, private balconies, and an expansive outdoor deck, The 12 guest rooms located in the Main hotel have been done up in crisp nautical themes designed to complement the view. The Wharfside building - situated across the footbridge, features 13 renovated guest rooms wrapped in a stylish beach cottage decor. Kennebunkport's downtown shops, boutiques, and restaurants are all within walking distance.
Visit The Boathouse Hotel - Kennebunkport
---

The Cottages at Cabot Cove, 7 South Maine Street, Kennebunkport, ME 04046 | 207-967-5424
16 petite cottages is a departure from traditional inns, Bed and Breakfasts, and hotels in Kennebunkport, Maine. Our whimsically intimate accommodations offer the perfect seasonal getaway and are open May through October. Grouped next to Cabot Cove, one of Maine's most beautiful saltwater settings. Cabot Cove is a tidal cove fed by the Kennebunk River and the sea beyond. Meander the lushly landscaped grounds, play bean bag toss, paddle a boat around the cove, or tuck into your cottage to enjoy a good book or just relax.
Visit Cottages at Cabot Cove - Kennebunkport
---

Hidden Pond, 354 Goose Rocks Road, Kennebunkport, ME 04046 | 888-967-9050
Slow down, breathe deeply…you've arrived at Hidden Pond, the most intriguing and rejuvenating collection of luxury Kennebunkport cottages in New England. A hike on one of our nature trails will reintroduce you to the majesty of nature and connect you to the Earth we love and cohabit. Try a stand-up paddleboarding lesson, or enjoy morning yoga at The Farm. If vegging out is more your style, lounge on a comfy chaise by one of our two pools, where drinks and light fare are at your beck and call. Or, head down to beautiful Goose Rocks Beach and our sister property, The Tides Beach Club.
Visit Hidden Pond - Kennebunkport
---

The Burleigh at Kennebunkport Inn, One Dock Square, Kennebunkport, ME 04046 | 800-248-2621
The Burleigh – Kennebunkport's hottest new restaurant. The Burleigh Menu features the freshest Maine seafood including signature dishes, blue cheese Maine mussels, garlic shrimp, bourbon roasted half chicken, and bacon-creamed corn. With its lively bar, spacious outdoor deck and cozy fireplace, The Burleigh is one of Kennebunkport's premier nightspots, drawing in diners seeking creative cocktails, live music, and a social, energetic vibe.
Visit The Burleigh at the Kennebunkport Inn - Kennebunkport
---

Ocean Restaurant at Cape Arundel Inn & Resort, 208 Ocean Ave., Kennebunkport, ME 04046 | 855-346-5700
Aptly named, Ocean is located within the Cape Arundel Inn & Resort, Kennebunkport's beautiful oceanfront inn, with panoramic windows offering 180 degree views of the Atlantic. Ocean is the ideal venue to enjoy a memorable meal or cocktails and bites at the bar. Ocean's menu features ocean inspired fine cuisine, beautifully presented and enhanced by the fresh sea air and stunning scenery.
Visit Ocean Restaurant at the Cape Arundel Inn - Kennebunkport
---

Hidden Pond, 354 Goose Rocks Road, Kennebunkport, ME 04046 | 207-967-6550
The cuisine at Earth takes advantage of the bounty of the property's 800 square-foot organic farm, where herbs, flowers, and heirloom vegetables are picked daily. Earth's "farm-to-fork" menu is comprised of house-made pastas, cheeses, breads, charcuterie and desserts with locally sourced meats and seafood.
Visit Earth Restaurant at Hidden Pond - Kennebunkport
---
Attractions | Inns | Resorts | Hotels
Rental Homes | Real Estate | Restaurants
Camping | Business | Classified
---