Kennebunkport ME Restaurants From KRC
Maine Dining – Kennebunkport Resort Collection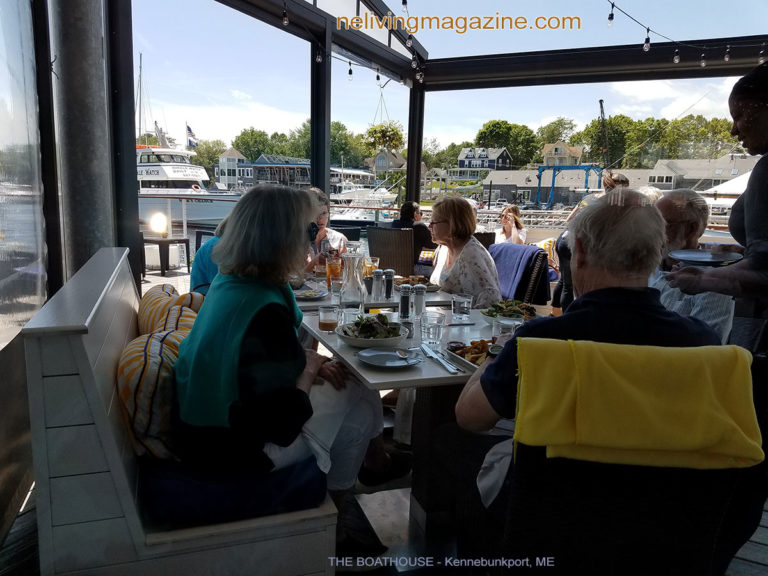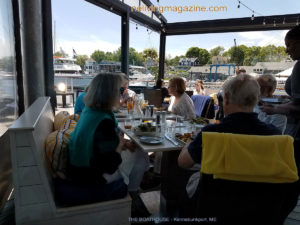 Kennebunkport, Maine has many famous and very good restaurants. We happened to find three of the very best that are part of the Kennebunkport Resort Collection  – a consortium of local boutique hotels, restaurants, and inns. Let me share a few photos and tidbits so to speak about these places.
First located right in the Dock Square downtown Kennebunkport area is The Burleigh. The Burleigh is part of The Kennebunkport Inn and offers inside and outside dining areas (weather permitting). Choose the patio, inside bar area, many nights with happy hour and music, or the cozy inside dining room. The menu here is unique, compact and outstanding. Eric our waiter was well-trained and knowledgeable about the menu. The menus fluctuate with the seasons and feature hand-selected, locally sourced vegetables, herbs, meats and seafood, accentuated by Chef Eric Murdough's creative touch.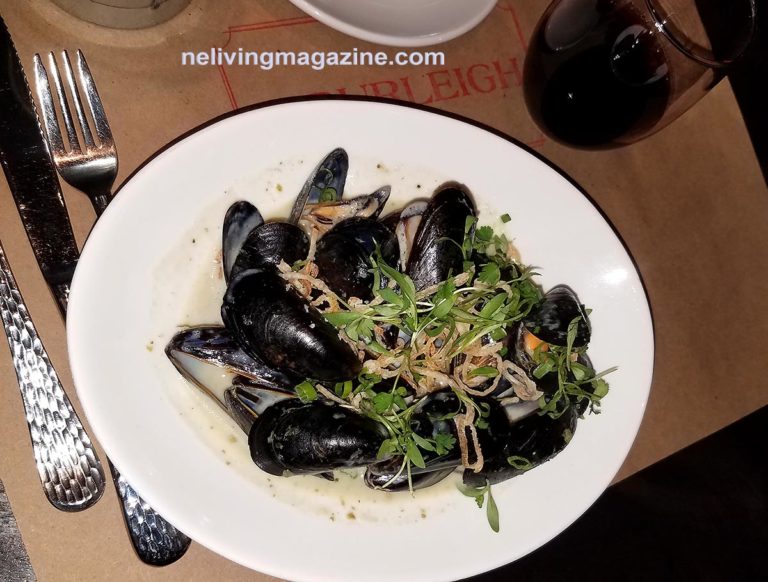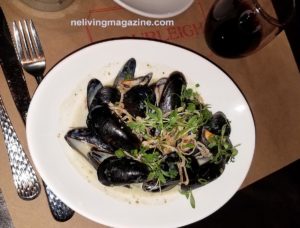 Try the Mussels in coconut milk and green curry, beyond delicious. Fried chicken sandwich was excellent, and of course they have an amazing, ocean fresh Maine lobster roll. The wines, cocktails and desserts are also award-winning.
We had a delightful lunch at The Boathouse restaurant located on the banks of the Kennebunk River. This   newly designed space is bright, contemporary, and sunny with nautical influences and features indoor and outdoor dining on a wrap-around deck. Chef John Shaw's "classic Maine" menu focuses on fresh seafood, a bit of Asian influences and a Lobster Bar with Maine oysters, Little Neck clams, and scallop crudo. The oysters are definitely a popular item on the menu, we however enjoyed over sized and tender shrimp cocktail. This was accompanied by a creative craft cocktail called Parson's Painkiller – a House rum blend, pineapple, orange, coconut ……sooooo goooood.
We ordered a house specialty, Seared Shrimp & Scallops served with Lobster fried rice, sesame egg, baby Bok Choy. The fresh seafood was cooked to perfection and the lightly fried rice was mixed with lobster meat.  Exceptionally tasty. The other lunch ordered was The Boathouse version of Fish & Chips – a beer-battered fresh Atlantic haddock fillet served with house tartar sauce, coleslaw, and a generous portion of french fried potatoes. All was outstanding.
We needed to finish off this incredible meal with dessert. House-made wild Maine blueberry crisp with vanilla ice cream, and on the side a scoop of blueberry ice cream for a sample. The crisp was by far the best I have ever had. The ice cream was so good and flavorful.
We finished our lunch on the deck with tea and sunshine. I have to mention our wonderful waitress Leticia, again the staff is so well-informed and trained. Ask them anything about the food and they know. How appropriate for a lazy afternoon with such incredible food.
Now just when you think I could not do better.
We also dined at Ocean Restaurant at Cape Arundel Inn & Resort. Do not be confused by other Ocean names, Ocean is at the fabulous Cape Arundel Inn & Resort and faces the Atlantic Ocean and Walker Point. This fine dining restaurant has one of the best views in Maine and every seat has an ocean view.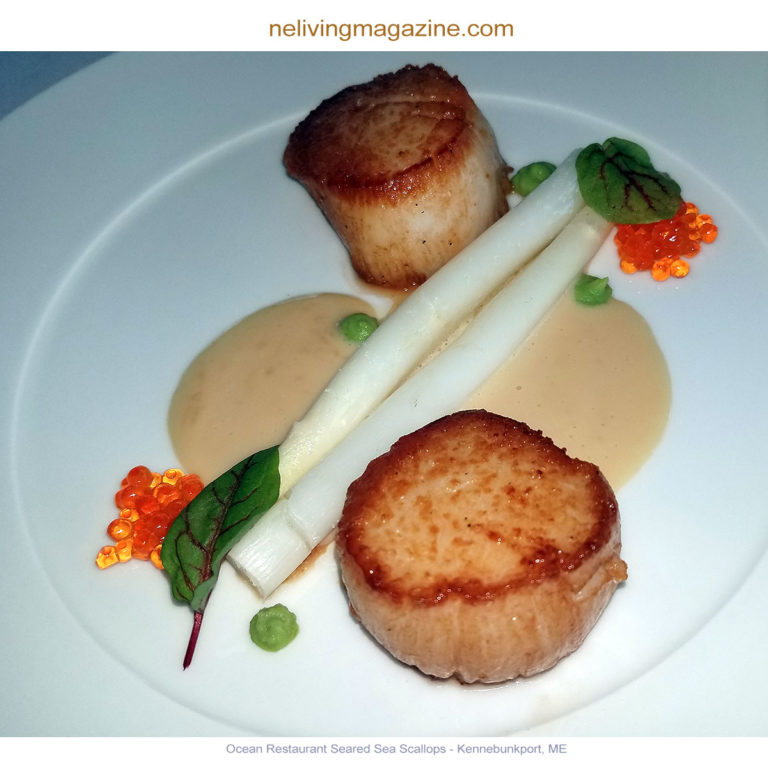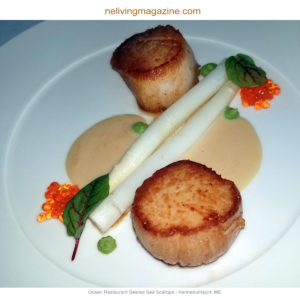 We enjoyed seared Sea Scallops – served with Pea Purée, White Asparagus, Trout Roe, and topped with Limoncello Emulsion and the flavor blend was exquisite. The accompanied appetizer was Beet "Carpaccio" – Salt Roasted Red Beets, Confit Yellow Beets, Pistachio, Goat Cheese Beignet, and Spring Onion Foam was equally satisfying. We interacted with the couple seated at the next table, and they were both praising the Carrot-Ginger Soup and Lobster Thermidor.  We were told these were excellent and the perfect portion size.
Dinner choices were Beef Steak, Prime Colorado Grilled Strip-loin, Red Wine Braised Oxtail, Asparagus, Lyonnaise Potatoes, Red Wine Jus and Lobster, Butter Poached Lobster, Gnudi, Forest Mushrooms, Spring Vegetables, Lobster Coral Emulsion. The menu is varied and ideal for fussy diners. Perfect for us the menu also includes, monk fish, swordfish, duck, lamb and chicken. I can only imagine that all of these we are flavorful and prepared with the same attention to detail that our meals were.
The wine list is very nicely put together, both by the glass and bottle selection. The knowledgeable waiter will  gladly assist in your wine selections to compliment your food if you desire.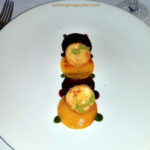 Dessert selections are always the hardest for me as I haven't found many desserts that I do not like. We decided on two and shared a Lemon Tart Meringue with Blackberry, Mascarpone Gelato. It was sweet, tart, creamy, cool and delicious.  We finished off with Muscadine Truffles – Milk Chocolate, Kirsch, Grand-Marnier. Wow!. I really wanted to try the chocolate fondue, but will have to try it next time.
We felt very pampered and catered to at Ocean.  Eric, our waiter was very well-informed and was able to answer and suggest items for us. It's obvious the staff and management know how to treat every guest special and this certainly made our visit here a very special occasion. As we departed Ocean Restaurant and the Cape Arundel Inn the ocean fog came slowly rolling in. Nature made this a special night as well.
I have to highly suggest that you try the restaurants owned by the Kennebunkport Resort Collection. The quality and care as well as attention to detail in every step of the preparation is very apparent. Please let them know that you read this review and also visit their websites.
Overall our Maine vacation getaway was a fun few days that went by far too quickly in one of the best mid-coast areas anywhere – mid coast Maine. This is truly a vacation destination that we feel is quintessential Maine. It's not far off the beaten path, find it for yourself. Contact us for information about featuring your business in New England Living Magazine.
For further information visit the Kennebunkport page in Maine Living.

The Burleigh at Kennebunkport Inn, One Dock Square, Kennebunkport, ME 04046 | 800-248-2621
The Burleigh – Kennebunkport's hottest new restaurant. The Burleigh Menu features the freshest Maine seafood including signature dishes, blue cheese Maine mussels, garlic shrimp, bourbon roasted half chicken, and bacon-creamed corn. With its lively bar, spacious outdoor deck and cozy fireplace, The Burleigh is one of Kennebunkport's premier nightspots, drawing in diners seeking creative cocktails, live music, and a social, energetic vibe.
Visit The Burleigh at the Kennebunkport Inn - Kennebunkport
---

Ocean Restaurant at Cape Arundel Inn & Resort, 208 Ocean Ave., Kennebunkport, ME 04046 | 855-346-5700
Aptly named, Ocean is located within the Cape Arundel Inn & Resort, Kennebunkport's beautiful oceanfront inn, with panoramic windows offering 180 degree views of the Atlantic. Ocean is the ideal venue to enjoy a memorable meal or cocktails and bites at the bar. Ocean's menu features ocean inspired fine cuisine, beautifully presented and enhanced by the fresh sea air and stunning scenery.
Visit Ocean Restaurant at the Cape Arundel Inn - Kennebunkport
---

Hidden Pond, 354 Goose Rocks Road, Kennebunkport, ME 04046 | 207-967-6550
The cuisine at Earth takes advantage of the bounty of the property's 800 square-foot organic farm, where herbs, flowers, and heirloom vegetables are picked daily. Earth's "farm-to-fork" menu is comprised of house-made pastas, cheeses, breads, charcuterie and desserts with locally sourced meats and seafood.
Visit Earth Restaurant at Hidden Pond - Kennebunkport
---
Attractions | Inns | Resorts | Hotels
Rental Homes | Real Estate | Restaurants
Camping | Business | Classified
---