Main Street Grill & Bar
Lunch, Dinner, Food, Fun, Cocktails & Local Brews in Pittsfield, NH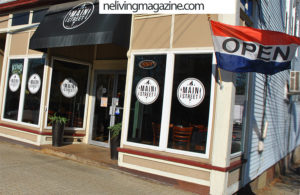 Just 15 miles outside of Concord NH, and 15 miles south of Alton Bay off Rte 28, we found a hidden gem of a restaurant on Main Street in the town of Pittsfield, NH. Main Street Grill and Bar, a fabulous dining, drinking, entertainment establishment that serves as many locally sourced foods as possible and with a unique and ever-changing bar menu with 12 beers on tap that rotate.
The first impression was a smaller front room with great view of the Main Street. A quieter section of the restaurant, that opens into a larger room with high tops and a back section with tables. The atmosphere at Main Street is warm and friendly, along with the great decor. A large blackboard lists the local beer and ale rundown, and the seasonal drink menu is available at your table. I just had to try a specialized Manhattan, wow so very good. The barista knows her stuff.
We split a grilled apple, pear and mission fig salad that included walnuts and blue cheese. The house balsamic vinaigrette was simply perfect. The salad options do change but the salad was large enough to split. Very fresh and delicious.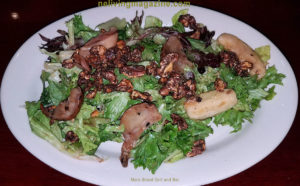 My lunch partner selected Fish and Chips. The fish was so fresh and tasty it just fell apart when you cut into it. "Amazing fresh, flaky, haddock, perfectly prepared" -were the comments heard between bites. The fries and coleslaw were the ideal accompaniment as well.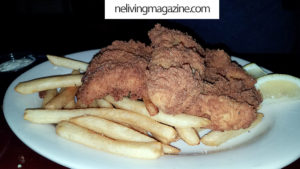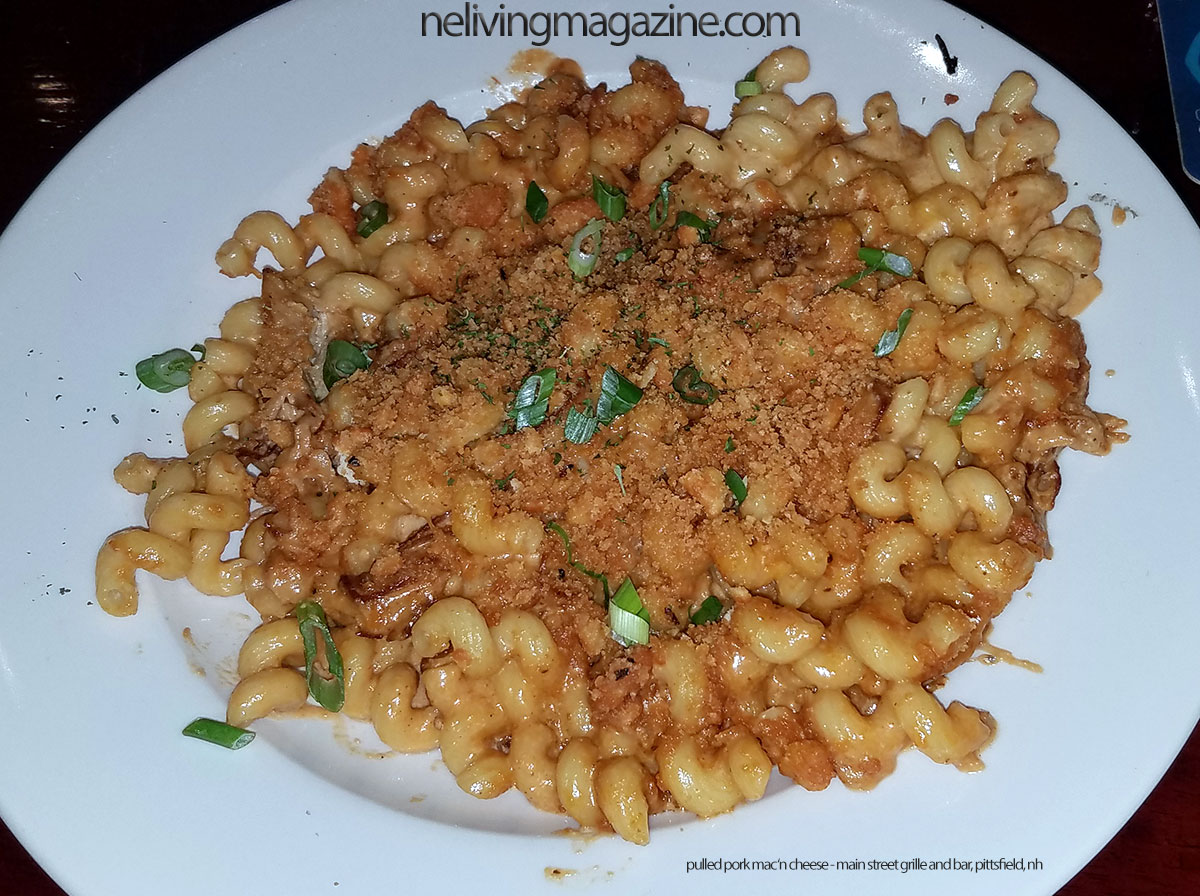 I had my eye on two menu selections, one the Mac & Cheese made with Cavatappi Pasta with a house made cheese sauce, or house done Pulled Pork. The waitress suggested I could have both. One of the specialties at Main Street Grill and Bar is to mix pulled pork into the mac & cheese. OMG was this ever good. I would not have normally mixed the two, and now I will always mix them.
About half way through our lunch, I declared that I had to stop. I had already asked about the dessert menu and knew what I had to try. The serving sizes are very generous, and the waitress is right there with takeaway boxes. She must be used to this.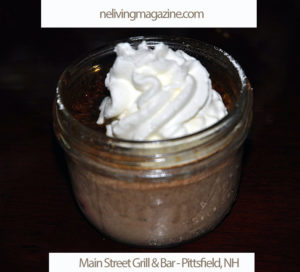 House-made chocolate cream brulee. This was exactly what you would have expected, creamy, decadent, rich and so very good! It even had a cherry in it. So special, and a delightful way to end our meal.
The service was outstanding, the staff very helpful, informative, and friendly. The restaurant was very neat and clean. The menu changes seasonally, and the burger selections look very good and extremely popular.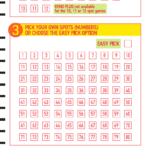 Main Street Grill and Bar supports local events and features live music generally on Friday nights – call for updates. The restaurant also has a New Hampshire Keno machine for legal wagering. You may place a bet on Keno enjoy freshly-prepared food, have a beer or cocktail, then watch the live KENO drawing on the big screen TV.
With an emphasis on guests and community, this is a great dining experience. Serving lunch and dinner 7 days a week. That being said "Worth the drive" from anywhere. Easy to find on Main Street, Pittsfield, NH.


Main Street Grill and Bar, 32 Main Street, Pittsfield, NH 03263 | 603-435-0005
Everything we make at Main Street Grill and Bar is made as fresh and with as many locally sourced ingredients as possible. Suncook Valley NH's premier casual fine dining establishment. Our emphasis is on our guests and community, we provide a great dining experience. Lunch and Dinner, 7 days a week. Where Fresh Food, Creative Cocktails,and The Community Meet.
Visit Main Street Grill & Bar - Pittsfield, NH
---
MAIN STREET GRILL & BAR
32 Main Street, Pittsfield, NH 03263
Ph: 603-435-0005
Web: www.mainstreetgrillandbar.com
Visit these New Hampshire restaurants, and other local New England restaurants in NE Living Magazine. We share the Best of New England.
Attractions | Inns | Resorts | Hotels
Rental Homes | Real Estate | Restaurants
Camping | Business | Classified
---