​Exploring New England's Iconic Fall Foliage Destinations
Embracing Autumn's Splendor in New England
Top New England Fall Foliage Destinations
Fall in New England is a symphony of colors that enchants visitors, making it the most cherished time of the year to explore the region. As the leaves turn into a vibrant tapestry of red, orange, and gold, the landscape transforms into a breathtaking masterpiece. This annual spectacle draws in travelers from all corners, eager to immerse themselves in the magic of the changing seasons.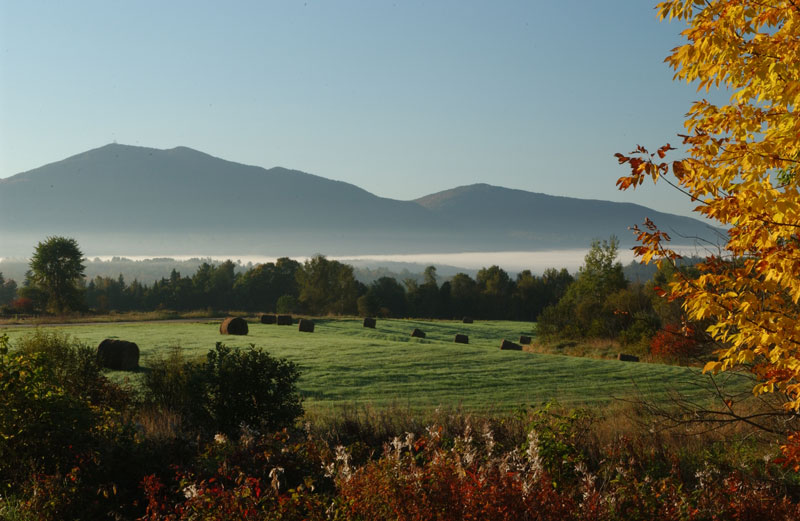 Unveiling the Journey: Essential New England Drives, Hikes, and Enchanting Sites
The transition from summer to fall brings forth an extraordinary show that commences in the northern corners of Maine around late August. This mesmerizing display gradually makes its way south, gracing the landscapes of northern New Hampshire and the Northeast Kingdom of Vermont by early September. The kaleidoscope of colors then unfolds through Massachusetts, Connecticut, and Rhode Island, lingering until late October.
Rather than a hurried weekend getaway, consider indulging in a more immersive experience. An extended vacation allows you to fully soak in the splendor of the season and uncover hidden treasures.
Crafting an unforgettable fall foliage adventure hinges on meticulous planning. Embark on your journey by exploring the northernmost destinations first, allowing the breathtaking colors to unravel as you venture southward. A vehicle serves as your passport to this enchanting journey, especially since much of Northern New England offers limited mass transit options. Whether you opt to bring your own vehicle or rent one upon arrival at a New England airport, the freedom to navigate at your own pace amplifies the adventure.
While well-traveled routes hold their allure, don't shy away from venturing off the beaten path. Yet, exercise caution if you solely rely on your car's navigation system. For a truly immersive experience, engage with local innkeepers and hotel concierges, who can guide you to lesser-known gems and picturesque routes.
Unveiling New England's Autumn Charm State by State
Maine: Initiate your fall foliage escapade in the rugged beauty of Maine, where late August ushers in the first tinges of color. Explore the quaint towns of Ogunquit, Kittery, Wells, Kennebunkport, and York nestled along the stunning coastline. Ogunquit's Marginal Way offers a scenic coastal walk that merges striking ocean vistas with vibrant foliage.
New Hampshire: As September unfolds, venture into New Hampshire's White Mountain towns of North Conway, Franconia, Sugar Hill, or Bethlehem. Traverse the Kancamagus Highway, celebrated for its awe-inspiring vistas. Or, embark on a hike along one of the many trails, revealing nature's artwork up close. Historic Wolfeboro, and scenic New London both provide lake views and outstanding local dining and shopping.
Vermont: The Northeast Kingdom of Vermont beckons with its pastoral allure, offering a serene escape amidst rolling hills and charming villages. Visit Burke, St. Johnsbury, or Montgomery Center. Discover Stowe, renowned for its postcard-perfect mountain views and the historic Green Mountain Inn and iconic Trapp Family Lodge.
Massachusetts: As October dawns, Massachusetts reveals the resplendent Berkshire Mountains. Immerse yourself in the cultural haven of Tanglewood, where music and foliage converge seamlessly.
Connecticut: Relax at "The Point" in beautiful Branford or delve into the quaint towns of Litchfield Hills, where fall's touch paints an idyllic scene. A visit to Kent Falls State Park promises a refreshing hike, rewarded with breathtaking cascades set against a backdrop of autumnal hues.
Rhode Island: Conclude your journey in Rhode Island, where autumn's grace blankets historic towns like Newport. Meander along Ocean Drive, a leisurely route offering captivating coastal foliage vistas.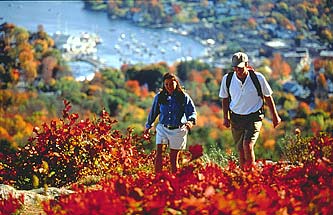 Celebrating the Magic of Autumn in New England
Let time slow down as you savor every moment of this seasonal transition. Breathe in the crisp air, absorb the kaleidoscope of colors, and let a smile accompany you throughout your exploration. Autumn's splendor is a fleeting gift, a reminder of the beauty that New England residents are fortunate to experience annually, just before the embrace of winter takes hold.
Contact us for information about featuring your business in New England Living Magazine.
NEW ENGLAND  GIFTS – SHOP 24/7 at FREE WORLD MALL

| Photo | Title | Price | Buy |
| --- | --- | --- | --- |
| | Stowe Vermont Vintage Retro Skiing Hoodie Sweatshirt | $39.99 | Sale Item |
| | White Mountain Puzzles I Love Vermont - 1000 Piece Jigsaw Puzzle | $19.99 | Sale Item |
| | Squiddy Stowe Vermont - Vinyl Sticker for Car, Laptop, Notebook (5" Tall) | $5.99 | Sale Item |
| | Stowe Vermont VT vintage State Athletic style T-Shirt | $19.99 | Sale Item |
| | Totally Bamboo A Slice of Life Vermont State Serving and Cutting Board, 11" x 8.75" | $14.99 | Sale Item |
| | Art Studio Company Hand Painted Glass Christmas Ornament - Covered Bridge Vermont | $22.99 | Sale Item |
| | Stowe, Vermont - USA Ski Resort 1980s Retro Sweatshirt | $36.99 | Sale Item |
| | LPF USA Green Oval Stowe Vermont Sticker (Decal Snow ski) | $4.95 | Sale Item |
| | Stowe Vermont Fall Leaf T-Shirt, Autumn Foliage Vermont Tee | $16.99 | Sale Item |
| | Stowe Vermont VT Vintage Graphic Retro 70s Pullover Hoodie | $31.99 | Sale Item |
| | Stowe Vermont Skiing Mountains Stowe VT Moose Long Sleeve T-Shirt | $22.99 | Sale Item |
| | Stowe Vermont Apres Ski Giclee Art Print Poster from Illustration by Illustrator Sassan Filsoof 12" x 18" | $21.95 | Sale Item |
| | Stowe, Vermont - USA Ski Resort 1980s Retro Pullover Hoodie | $41.99 | Sale Item |
| | Tin Sign Vintage Chic Art Decoration Poster Stowe Vermont ski Snow Winter Sports Gondolas for Home Bar Cafe Farm Store Garage or Club 12" X 8" | $7.08 | Sale Item |
| | Stowe Vermont VT Vintage Established Sports Design Pullover Hoodie | $31.99 | Sale Item |
| | JB Print Stowe Vermont Vinyl Decal Sticker Car Waterproof Car Decal Bumper Sticker 5" | $4.95 | Sale Item |
| | Stowe Vermont Vintage Mountains Souvenir Gift Pullover Hoodie | $32.90 | Sale Item |
| | Stowe Vermont Vermont VT T Shirt Vintage Hiking Mountains Te | $16.99 | Sale Item |
| | Stowe Vermont VT Vintage Graphic Retro 70s T-Shirt | $16.99 | Sale Item |
| | Stowe Recreation Path Vermont USA Christmas Ornament Travel Souvenir Personalized Christmas Tree Pendant Hanging Decoration | $12.88 | Sale Item |
| | Stowe Vermont VT Vintage Athletic Sports Design Long Sleeve T-Shirt | $22.99 | Sale Item |
| | SIGNCHAT Stowe Vermont Vt Ski Skiing Mount Mansfield Vintage Poster Steel Sign Home Decor Outdoor Decoration Props Plaque Sign 8x12 inch | | Sale Item |
| | Stowe Vermont VT Vintage Sports Design Red Print Pullover Hoodie | $31.99 | Sale Item |
| | LevvArts - Animal Canvas Wall Art Cow Picture Black and White Cattle Photo Painting Prints Home Kitchen Living Room Wall Decoration | $54.99 | Sale Item |
| | Vermont Gift - Stowe Pullover Hoodie | $34.99 | Sale Item |
| | Stowe Vermont Winter Snowflake Blue Lettering T-Shirt | $22.99 | Sale Item |
| | Stowe Vermont Vintage Mountains Souvenir Gift T-Shirt | $14.90 | Sale Item |
| | Stowe, Vermont - USA Ski Resort 1980s Retro Long Sleeve T-Shirt | $27.99 | Sale Item |
| | Stowe Vermont SkiLift Graphic Vintage T-Shirt | $22.99 | Sale Item |
Attractions | Inns | Resorts | Hotels
Rental Homes | Real Estate | Restaurants
Camping | Business | Classified
---