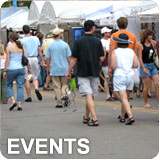 New England Events
New England Events attract hundred of thousand annually to attend Country Fair, Festivals, Celebrations and Traditions. Every New England state has major events in every season. Summer and Fall – may be the most active, but winter First Night events and ski area events are not to overlooked. Explores the major events in the Northeast US by visiting the links below. Feature your New England Event in New England Living Magazine.
Visit Vermont Living to view major Vermont Events and Attractions. Vermont is more than cheese and farms – there's plenty of festivals, concerts, fairs and activities for all ages. Find more Vermont Events from VT LIVING.com.
Include Me shortcode: file not found
---
From the Great North Woods to the southern NH seacoast – NH events like the League of NH Crafts Festival in Sunapee, The Highland Games in the White Mountains or fun, family festivals at Prescott Park in Portsmouth – the Granite state provides exciting activities for all. The New Hampshire Event Guide in NH Living features this weekends special New Hampshire Events.
Include Me shortcode: file not found
---
Take a Maine Vacation and visit a one-of-a-kind Maine Event. From Lobster Festivals to Tall Ships Maine Event are fun for the entire family. The Maine Living Event Guide in ME Living will tell you about unique Maine events and attractions.
Include Me shortcode: file not found
---
Your Massachusetts Vacation can include a visit to a major Bay State Event. The Massachusetts Attraction Guide in MA Living shares more favorite New England Activities.

Delaney's Grille, 3 Country Club Road (Route 5) Holyoke, MA 01040 | 413-532-1800
The best steakhouse in Western Massachusetts. Delaney's Grill offers excellent fine dining for steak lovers, including filet mignon, Delmonico rib eye and delicious roast prime rib. They offer a great selection of fish, pork, chicken, gluten free and vegetarian options too. Delaney's Grill also offers beautiful private rooms for groups of 6 to 50. Don't forget about the infamous popovers! 
Visit Delaney's Grill
---
---
Visit Connecticut for exciting events. The Connecticut Events Guide in CT Living will offer some activity ideas for Connecticut vacationers.
Include Me shortcode: file not found
---
A visit to the "Ocean State" of Rhode Island offers a variety of special events, fairs, activities and attractions.
---
Attractions | Inns | Resorts | Hotels
Rental Homes | Real Estate | Restaurants
Camping | Business | Classified