Owl's Nest Resort
Discover New England's Largest Destination Golf Resort
Owl's Nest Resort is soon to become New England's largest Resort and Golf facility with over 600 acres located in the heart of the White Mountains of New Hampshire. Take a ride to see this up and coming four seasons New England destination resort, stay a night, a week, or buy a home, you can feel the energy surrounding this project as you watch the activity of building and creating happen.
Your first impression will be of the perfectly manicured grounds of the homes and streets, with the large presence of the mountains everywhere you look in this peaceful and calming oasis that you have driven into. Sit beside the pool, visit the exercise room, or really get physical on the 18 hole Nicklaus designed golf course, the only one in New Hampshire. Another nine-holes in the coming renovation projects. Beyond the golf, this is a community that is just beginning to happen.
The 9.9-acre lake has been excavated and is in the process of being filled with wonderful sand that will also include a beach area. Upon completion, there will be 10 miles of walking & biking paths, 8 tennis courts, 6 pickleball, and 4 paddle ball. Winter will offer snowshoeing, Nordic skiing, and tubing. The Sports Nest pro shop is complete and open year-round. And, coming 2021 a large indoor/outdoor pool complex along with a Boathouse with food, beverages, and a bathhouse will be completed.
The Panorama Six82 Restaurant and Bar are open and serving lunch and dinner throughout the summer months, but check as late fall approaches for varied operational hours. The food and drink here are made fresh and deliciously good. The award-winning, smoked scallop, and saffron chowder is outstanding.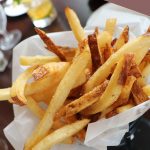 The Garlic Truffle Fries we also a write home about item – a must-try for any truffle fan. We also dined on Seafood Fra Diavolo, Little-neck clams, shrimp, lobster, and swordfish sauteed with fresh herbs in a spicy tomato sauce over pappardelle pasta – perfectly prepared with a generous portion of seafood.  The other entree was a house marinated Hanger Steak served over a basil-ginger risotto with garlic Broccoli. Both were very good and plentiful servings.
Dessert was house-baked Apple Pie with Gelato and homemade Boston Cream Pie. These were very good but the Boston Cream Pie was a standout. Appetizers and sandwiches are also on the menu and looked delightful. Happy hour menus were available as well. Drinks were expertly prepared, priced quite competitive for this area and the service we experienced was absolutely top-notch.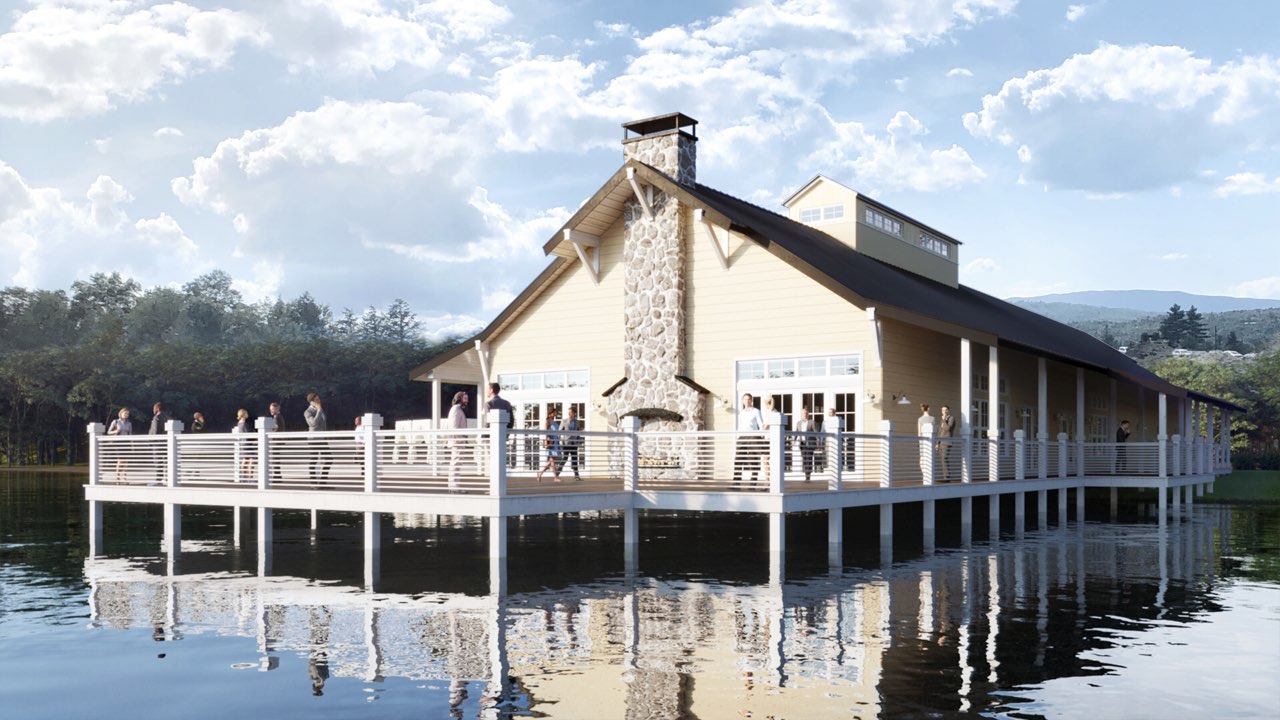 Adjacent to the restaurant is a 5000 square foot wedding and event tent with a magnificent view of the mountains. The tent is serviced by a full culinary kitchen separate from the restaurant. This should encourage you to visit the restaurant even if an event is going on. This impressed us as it is not always the case. They thought of the finer details here as well.
Currently, weddings for 200 are being hosted in the tent, but events catering to 350 seated to 400 people will be hosted upon the completion of The Lake House overlooking the new lake in the summer of 2021.
Interest in a move? New model homes will be opening for purchase in the Spring of 2021, with 52 new units available. Imagine a home within 25 minutes of three major ski areas (Waterville Valley, Loon Mountain, Cannon Mountain) in winter, and your own four-season, pet-friendly, recreation community surrounding you.
We have to say this is such an incredible addition to the NH White Mountains and the Thornton/Campton/Waterville Valley area. The developers doing this project love this region, and the project is increasing the outlook for the future and is bringing people and jobs to this community. We are looking forward to bringing you an update on this sensational New England resort in the making and we hope that you take the time to visit to see for yourself all the exciting things that are happening here in the White Mountains of New Hampshire.
View the Owl's Nest Resort Slideshow below.
Getting To Owl's Nest Resort – White Mountains, NH
The Owl's Nest Resort is located in the towns of Thornton, and Campton, NH. About 5 hours drive from New York City, about a 3-hour drive from Boston, MA.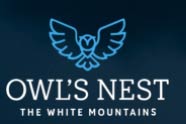 OWL'S NEST RESORT
40 Clubhouse Lane
Thornton, NH 03285
Tel: 603-726-3076
Web: owlsnestresort.com
To feature your New England business, or share business news, contact us.
Attractions | Inns | Resorts | Hotels
Rental Homes | Real Estate | Restaurants
Camping | Business | Classified
---