New England Solar Eclipse Vacations
Viewing the Total Solar Eclipse 
New England is a trending destination for viewing the Total Eclipse of the Sun
Witness the Spectacular Solar Total Eclipse of 2024 in Northeast USA: A Guide to Viewing, Locations, and Tips
The celestial event of a solar total eclipse is a breathtaking phenomenon that captures the imagination of people worldwide. In 2024, the Northeastern United States, particularly Northern Vermont, New Hampshire, and Maine, will be treated to a remarkable solar total eclipse. If you are interested in viewing the total eclipse it is best to book your lodging reservations well in advance. Explore our suggested inns, resorts, hotels, and camping areas and mention this article in New England Living Magazine.  Continue for more information on the best times to view the eclipse, ideal viewing locations, essential tips, and the intriguing history and lore surrounding solar total eclipses.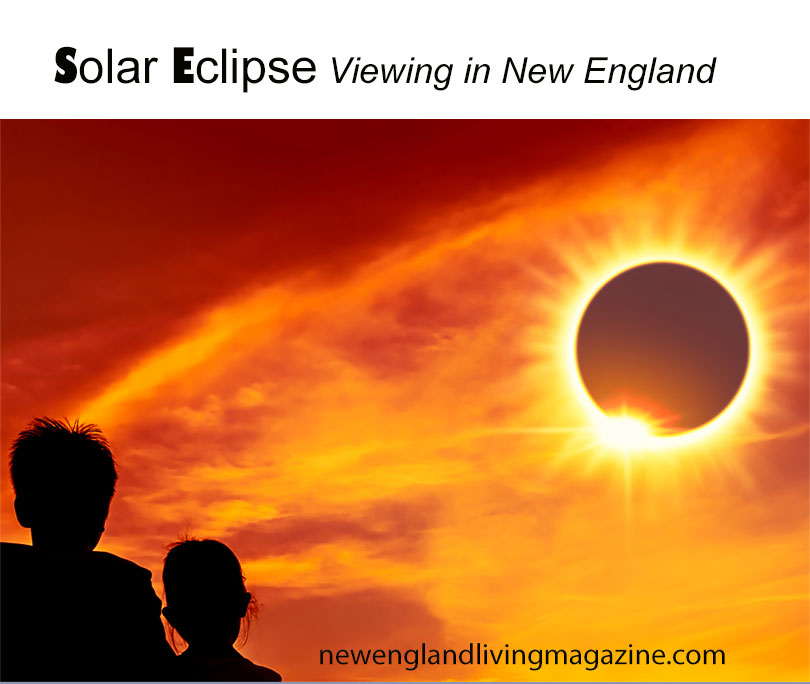 Best Times to View the Solar Total Eclipse:
On April 8, 2024, the solar total eclipse will grace the skies of the Northeast USA. The event will unfold in stages, beginning with the partial eclipse and gradually transitioning into the mesmerizing total eclipse. The duration of totality, when the moon completely covers the sun, will vary depending on the specific location. Northern Vermont, New Hampshire, and Maine can expect durations ranging from approximately two to three minutes. The eclipse is expected to occur in the late morning, around 10:00 a.m., local time.
Viewing Locations in Northern Vermont, New Hampshire, and Maine:
Northern Vermont: Consider traveling to rural areas like North Hero, Montgomery, Jeffersonville, or Norwich. Of course, Burlington, Stowe, or Marshfield will also provide an excellent viewing experience. Popular locations like Lake Champlain, Camel's Hump, and Smugglers' Notch offer scenic backdrops for witnessing the eclipse.
New Hampshire: Head towards the White Mountains region, where destinations such as Mount Washington, Franconia Notch State Park, and Lake Winnipesaukee will provide fantastic viewpoints for the celestial spectacle.
Maine: Explore the picturesque coastal towns of Wells, York, Ogunquit, Kennebunkport, Bar Harbor, Portland, or Acadia National Park. These locations offer captivating landscapes and unique vantage points to witness the solar total eclipse.
Tips for Enjoying the Solar Total Eclipse:
Safety First: Never observe the sun directly without proper eye protection. Use certified solar viewing glasses or solar filters designed specifically for eclipse viewing. Regular sunglasses or homemade filters are not safe for direct viewing.
Weather Considerations: Monitor weather forecasts closely as clear skies are essential for a successful eclipse viewing. Be prepared to travel to alternate locations within the region if the weather conditions are unfavorable.
Plan Ahead: Given the anticipated popularity of the event, it is advisable to make travel and accommodation reservations well in advance. This will ensure that you have secured your preferred viewing location and lodging options.
Arrive Early: To avoid potential traffic congestion and find suitable viewing spots, plan to arrive at your chosen location at least a day in advance. This will allow you ample time to familiarize yourself with the area and make any necessary adjustments to your viewing plans.
Solar Total Eclipse: Information, History, and Lore:
Solar total eclipses have captivated humanity throughout history, sparking a sense of awe and wonder. Ancient cultures often associated eclipses with myths, legends, and supernatural phenomena. In modern times, eclipses have become significant scientific events, providing opportunities for researchers to study the sun's corona and the Earth's atmosphere.
The last solar total eclipse visible in the United States occurred on August 21, 2017, captivating millions of people from coast to coast. The upcoming solar total eclipse of 2024 presents another chance to witness this rare event and create lasting memories.
Stay Updated and Share Your Experience:
For the latest updates, detailed articles, and stunning photographs of the solar total eclipse in the Northeast USA, bookmark [https://nelivingmagazine.com]. Our online platform will provide a wealth of information, including live-streaming options, eclipse-related news, and expert insights.
Contact us for information about featuring your business in New England Living Magazine.
EYEWEAR SALE – SHOP 24/7 at FREE WORLD MALL

| Photo | Title | Price | Buy |
| --- | --- | --- | --- |
| | Rainbow Symphony Clip-on Solar Eclipse Glasses, CE & ISO Certified, Safe for Direct Sun Viewing, Made in USA, Bonus 2 Paper Eclipse Shades | $19.95 | Sale Item |
| | Soluna Solar Eclipse Glasses - CE and ISO Certified Safe Shades for Direct Sun Viewing - Made in the USA (10 Pack) | $24.99 | Sale Item |
| | SEIC Plastic Frame Solar Eclipse Glasses in Sturdy Style, CE & ISO Certified, with 5pcs Paper Glasses as Bonus (2 Pack Adult+3 Pack Kid) | $35.99 | Sale Item |
| | Solar Eclipse Glasses - 9 Family Pack Full Size and Kids Glasses - Premium CE & ISO Certified, NASA Approved 2024 Eclipse Glasses | $17.99 | Sale Item |
| | Ray-Ban Stories | Wayfarer Square Smart Glasses, Shiny Black/Green, 50 mm | | Sale Item |
| | LUNT SOLAR SYSTEMS 18 Pack Premium -10 Regular Size and 8 Kid Size, Solar Eclipse Glasses NASA Approved 2024, ISO and CE Certified Optical Quality Safe Shades for Direct Sun Viewing for Solar Eclipse | $37.99 | Sale Item |
| | Eyeglasses Tom Ford TF 5304 FT5304 093 shiny light green | $169.26 | Sale Item |
| | Oakley Holbrook OO9102 9102C1 57M Polished Black/Prizm Deep H2O Polarized Sunglasses For Men+ BUNDLE Accessory Leash + BUNDLE with Designer iWear Eyewear Kit | $217.00 | Sale Item |
| | Gucci Cateye Eyeglasses GG0165O 001 Black 51mm 0165 | $169.95 | Sale Item |
| | Tory Burch TY7169U 189580 52MM Navy Ivory Vintage Stripe/Solid Navy Rectangle Sunglasses for Women + BUNDLE With Designer iWear Eyewear Kit | $126.65 | Sale Item |
| | Gucci Round/Oval Optical Frames Havana Gold Transparent Luxury Eyewear Made In Japan Acetate Frame Designer Fashion for Everyday Luxury | | Sale Item |
| | Versace VE4436U 108/73 57MM Havana/Dark Brown Pillow Sunglasses for Men + BUNDLE With Designer iWear Eyewear Kit | $194.65 | Sale Item |
| | Gucci GG0010S 001 58M Black/Grey Square Sunglasses For Men For Women+FREE Complimentary Eyewear Care Kit | $326.00 | Sale Item |
| | Gucci Cat Eye Sunglasses Havana Havana Blue Luxury Eyewear Made In Japan Acetate Frame Designer Fashion for Everyday Luxury | $369.95 | Sale Item |
| | Gucci GG0062S 011 57M Gold/Grey Gradient Flash Polarized Aviator Sunglasses For Men + BUNDLE with Designer iWear Eyewear Kit | $435.00 | Sale Item |
| | Gucci GG0001S 003 52M Havana/Green/Grey Rectangle Sunglasses For Men + BUNDLE with Designer iWear Eyewear Kit | $270.00 | Sale Item |
| | Prada PR02ZS U430A9 52MM Trasparent Grey/Blue Square Sunglasses for Men + BUNDLE With Designer iWear Eyewear Kit | $284.75 | Sale Item |
Attractions | Inns | Resorts | Hotels
Rental Homes | Real Estate | Restaurants
Camping | Business | Classified
---