Spring Vacations in New England
Visit New England for Springtime fun
New England is truly a Four-Season Vacation Destination
New England is a beautiful region of the United States that is known for its rich history, vibrant culture, and stunning natural beauty. Springtime is an especially great time to visit New England because the weather is mild, the flowers are in bloom, and there are plenty of outdoor activities to enjoy. Here are some reasons why you should consider visiting New England during spring: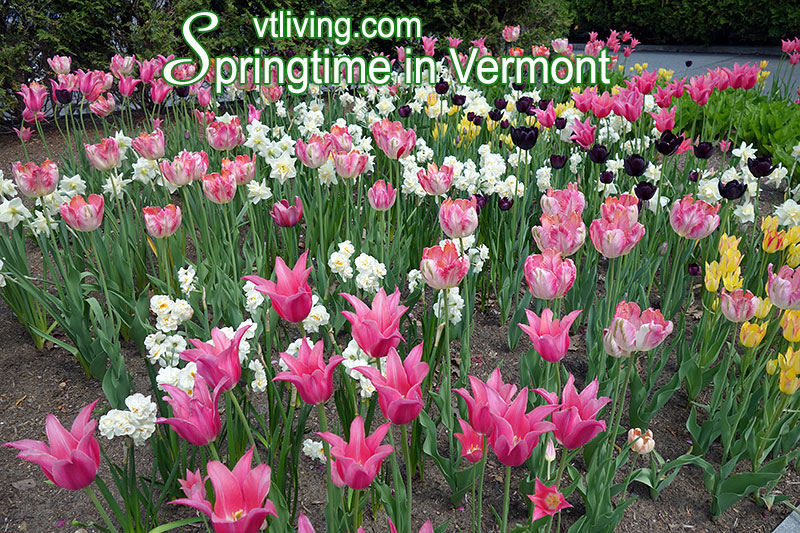 The weather is mild: After a long and cold winter, the weather in New England starts to warm up during the spring. The temperatures are usually mild, with averages in the 50s and 60s. This means you can enjoy outdoor activities without being too hot or too cold.
The flowers are in bloom: Springtime in New England is a riot of colors, as the region's many gardens and parks burst into bloom. You can see tulips, daffodils, and cherry blossoms in Boston's Public Garden, or head to the Rhode Island Botanical Center to see over 150,000 daffodils in bloom.
The foliage is beautiful: While autumn is usually associated with New England's famous foliage, springtime is also a great time to see the region's beautiful trees and flowers. The leaves on the trees turn a bright green, and many trees begin to flower, creating a beautiful backdrop for outdoor activities.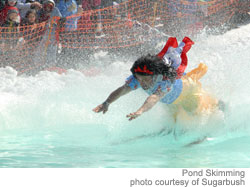 Outdoor activities: With the mild weather and beautiful scenery, spring is a great time to explore the outdoors in New England. You can go hiking, biking, fishing, golfing, or kayaking, or take a scenic drive to enjoy the beautiful views.
Seasonal events: New England is known for its many seasonal events, and spring is no exception. From the Boston Marathon to the Newport Daffodil Days Festival, there are plenty of events and festivals to enjoy during the spring.
Overall, spring is a wonderful time to visit New England. With mild weather, beautiful scenery, and plenty of outdoor activities and events, you're sure to have a great time exploring our very special region of the United States.
Contact us for information about featuring your business in New England Living Magazine.
NEW ENGLAND  GIFTS – SHOP 24/7 at FREE WORLD MALL

| Photo | Title | Price | Buy |
| --- | --- | --- | --- |
| | Stowe Vermont Vintage Retro Skiing Hoodie Sweatshirt | $39.99 | Sale Item |
| | White Mountain Puzzles I Love Vermont - 1000 Piece Jigsaw Puzzle | $19.99 | Sale Item |
| | Squiddy Stowe Vermont - Vinyl Sticker for Car, Laptop, Notebook (5" Tall) | $5.99 | Sale Item |
| | Stowe Vermont VT vintage State Athletic style T-Shirt | $19.99 | Sale Item |
| | Totally Bamboo A Slice of Life Vermont State Serving and Cutting Board, 11" x 8.75" | $14.99 | Sale Item |
| | Art Studio Company Hand Painted Glass Christmas Ornament - Covered Bridge Vermont | $22.99 | Sale Item |
| | Stowe, Vermont - USA Ski Resort 1980s Retro Sweatshirt | $36.99 | Sale Item |
| | LPF USA Green Oval Stowe Vermont Sticker (Decal Snow ski) | $4.95 | Sale Item |
| | Stowe Vermont Fall Leaf T-Shirt, Autumn Foliage Vermont Tee | $16.99 | Sale Item |
| | Stowe Vermont VT Vintage Graphic Retro 70s Pullover Hoodie | $31.99 | Sale Item |
| | Stowe Vermont Skiing Mountains Stowe VT Moose Long Sleeve T-Shirt | $22.99 | Sale Item |
| | Stowe Vermont Apres Ski Giclee Art Print Poster from Illustration by Illustrator Sassan Filsoof 12" x 18" | $21.95 | Sale Item |
| | Stowe, Vermont - USA Ski Resort 1980s Retro Pullover Hoodie | $41.99 | Sale Item |
| | Tin Sign Vintage Chic Art Decoration Poster Stowe Vermont ski Snow Winter Sports Gondolas for Home Bar Cafe Farm Store Garage or Club 12" X 8" | $7.08 | Sale Item |
| | Stowe Vermont VT Vintage Established Sports Design Pullover Hoodie | $31.99 | Sale Item |
| | JB Print Stowe Vermont Vinyl Decal Sticker Car Waterproof Car Decal Bumper Sticker 5" | $4.95 | Sale Item |
| | Stowe Vermont Vintage Mountains Souvenir Gift Pullover Hoodie | $32.90 | Sale Item |
| | Stowe Vermont Vermont VT T Shirt Vintage Hiking Mountains Te | $16.99 | Sale Item |
| | Stowe Vermont VT Vintage Graphic Retro 70s T-Shirt | $16.99 | Sale Item |
| | Stowe Recreation Path Vermont USA Christmas Ornament Travel Souvenir Personalized Christmas Tree Pendant Hanging Decoration | $12.88 | Sale Item |
| | Stowe Vermont VT Vintage Athletic Sports Design Long Sleeve T-Shirt | $22.99 | Sale Item |
| | SIGNCHAT Stowe Vermont Vt Ski Skiing Mount Mansfield Vintage Poster Steel Sign Home Decor Outdoor Decoration Props Plaque Sign 8x12 inch | | Sale Item |
| | Stowe Vermont VT Vintage Sports Design Red Print Pullover Hoodie | $31.99 | Sale Item |
| | LevvArts - Animal Canvas Wall Art Cow Picture Black and White Cattle Photo Painting Prints Home Kitchen Living Room Wall Decoration | $54.99 | Sale Item |
| | Vermont Gift - Stowe Pullover Hoodie | $34.99 | Sale Item |
| | Stowe Vermont Winter Snowflake Blue Lettering T-Shirt | $22.99 | Sale Item |
| | Stowe Vermont Vintage Mountains Souvenir Gift T-Shirt | $14.90 | Sale Item |
| | Stowe, Vermont - USA Ski Resort 1980s Retro Long Sleeve T-Shirt | $27.99 | Sale Item |
| | Stowe Vermont SkiLift Graphic Vintage T-Shirt | $22.99 | Sale Item |
Attractions | Inns | Resorts | Hotels
Rental Homes | Real Estate | Restaurants
Camping | Business | Classified
---