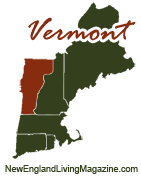 The State of Vermont, tucked in the Northeast corner of the U.S., is the second smallest state in the country with a population of less than 1 million people. Vermont, however, is a hugely popular vacation destination. A Vermont vacation makes lasting memories. This is the only New England state that does not offer ocean shoreline. However, from Southern Vermont's Green Mountains to the rural Northeast Kingdom you will find a myriad of opportunities. Contact us for information about featuring your business in on the web in New England Living Magazine.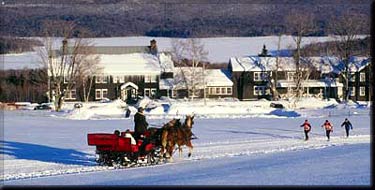 ---
Visit Vermont
Vermont is a popular four-season travel destination – the early spring, referred to as "Mud Season" by locals is the quietest time of the year but the only time of the year to witness the "boiling of maple sap into sweet Vermont maple syrup". Vermont offers miles of hiking trails, golf courses, fishing and mountain climbing. The fall foliage season is the busiest of all with many of the states better lodging establishments sold out in advance. Vermont Fall Foliage begins in late September and winds down late October. The winter season brings snow, snowmobiling enthusiasts, skiers and snowboarders. The state features more than a dozen great ski areas including; Mt. Snow, Stratton, Bromley, Killington, Stowe Mountain Resort, Mad River Glen, and others.
Brief History of Vermont – The "Green Mountain State"
Vermont was originally populated by various indigenous peoples of the Algonquin, Iroquois, and Abenaki nations. Many of Vermont town, county, river, and lake names are derivatives of old Indian names. The original Vermonters traveled and lived off the abundance of the land. Vermont's hills were filled with wildlife, and fish were bountiful in the many rivers, ponds and lakes.
White man came to Vermont in the early 1600's, when in 1609, the French explorer Samuel de Champlain sailed into what is now known as Lake Champlain. It was then, in the summer of 1609, when Vermont was first dubbed "Verde Mont," French for "Green Mountains." Like a good explorer would, Champlain claimed this land in the name of France, who eventually swapped Vermont to the British. In 1763, England was granted the land now known as Vermont via the Treaty of Paris. That Treaty ended the French and Indian war. Meanwhile, back in the new World, the land was claimed by both New Hampshire and New York. Vermont patriot Ethan Allen and his Green Mountain Boys put an end to that and by 1777 Vermont achieved independence.
Vermont remained an independent republic until 1791 when it became the 14th member of the United States. The Capitol of Vermont is Montpelier, with a population of under 10,000 people Montpelier is one of America's smallest Capitol Cities.
---
Attractions | Inns | Resorts | Hotels
Rental Homes | Real Estate | Restaurants
Camping | Business | Classified