Enter to Win free travel prizes from New England Living Magazine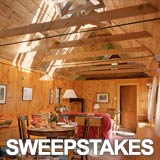 New England Living Magazine wants you to win a great prize. We found online giveaways and sweepstakes from trusted merchants and affiliated websites. Enter to win by completing the entry form. No purchase is ever required and your information is never sold or shared. Attention business owners and marketing agents – If you would like to feature your product or service sweepstakes giveaway, contact us by calling 802-221-1498. Enter the current giveaway below.
NE Living Magazine Free Travel Giveaway Sweepstakes
Enter to win! No purchase required.
Congratulations to, Dan McIntyre, our latest winner! We will have another free giveaway starting soon. This time a free ticket giveaway from NH Living.
Remember, you can't win if you don't enter.
Must be 18 or over to enter and win. No prize substitutions of any kind. Some restrictions may apply. Please share our free sweepstakes and giveaways on Facebook and Twitter.
Attractions | Inns | Resorts | Hotels
Rental Homes | Real Estate | Restaurants
Camping | Business | Classified