Win free prizes from New England Living Magazine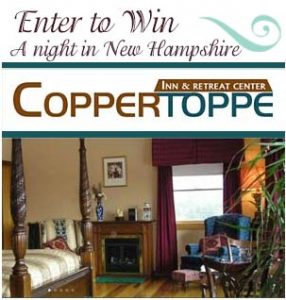 New England Living Magazine wants you to win a great prize. We found online giveaways and sweepstakes from trusted merchants and affiliated websites. Enter to win by following the links below and completing the entry form. No purchase is ever required and your information is never sold or shared. Attention business owners and marketing agents – If you would like to feature your product or service sweepstakes giveaway, contact us by calling 802-221-1498. Enter the current giveaway below.
NE Living Magazine Giveaway Sweepstakes
Enter to win! No purchase required.
Our latest featured Giveaway is a night in New England at the Coppertoppe Inn & Conference Center. Remember, you can't win if you don't enter.
Must be 21 or over to enter and win. No prize substitutions of any kind. This certificate is valued up to $200 and does not include tax or gratuities. Full breakfast snacks, beverage and an overnight stay is included. Children and all breeds of dogs are welcome. No cash value. No prize substitutions of any kind. Use of any portion of this certificate is use of the whole. Subject to room availability and 9% NH Meals and Rentals tax. For more information visit Coppertoppe Inn. Winners name will be drawn on or before September 15, 2017. Thank you for entering. Please share this giveaway with your friends and family.
Congratulations to Thomas Jeffries-Harrison winner of Golf and Dinner for Four at the fabulous Tiburón Golf Club at the Ritz-Carlton Naples, Florida. Visit us on Facebook and Twitter.
Free Downloads – Free Giveaway Products
Click on the links below for more free items and giveaways. Thank you for visiting NE Living Magazine.