Thanksgiving Day in New England
New England Thanksgiving Traditions Recipes Lodging & Restaurant Dining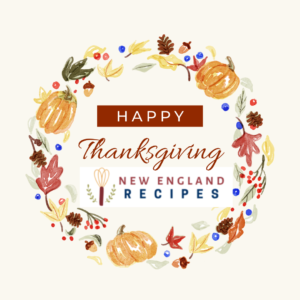 Thanksgiving Day traditions in New England include Football Games, Turkey dinners, frosted pumpkins, shimmering mornings, family, friends, and laughter. If you are traveling this Thanksgiving Holiday season you can enjoy all the amenities of Thanksgiving if you plan a little in advance.
Many of our suggested New England Inns are serving a full Thanksgiving Day dinner to guests. Often seating is limited or restricted to in-house guests with advance reservations. While some New England restaurant owners choose to close on Thanksgiving Day many others are serving a full Thanksgiving Day menu with special items such as pumpkin pies, Baked Ham, and the traditional Oven-Roasted Turkey.
Attending a community Thanksgiving Day event is an option for residents as well as visitors. Ask your New England Innkeeper or Bed and Breakfast owner about Thanksgiving happenings in the area. Thanksgiving Weekend can be a busy weekend for northern New England Ski Resorts, especially if early snow covers the slopes. If you're entertaining Thanksgiving Day you will enjoy some of the recipes and turkey baking tips from New England Recipes.  Happy Thanksgiving – Thank you for visiting. To feature your  New England business or share business news, contact us.
Browse some of our favorite New England Restaurants – many are open on Thanksgiving Day, some are not. Call them directly to inquire about Thanksgiving Day Dinner availabilities and reservations.  Thank you for mentioning "I found you online in New England Living Magazine. To feature your cafe, restaurant, or inn, contact us.
THANKSGIVING DAY RECIPES
The following Thanksgiving recipes, turkey tips, appetizers, and desserts are courtesy of New England Recipes.
New England Turkey Farms
For some of us – it's just not really the Thanksgiving season until you visit the Turkey Producer or local turkey farmer and pick out your bird. The Vermont Turkey Farmers we visited told us they see many of the same customers every year.
Buying a fresh turkey may cost a little more, but the local birds are far less processed and you are supporting local Turkey farmers. Whatever you choose – enjoy the Thanksgiving Holiday and join us in giving thanks for all we have here in the USA.
Contact us for information about featuring your New England business.
SHOP TURKEY DINNER ESSENTIALS

| Photo | Title | Price | Buy |
| --- | --- | --- | --- |
| | Certified International 22749 Autumn Fields Oval Turkey Platter 18" x 13.5" Servware, Serving Accessories, One Size, Multicolored | | Sale Item |
| | Certified International Harvest Gatherings Rectangular Platter, 14"X 10", Multicolor, Large | $23.37 | Sale Item |
| | Pfaltzgraff Autumn Berry Oval Platter, 14-3/4-Inch x 11-Inch, White, 5189119 | $27.59 | Sale Item |
| | William Roberts 17" Oval Turkey Platter | | Sale Item |
| | Mud Pie Watercolor Turkey Platter, White, 14"" x 20 1/2" | $65.02 | Sale Item |
| | Certified International Harvest Morning Pumpkin Platter, 13.75'' x 11.5'', Multicolor, Large | $28.90 | Sale Item |
| | CreoleFeast TFS3010 Propane 30 Qt. Turkey and 10 Qt. Fish Fryer Boiler Steamer Set, 50,000 BTU Burner, Ideal for Outdoor Cooking | $119.99 | Sale Item |
| | King Kooker Propane Outdoor Fry Boil Package with 2 Pots, silver, one size (12RTFBF3) | $98.20 | Sale Item |
| | Gas One Turkey Fryer Propane Burner Complete Kit - Turkey Fry & Boil - With High Pressure Propane Regulator and Hose,Black | $95.59 | Sale Item |
| | Masterbuilt MB20012420 10 Liter XL Electric Fryer, Boiler, and Steamer, Silver | | Sale Item |
| | Oster Convection Oven, 8-in-1 Countertop Toaster Oven, XL Fits 2 16" Pizzas, Stainless Steel French Door | $192.91 | Sale Item |
| | Emeril Lagasse 26 QT Extra Large Air Fryer, Convection Toaster Oven with French Doors, Stainless Steel | $189.99 | Sale Item |
| | Roaster Oven with Self-Basting Lid, Electric Roaster with Removable Pan & Rack, 150-450°F Full-Range Temperature Control with Defrost/Warm Function, Stainless Steel, Silver | | Sale Item |
| | 26 Quart Electric Roaster Oven with Visible & Self-Basting Lid, Large Turkey Defrost Warm Function, Adjustable Temperature, Removable Pan Rack, Stainless Steel, Silver | $139.99 | Sale Item |
| | Electric Roaster, Roaster Oven 26 Quart with Self-Basting Lid, Turkey Roaster Oven with Removable Pan and Rack, Adjustable Temperature Control Powerful 1450W Stainless Steel Roaster Oven, White | $149.99 | Sale Item |
| | Hamilton Beach 28 lb 22-Quart Roaster Oven with Self-Basting Lid (Stainless Steel) | $145.00 | Sale Item |