Ticks in New England
Staying Safe from Ticks While Visiting The New England Outdoors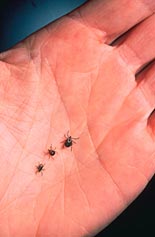 Visiting the New England Outdoors and enjoying golf, hiking, fishing, or just about any other outdoor activity, unfortunately, comes with certain risks. One of those risks is coming into contact with a tick. New England ticks are found just about everywhere in the six New England states.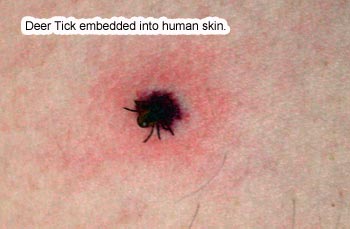 Ticks (also known as arachnids) are a fact of life here in New England, and, in fact, in many places on earth. Golfers, hikers, hunters, bird watchers, and anyone that spends time outdoors should be aware of ticks.  Globally, there are some 400 species of ticks on this planet. Here in New England, we have about a dozen different species lurking in the woods, forests, and grass
Tick Information
Not much is usually heard about ticks, but the fact is – knowing about ticks is extremely important and potentially life-saving. Ticks, like mites, are external parasites that live off the blood of mammals, birds, and even reptiles and amphibians. Ticks are also vectors of several diseases, including the potentially fatal Lyme disease.
Tick Species
Often tick species take their name from their favorite host, so we have bird ticks, woodchuck ticks, rabbit ticks, moose ticks, and dog ticks. Other New England varieties of tick include; one-star tick, tiny black-legged tick – the local variety, which is commonly referred to as a "deer tick".
Ticks are rather unique in that all ticks must stalk and feed on a host vertebrate three times in their lifetime, as larva, again as a nymph, and finally as an adult. It is in the third and final phase of the deer tick's life that is the most dangerous to humans.
Ticks & Lyme Disease
An infected tick can spread Lyme Disease. Not all ticks are infected with Lyme Disease. A tick bite can be difficult to detect. Anyone who spends time outdoors (hikers, golfers, hunters, bird watchers, bike riders, etc. ) should learn how to check themselves for fleas, ticks, and insect bites and should take the time to perform this precautionary measure. The actual size of an adult tick is about the size of this 0, or the size of a pinhead.
Most cases of Lyme diseases are from the Northeast. Nearly 90% of all Lyme disease cases have been reported in the Northeastern part of the US. Many people in New England are being infected from ticks in their own yard.
Tick Repellent
A quality tick repellent is a great way to defend yourself against ticks. Use a recommended tick repellent like Ben's 30% DEET Mosquito, Tick and Insect Repellent, 3.4 Ounce Pump before you head off into the woods, or take to the golf course. Whenever you return from your New England outdoor adventure you should check yourself carefully for ticks.  Some people suggest wearing light-colored clothing because the ticks are easier to spot. If you do find a tick has attached itself to your body, carefully remove the tick with a tweezer.
Ticks are blood-feeding parasites that are often found in tall grass, stone walls, fallen leaves, and shrubs where they wait to attach themselves to a passing host, like you or your pet. Physical contact is the only method of transportation for ticks. Thankfully, ticks can not fly, although they may drop from their perch and fall onto an unsuspecting host.
Contact us for information about featuring your business in New England Living Magazine.
TICK REPELLENT SALE

Attractions | Inns | Resorts | Hotels
Rental Homes | Real Estate | Restaurants
Camping | Business | Classified