Dining in Southern Maine: When Pigs Fly Wood-Fired Pizzeria Restaurant

When Pigs Fly Pizzeria
460 U.S. Route 1
Kittery, Maine 03904 | 207-438-7036
When Pigs Fly is a wood-fired pizza restaurant with amazing salads, craft beer, and more. This was an amazing experience from start to finish. The wait staff, the management, the chef, and the atmosphere were just exactly what you want in a restaurant. It seemed that everyone also a lot of pride in this establishment and in their own receptive positions.
Okay, this is where I started with getting out of my culinary comfort zone, and it was worth every bite. Our waitress suggested a Lavender Lemondrop – Vodka, Triple sec, lavender simple syrup, freshly squeezed lemon, with a sugar rim. My partner had Basil Lime Gimlet – Tito's Vodka, basil, lime, simple syrup. Both of these drinks were refreshing and delicious. An excellent start to a memorable lunch at When Pigs Fly. They also have a massive selection of IPA's and craft beers on tap and even more in cans for the beer lover.
For an appetizer, we safely choose Korean chicken wings, which were tangy, and simply delicious. The manager decided we should try the Sweet Chill Shrimp – Sauteed shrimp tossed in sweet chili sauce, shredded coconut, scallions. There were no wrong answers here. Both were exceptional.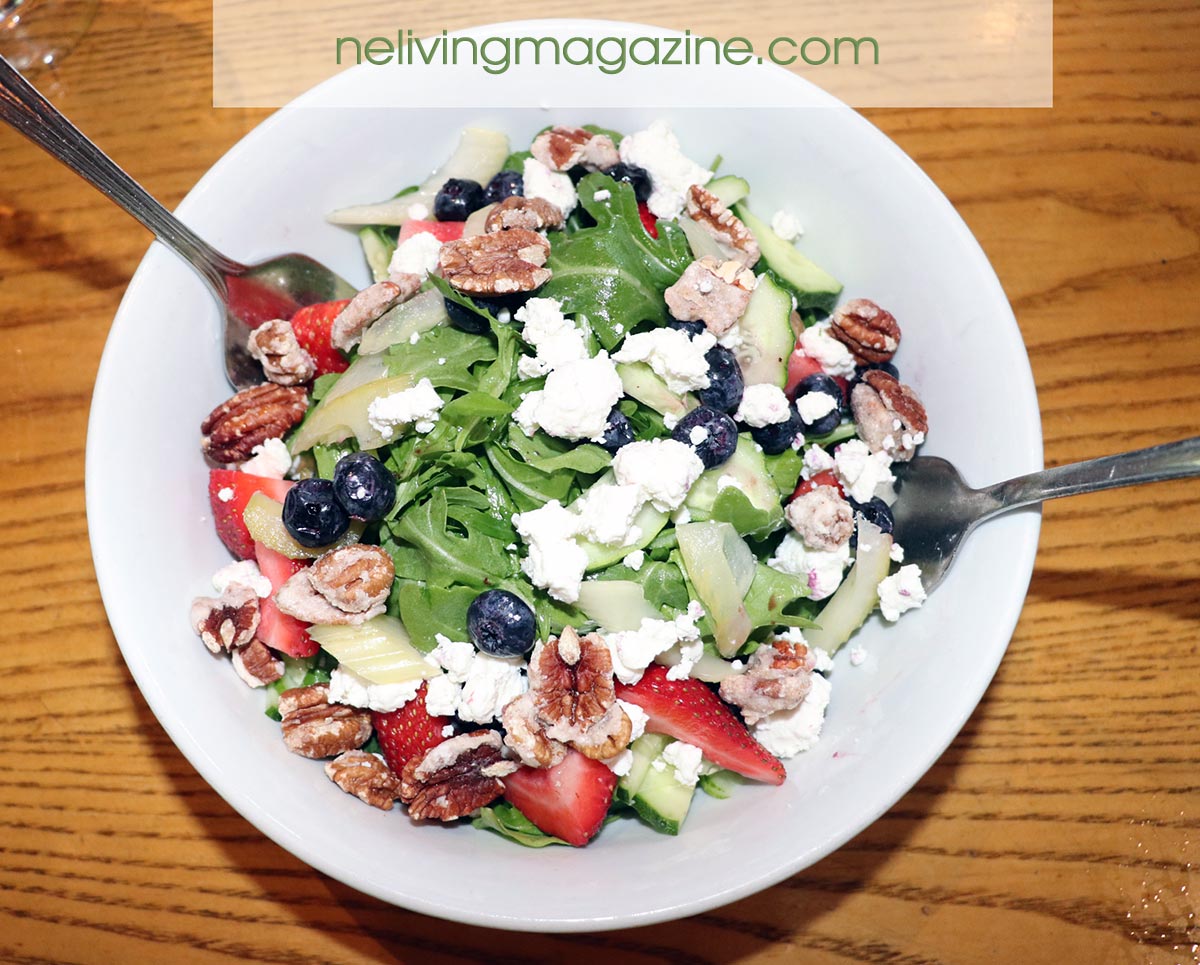 The salads are just wonderful. Most are of the salads at When Pigs Fly are Gluten Free. The salads served here are quite large, so splitting is a great choice. Arugula salad – Cucumbers, strawberries, blueberries, goat cheese, pickled celery, candied pecans, sherry vinaigrette, wow how these flavors married. Greek salad- baby greens, pepperoncini, tomato, olives, feta, pickled red onion, cucumber, herb vinaigrette. These really could be a lunch in themselves. Fresh, colorful, and quite filling. At this point, I realized we also ordered a pizza!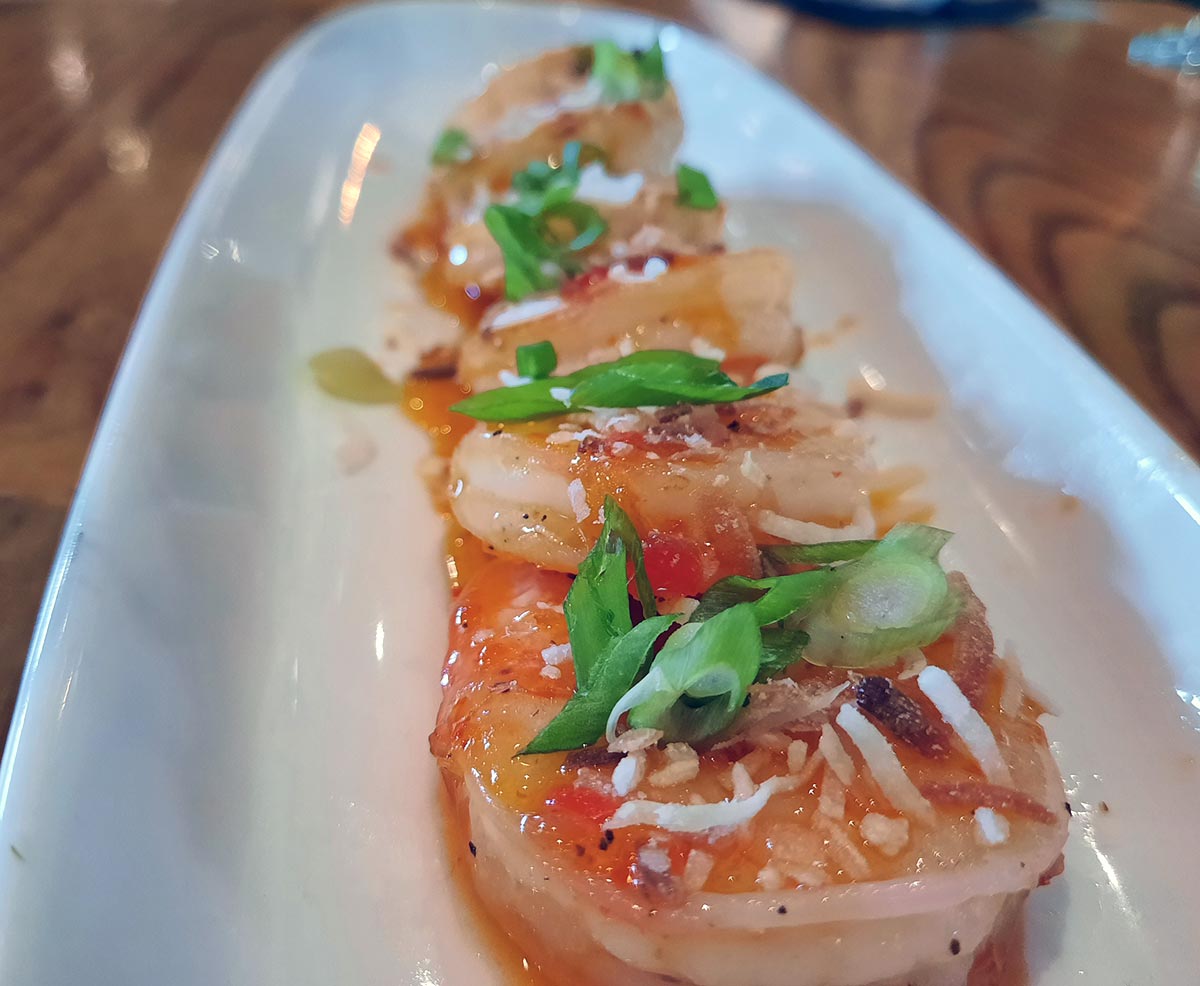 Well, no regrets here with this authentic thin crust wood fire-cooked pizza. What kind you ask. Medjool date & Soppressata salami with red sauce, oregano, basil, mozzarella, Romano, mike's hot honey. We are definite pizza people, and this pizza rivaled New Haven's best pizza shops. And I do not say that lightly. Excellent! We found authentic wood-fired pizza in Maine!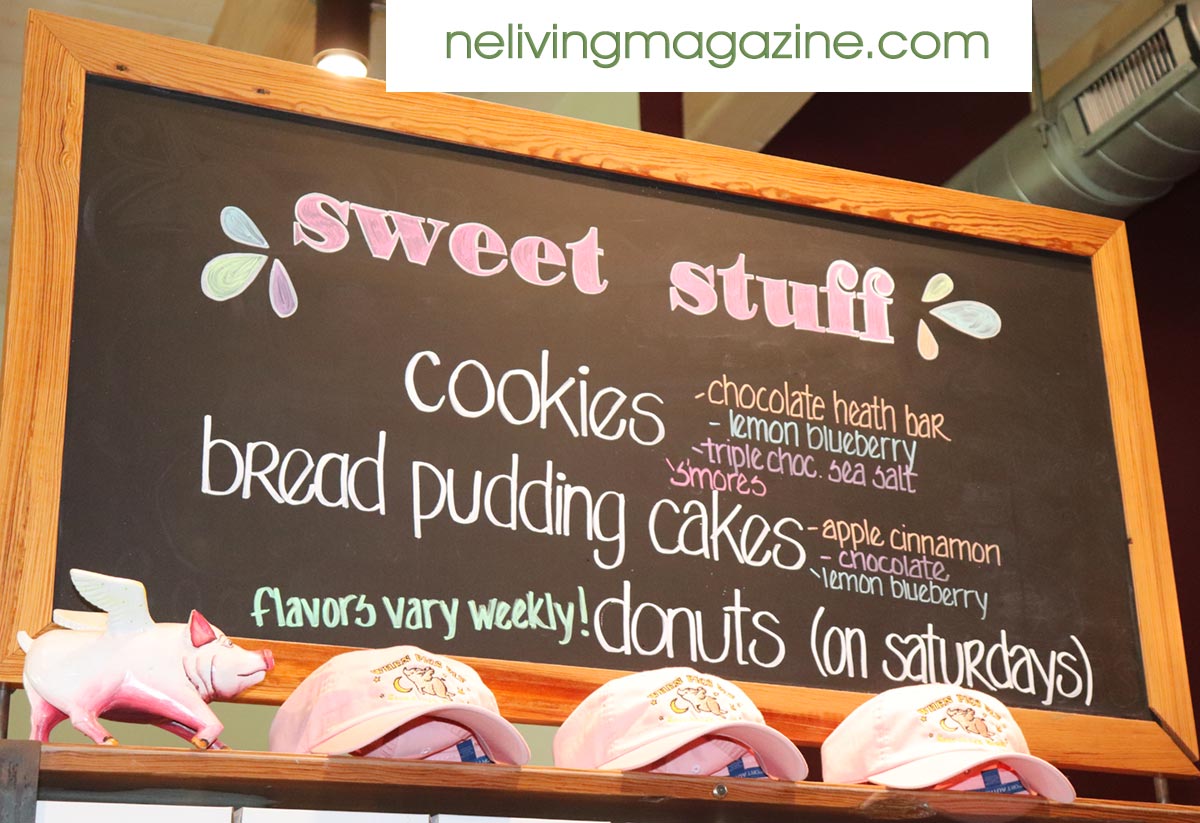 We did not sample dessert at the restaurant after all this food we were stuffed, however, we did take home s'more cookies from the When Pigs Fly Bakery. These large cookies are so good. A graham cracker/flour base with chocolate chips and more. They did not last long. We took several loaves of bread home with us as well and enjoyed them thoroughly.
This is a restaurant I had never tried before, what a mistake. I loved it here – a true highlight to an amazing visit to the southern Maine coast. A special shout out to When Pigs Fly Chef Alison, Manager Ryan, and Waitress Michelle G. They were a cut above.
Contact us for information about featuring your business in NE Living Magazine.
For further information visit https://whenpigsflypizzeria.com.


When Pigs Fly Pizzeria, 460 U.S. Route 1 Kittery, Maine 03904 | Restaurant: 207-438-7036 Bread Store: 207-439-3114
Enjoy our large selection of wood-fired pizzas, appetizer plates, craft beers and draft wines. The pizzas are Neapolitan style, handcrafted from all natural ingredients. Our wood-fired ovens give the crust a chewy, smoky flavor. All ingredients are the freshest including mozzarella, which is made fresh daily. This location is also home to the When Pigs Fly Company Store, which offers all of the classic and artisan breads, and other products available from When Pigs Fly.
Visit When Pigs Fly Pizzeria - Kittery, ME
---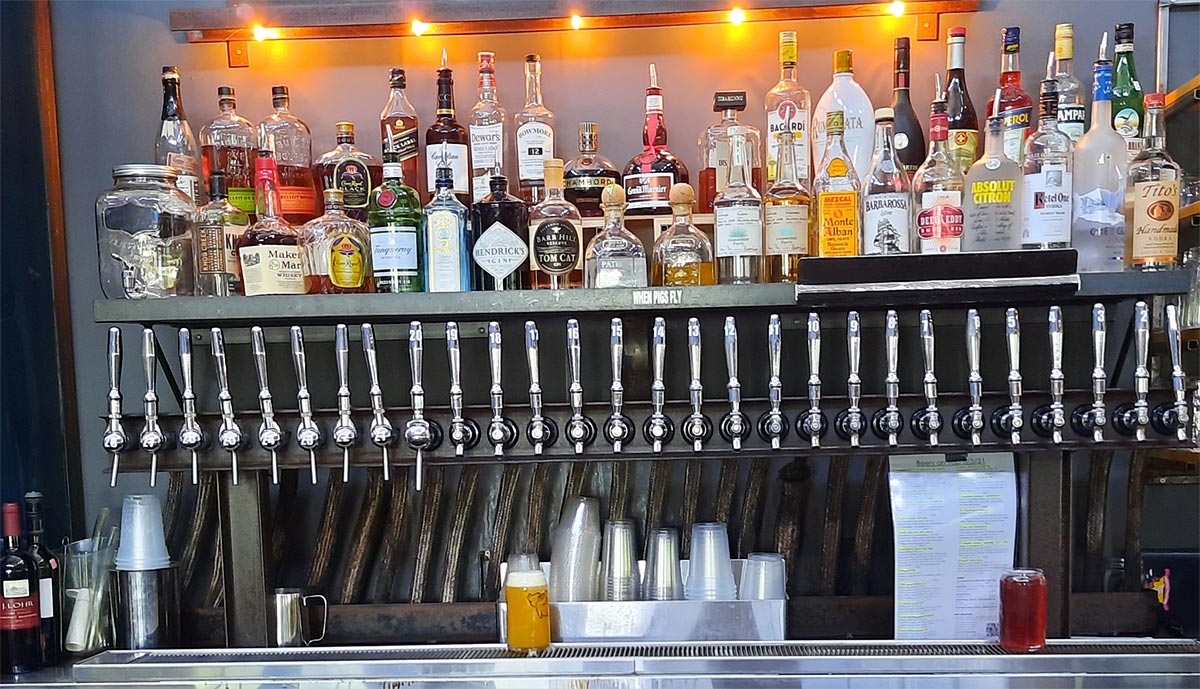 Attractions | Inns | Resorts | Hotels
Rental Homes | Real Estate | Restaurants
Camping | Business | Classified